Kali ini kita akan membahas mengenai sebuah produk yang agak nyeleneh dan berbeda dari yang pernah kita posting sebelumnya, khususnya pada pembahasan mengenai produk Blue Bell. Model yang akan kita bahas kali ini adalah sebuah Blue Bell Eddy yang berwarna merah. Ya benar, warna dari jeans ini adalah merah terang, sangat berbeda dengan kebanyakan jeans yang kita bahas sebelumnya yang berwarna indigo ataupun hitam. Mungkin produk yang satu ini lebih cocok disebut sebagai Red Bell dibanding Blue Bell.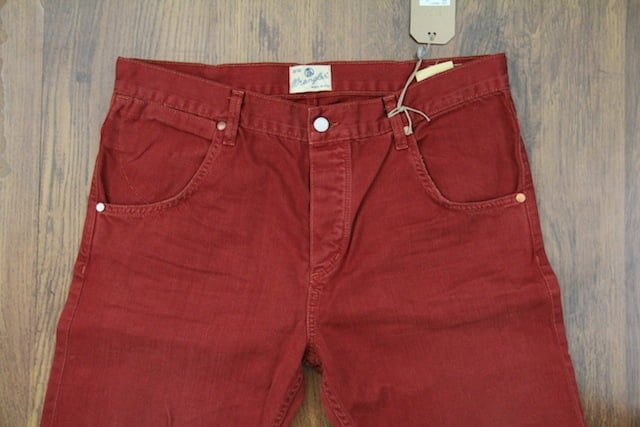 Kita sudah pernah membahas mengenai Blue Bell Eddy sebelumnya, dan kurang lebih jeans model ini memiliki detail yang sama seperti Blue Bell Eddy yang berwarna indigo. Jika kita lihat dari cut sampai detailnya, jeans ini hanyalah Blue Bell Eddy yang diwarnai bukan dengan indigo melainkan warna merah terang.


Bahan yang dipakai di jeans ini merupakan bahan jeans RHT selvage yang berwarna merah. Kita tetap bisa melihat gaya klasik pada redline selvage yang menandakan bahwa jeans ini yarn-dyed, bukan overdyed. Jeans ini juga sepertinya sudah diberikan sedikit washing treatment yang jejaknya bisa ditemukan di beberapa bagian seperti whisker, belakang lutut dan bagian bawah. Selain itu fading marks halus bisa juga ditemukan di beberapa tempat, yang paling terlihat adalah di bagian seam, seat dan juga yoke.


Yang berbeda dari Blue Bell Eddy versi indigo adalah hardware yang digunakan. Pada jeans ini button dan rivetnya masih menggunakan desain yang sama, namun bahan hardwarenya berbeda. Untuk versi indigo, sepertinya bahan hardwarenya berwarna coklat seperti terbuat dari tembaga, sementara pada jeans ini kita bisa melihat hardware yang berwarna keabu-abuan seperti terbuat dari besi ataupun silver.



Untuk detail lainnya, jeans ini masih memiliki detail-detail Khas Wrangler seperti 7 belt loops, W stitching, reinforced backpocket, flasher bendera Amerika khas Blue Bell Made In USA, dan lain sebagainya. Benang jahit yang digunakan adalah berwarna kuning sedikit orange yang memberikan sedikit kontras terhadap warna bahan yang merah.
Jeans ini merupakan jeans yang benar-benar berbeda, sehingga kita memutuskan untuk mencoba mengulasnya. Cocok bagi anda yang menginginkan sebuah celana berwarna selain indigo namun tetap memiliki detail-detail yang mantap, detail khas Blue Bell tentunya.
————————————————————————————————-
This time we're going to review a Blue Bell product which is pretty different and quirky compared to the other we've reviewed. The model we're going to review is a Red colored Blue Bell Eddy. Yes, you read it right, it's a red colored jeans, pretty much sets apart from the other jeans we've reviewed on this website. Maybe it's more appropriate to call this jeans a Red Bell, as the bright red color of the jeans.
We've reviewed Blue Bell Eddy before and this jeans is more or less the same as the indigo version. From the cut to the details, they're pretty much similar, the difference is just this jeans is red colored rather than indigo.
The fabric used on this jeans is a red colored selvage RHT denim. We can still see the classic redline selvage, the sign of this jeans is yarn-dyed, not overdyed. This jeans looks like it has been given a light washing treatment which we can see in some parts like whiskers, the back of the knee and in the leg opening. Fading marks can also be found in several places, most notably in the seam, seat and also yoke.
The main difference from indigo Blue Bell Eddy is the hardware. They still use the same design for the buttons and rivets but the material is different. For the indigo version we can see a brown copperish color on the hardware, while in this red version, we can see a silvery grey color like it is made from iron or silver.
For the other details, this jeans surely still got the same Wrangler characteristics such as 7 belt loops, W stitching, reinforced backpockets, American flag flasher, etc. The sewing thread used is a orange yellow thread which gives a nice contrast from the red color.
This is a really-really different, distinct and unique jeans, that's why we decided to review it in the first place. This will fit well to those searching for a colored jeans other than indigo but still got the cool details in the jeans, which is Blue Bell's details.