Lee 101S, seperti yang kita sudah tahu dari artikel sebelumnya adalah slim jeans pertama dari Lee dan mungkin merupakan slim jeans pertama di dunia. Kali ini kita mendapatkan pinjaman salah satu produk Lee 101S yang merupakan washed versionnya. Versi yang kita dapatkan adalah versi hard washed dimana jeans ini sudah terlihat seperti sudah dipakai dalam kurun waktu yang cukup lama.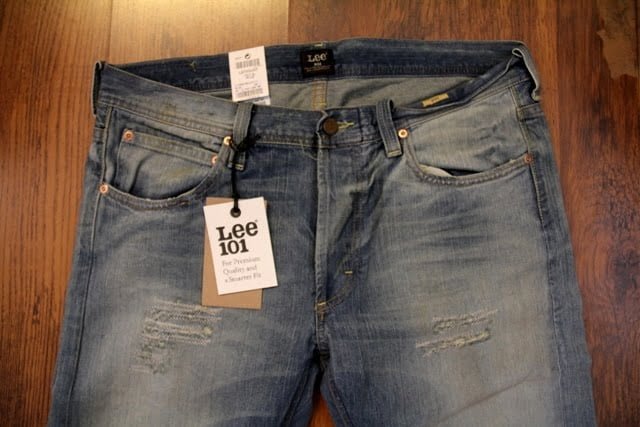 Jeans ini dibuat dengan bahan sanforized LHT denim ala Lee yang sudah diberikan treatment washing yang cukup besar. Selain washing effect, terdapat juga robekan-robekan kecil dan lipatan yang membuat jeans ini tampak sudah dipakai dalam kurun waktu yang cukup lama. Dari sisi washing-nya kita bisa melihat fading paling banyak terdapat di bagian paha yang terlihat lebih putih dibanding bagian bawahnya. Sementara itu di bagian belakang juga terlihat fadingnya.



Fading yang menarik terlihat di bagian backpocketnya, yang terlihat sudah sedikit hancur namun terlihat natural. Sobekan sedikit di bagian paha juga menambah efek worn out yang cukup menarik.



Hardware yang digunakan pada jeans ini cukup menarik, terlihat efek aging yang natural pada hardwarenya. Top Button menggunakan button dengan tulisan Lee 101 for premium quality yang sudah terlihat aged secara natural. Sementara itu pada button flynya digunakan button berwarna coklat yang mirip dengan warna copper. Detail lainnya juga cukup menarik seperti waistband label dan juga tag label. Sementara kita bisa melihat leather patch yang sudah terkikis dan terlihat sudah mengalami fading dalam waktu yang lama.



Jeans ini akan cocok bagi para pecinta denim yang menginginkan sebuah washed jeans dengan detail khas Lee. Selain itu jeans ini juga memiliki cutting yang slim sehingga cocok untuk yang sedang mencari celana slim dan cut yang terlihat modern.
———————————————————————————————————
Like the history we already posted previously, Lee 101S is the first slim jeans line up from Lee and probably the world's first slim jeans in the world. This time we got a chance to review one variant of Lee 101S which is the washed version. The jeans that we got is a hard washed version which looks like it has been worn for a long time.
This jeans is made with sanforized LHT denim ala Lee which already been treated with a hard washing. Other than the washing, there is also a bit of hole and scratch in the jeans which makes this jeans looks a bit rugged and worn out. We can see the most faded part of the jeans is in the thigh and also the area around the backpocket. The backpocket got an interesting fading, pockets looks a bit destroyed but still natural looking. A bit of tear in the thigh also adds a worn out effect.
The hardwares used in this jeans is pretty interesting, we can see they aged naturally. There is a writing in the top button that says "Lee 101 for premium quality". The top button and the fly button also looks naturally aged, with a bit of brown copperish color. Other details which are pretty interesting are the waistband label and also the tag label. We can also see a faded and aged leather patch which looks like it has been through good years of wear.
This jeans will fit nicely to denim lovers who are searching for a washed jeans with Lee details. This jeans also got that slim straightish cut that it will fit people looking for a more modern cut, but with a nice classic details.