Ssup, halo sobat DB! Karena gue mendapat kesempatan untuk mengulas secara jujur outer dari brand asal Kota Kembang, yaitu Artchived! Nah, maka dari itu seperti biasa kembali lagi bareng gue di segmen honest review nih. Tanpa berlama-lama, langsung aja kita gaskeun ya bro!
---
FIRST IMPRESSION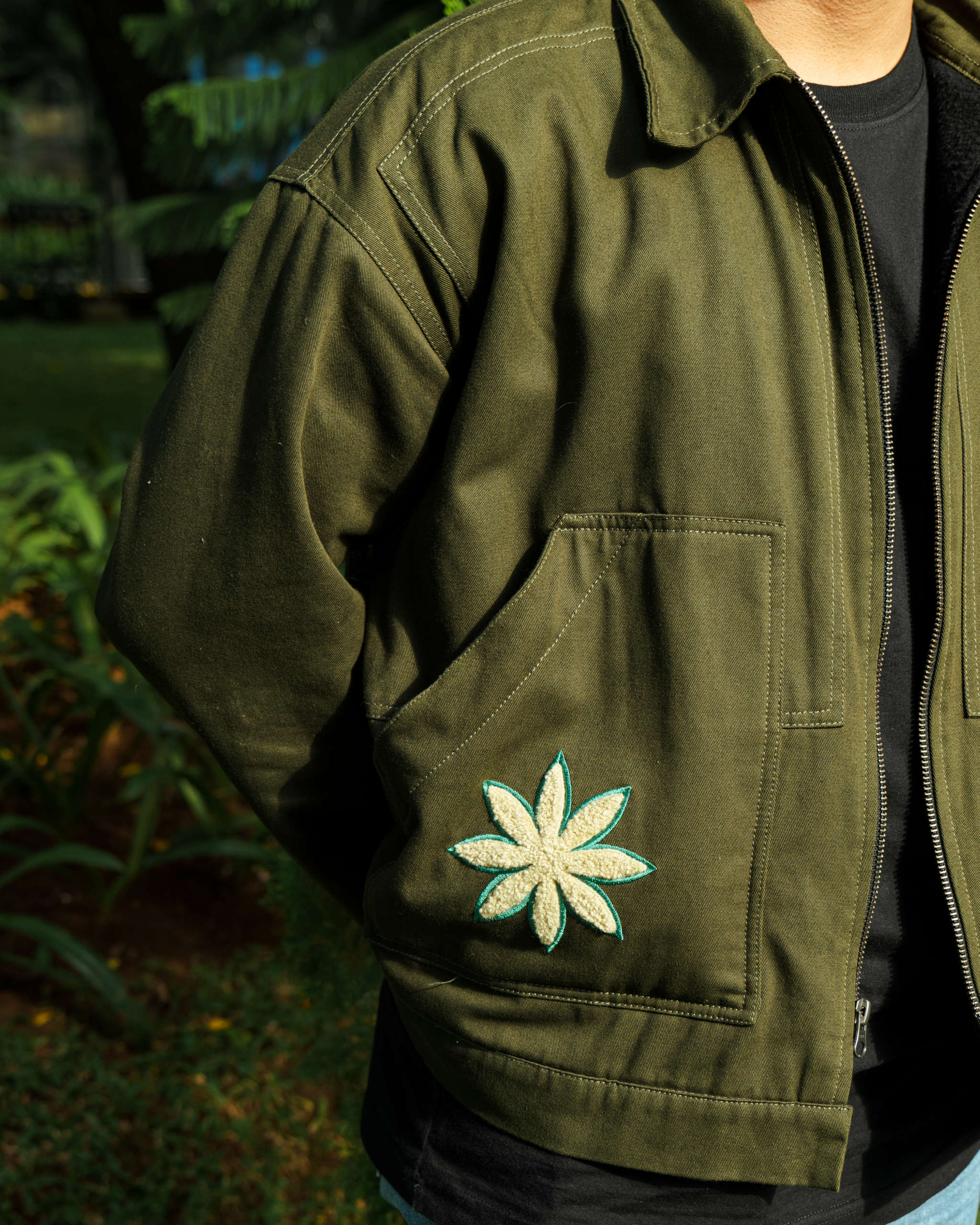 Simple sih, pertama kali gue ngeliat jaket ini gue udah langsung suka bro, karena dari segi looks nyatanya jaket ini gue banget hahaha, asik. Nah, terlebih dari warna dan segi modelnya gue suka banget, secara warnanya pun hijau army yang pastinya cocok banget sama perpaduan motif patch bordir si bunga yang berbahan wol ini. Dari segi looksnya, menurut gue doi itu adalah warna yang aman karena bisa diperpaduin dengan tiga warna bawahan berbeda, seperti hitam, coklat, dan biru. Kedua, modelnya pun oke banget, nggak keramaian dan nggak norak, pokoknya kalo di mix and match-in asli, cocok banget bro! Kalo gitu, kita lanjut ke sesi detail ya, ada fungsi menarik yang mau gue bahas.
DETAIL

Nah, di koleksi perdananya ini, yang bertajuk "Fleur of The Human Nature", Artchived sendiri pun emang mengangkat konsep relasi antara manusia dengan alam yang nggak bisa dipisahkan, serta berangkat dari ide bahwa sifat dasar manusia itu menyerupai bunga; semakin bertumbuh, semakin berbunga atau berkembang. Konsep itu sendiri dihadirkan lewat simbol visual pada koleksi ini berupa ornamen-ornamen bunga. Bisa dilihat kan ada '3 bunga' di bagian dada kiri, kantong depan sebelah kanan, dan bagian punggung.

Lanjut ke pembahasan detail, ada fakta menarik dari outer by Artchived ini. Dibagian dalam, terdapat bahan fleece yang bikin lo hangat, terlebih lo menggunakannya untuk naik motor atau pun di musim hujan. Jujur ya, asli, gue nggak bokis, jadi gue sempet kehujanan ketika lagi bawa motor menggunakan "Zephyranthes Fleur Jacket" dari Artchived ini, jujur aja sebagian jaket gue jelas basah, tapi pas gue sampai di lokasi dan ngebuka jaket gue, goks, bagian dalam gue tetap kering! Asli gue takjub banget, gokil! mungkin karena jaket ini mempunyai lapisan yang tebal banget, sehingga dapat melindungi lo dari panasnya angin dan dinginnya hujan.
Oh iya, btw ada lagi detail yang menarik dari outer by Artchived ini, di bagian belakang kiri dan kanan terdapat suatu bagian yang bisa lo atur kekencangan jaketnya, kalo soal ini sih balik lagi ke selera ya. Tapi cocok sih buat jaket yang menurut gue pribadi ber-genre boxy ini. Dan untuk zipper yang digunakan juga udah YKK, sedap banget deh pokoknya!

---
CONCLUSION
Untuk kalian yang penasaran sama outer by Artchived ini, kalian bisa langsung segera meluncur ke account Instagram mereka ya! Oh iya, last fyi, mereka juga udah ngerilis "Fleur of The Human Nature II" loh, tentunya dengan artikel yang nggak kalah adem dan enak dimata. Oke kalo gitu, sekian dari gue, thank you dan sampai ketemu di honest review selanjutnya, see you!