Beberapa waktu silam kami sudah melakukan review terhadap Lee 101B buatan Real McCoy's, kini saatnya kita kembali mereview heritage line dari Lee yaitu Lee 101B yang merupakan model tahun 1930 atau salah satu model paling awal dari Lee Cowboys 101 ini. Produk yang akan kami review kali ini adalah produk Lee Heritage buatan Jepang yang diproduksi oleh Edwin sebagai salah satu pemegang lisensi Lee di Jepang. Lee model ini benar-benar menampilkan fitur-fitur dan cutting yang vintage dan cocok untuk para pengapresiasi vintage garment.
Lee model 1930 menurut kami merupakan salah satu jeans heritage dari Lee Japan yang paling unik jika kita lihat sekilas, karena pada model ini, benang yang digunakan adalah benang yang cukup terang, berwarna orange mendekati merah, mungkin salah satu benang yang paling unik yang pernah dipakai di jeans vintage. Kalau dilihat dari konstruksinya jeans ini juga terlihat sangat rugged dan tentunya unik dengan penggunaan triple stitch di yoke dan seat.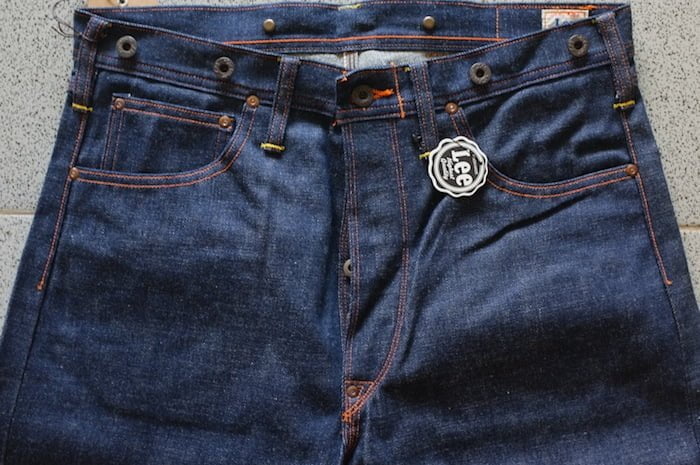 Selain itu konstruksi pada waistband juga terlihat unik dengan adanya 2 jahitan rantai di bagian bawah waistband yang menempel dengan top block celana. Seperti pada Lee 101B yang pernah kita review, untuk jahitan rantai di beberapa tempat seperti yoke dan seat juga menggunakan 2 warna benang, jadi ketika kita melihat bagian dalam celana, terlihat warna benang yang berbeda.

Jeans ini menggunakan button fly dan top buttonnya terdapat tulisan Lee Overalls, sama seperti suspender button yang digunakan di sekitar waistband. Terdapat pembatas antara satu button hole dengan lainnya di button fly layaknya fly pada celana chino. Walaupun sudah ada suspender button, tapi jeans ini tetap memiliki belt loop yang dibartack pada ujung bawahnya dengan benang warna kuning sama seperti penggunaan benang kuning pada bartack di ujung-ujung kantong belakang. Menurut kami penggunaan benang ini cukup unik dan menarik.



Jeans ini memiliki cinchback yang direkatkan dengan 2 buah rivet di kedua ujungnya dan sudah selayaknya memiliki fitur ini karena adanya suspender button. Yang menarik lagi adalah penempatan leather patch yang berada di sebelah kiri bagian belakang celana, berbeda dengan brand lain yang biasanya menaruhnya di sebelah kanan waistband. Selain itu, ciri khas Lee adalah menaruh sebuah label di bagian dalam waistband, dan pada produk ini, labelnya terdapat pada sebelah kanan waistband bagian dalam.



Untuk memperkuat bagian crotch, Lee memakaikan rivet pada crotchnya dan juga dapat dilihat pada produk ini. Seperti kebanyakan produk Lee lainnya, inseam jeans ini dibuat dengan double felled seam dan outseamnya dengan open seam sehingga selvage line yang cukup unik (natural dan black line) terlihat di bagian luar seam. Jika kita lihat leg opening di sisi inseam, kita bisa melihat jahitan bermula dan selesai pada bagian ini. Dari hal ini bisa diambil kesimpulan bahwa ketika menjahit bagian hem, penjahitnya memulainya dari sisi inseam terlebih dahulu, dan diselesaikan juga pada sisi ini. Cukup berbeda dengan brand jeans lainnya yang memulainya di sisi outseam.


Seperti kita ketahui, tampaknya Lee juga mendukung gerakan Union Made dan seringkali menempelkan Union Label pada produknya. Pada jeans ini kita bisa menemukan sebuah Union Label yang dijahit dengan bentuk W di bagian dalam kantong belakang.

Jeans ini dibuat dengan indigo denim dengan berat 11,5 oz dan memiliki tekstur yang cukup coarse dan cukup tidak teratur walaupun setelah diraba, bahan ini memiliki permukaan yang sangat halus.  Agak berbeda dengan kebiasaan Lee, sepertinya produk jaman dulu Lee masih menggunakan bahan Right Hand Twill, sementara kita mengenal Lee dengan ciri khas penggunaan Left Hand Twillnya. Walaupun sanforized, kami masih bisa melihat banyaknya bulu-bulu halus yang muncul di permukaan denim. Warna yang ditawarkan denim ini merupakan warna yang menurut kami cukup vintage, tidak terlalu gelap dan warna birunya halus.

Kebetulan salah satu rekan kami sudah memakai Lee 101B 1930 selama lebih dari 2 tahun dan produk ini berevolusi layaknya sebuah vintage jeans
PS: Bahas juga produk ini dan produk-produk Lee lainnya di forum
————————————————————————————————————————-
We have reviewedLee 101B-made by The Real McCoy's in our previous article, now it's time for us to review the heritage line of Lee 101B which is the 1930's model or one of the oldest models of the 101 Lee Cowboys. The product which we will review this time is the Lee Heritage product made in Japan, which is produced by Edwin as one of Lee's licensee in Japan. This Lee model displays vintage features and cutting for all people who's into vintage garment.
In our opinion, the 1930's Lee model is one of the most unique heritage jeans from Lee Japan, because in this model, the thread they used for stitching is a fairly bright thread, in a reddish orange color, this is probably one of the most unique thread had been used in vintage jeans. This jeans also looks very rugged and unique with the use of triple stitch in yoke and seat.
The waistband constructions also look unique with two chain stitches at the bottom of the waistband which is attached to the top block of the jeans. As in Lee 101B we reviewed before, in some places such as the yoke and seat, the chain stitches also use different colored threads, so when we see inside the pants, we will see the different color of the thread such as white and yellow or black and yellow.
The jeans use button fly which on the top button there's a Lee Overalls written on it, just like the suspender button used around the waistband. There are also a divider between one button hole with the others on the button fly, just like a fly we see on chinos. Although there has been a suspender buttons attached, this jeans still has belt loops which are bartacked at its lower end with the yellow thread, same thread they use for the bartack at the end of the back pockets. This thread color is quite unique and interesting in our opinion.
The jeans also have a cinchback fastened with 2 rivets at both ends, it is proper to have this feature because of the suspender button. The other interesting parts is the placement of the leather patch, which is on the left side of the waistband, unlike other brands which usually place the patch on the right side of the waistband. One of Lee characteristic is putting a label on their inner waistband, and on this product, the label can be found on the right side of the inner waistband.
Lee usually put a rivet on the crotch in order to reinforce them, which we can also see on this product. Like most of Lee products, this jeans use the double-felled seam on the inseam and open seam on the outseam, so we can see quite unique selvage line (natural and black line) on the outseam. If we look at the leg opening on the inseam, there's indication of starting point and finishing point of the stitching. We can conclude that the seamstresses start from the inseam side first, and also completed on this side while sewing it. Quite different from other jeans brand that started on the outseam.
It seems that Lee also support the Union Made movement and often placed the Union Label on their products. In these jeans we can find the Union Label sewn in the shape of "W" inside the back pockets. The jeans are made with 11.5 oz indigo denim and has a fairly coarse textured and its quite irregular even after we touched it, this material also has a very smooth surface. Somehow it's quite different from the Lee habits, it seems like Lee products in the older time use Right Hand Twill material, while we know Lee characteristic of using the Left Hand Twill material. Although the jeans is sanforized, we can still see many fine hairs appear on the surface of the denim. The color that this denim offered is, in our opinion, quite vintage, which are not too dark with the delicate blue color.
PS: you can also discuss more about Lee's product at the forum