Masih dalam tema pembahasan yang sama, kali ini kita akan membahas mengenai produk yang baru saja dikeluarkan oleh Lee Indonesia yaitu Lee 101 Washed Work Jacket. Jaket yang satu ini terbuat dari bahan denim dan memiliki tampilan worker yang kental, apalagi ditambah desain kantong depan yang menyerupai Lee 91-J. Untuk menambah kesan worker dan vintage, diberikan juga proses washing yang membuat jaket ini tampak worn out.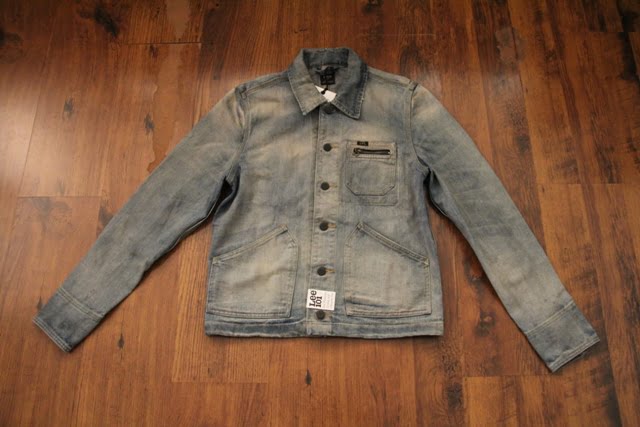 Tampilan worn out look yang ditawarkan oleh jaket ini adalah tampilan yang sedikit ekstrim. Kita bisa melihat bahwa biru jeans sudah sangat pudar dan terlihat warna putih di beberapa bagian. Efek worn out semacam ini mengingatkan kita pada work jacket yang ditemukan di tambang setelah beberapa lama terkena sinar matahari dan memiliki pola pudar yang serupa.


Desain dari jaket ini hampir serupa dengan desain Sherpa Lined jacket, hanya saja jaket ini terbuat dari bahan denim yang sudah di washed. Untuk detailnya masih memiliki detail yang sama khususnya di bagian depan dengan kantong dada menggunakan zipper dan juga kantong di bagian bawah dengan bukaan miring. Jaket ini juga memiliki hidden pocket di bagian dada. Jaket ini akan sangat cocok bagi yang mencari work jacket yang sudah terlihat worn out dan memiliki image yang sangat vintage.


———————————————————————————————-
Still in the same review theme for Lee, this time we're going to do another review of a newly released jacket from Lee Indonesia which is a Lee 101 Washed Work Jacket. This jacket is made from washed denim and retains that worker image with the overall design and looks. The washing process also adds more to the worn out look this jacket offers.
The worn out look offered by this jacket is maybe a bit on the extreme side. We can see that the blue color is already pretty faded and there are white color showing in some parts. This kind of fade and worn out look reminds us of some photos of work jackets found in a mining facility after been exposed in the sunlight for a long time.
The design itself is pretty much the same as the Sherpa Lined Jacket we reviewed before, but this time the jacket is made from a washed denim and no lining inside. The details is pretty much the same with a single chest pocket and also 2 lower pockets with slant opening. The jacket also armed with a hidden pocket inside the chest pocket. This jacket will surely appealing to those searching for a worn out and vintage looking work jackets.