Berita bagus bagi para pecinta denim di Indonesia. Lee Cooper, brand denim asal Inggris yang namanya tentunya sudah tidak asing lagi kita dengar di nusantara ini berdiri sejak tahun 1908 dan saat ini distribusinya telah tersebar di 70 negara di dunia. Lee Cooper merupakan brand yang sudah lama berkecimpung di dalam dunia denim dan jeans, selain tentunya merek jeans lain dari Amerika Serikat. Tahun ini Lee Cooper menggelar sebuah denim kontes di 4 negara di Asia Tenggara seiring dengan peluncuran produk dry denim mereka yang baru.
Berikut kutipan dari sumber Lee Cooper Indonesia mengenai kontesnya.
Founded in 1908, Lee Cooper is among the world's original denim brands, worn and loved worldwide. Now sold in over 4,000 stores in 85 countries, it has already distinguished itself from its American counterparts as the "Great British" and "Original European" jeans brand. Since inception, Lee Cooper has been at the forefront of British & European fashion for decades, leading trends, developing innovations and driving youth culture.

In line with the brand's youthful and innovative philosophy, Lee Cooper Indonesia, Malaysia, Singapore and Thailand are collaborating to launch a limited edition Dry Denim collection and consumer competition in October 2010.

Dry denim, or "RAW' denim as it is sometimes called, is, at its very best, left unwashed and delivered straight to the store, missing the washing process completely. The fabric moulds to the body over time, creating a unique pair of jeans for the wearer. All the abrasion, creases, marks, tears, fading and whiskering appear as the fabric ages with the wearer's daily use. It takes time but it's worth the wait.

For this challenge, consumers are encouraged to wear-down and age their jeans, and if possible try not to wash them for six months or more to achieve the best results. An online community will share photos, and comment on each other's progress; non-participants are encouraged to join in too.

At the end of the challenge, a panel of judges will choose five winners per country. Winners will be judged as having the pair of jeans with the most distinctive characters. Those 20 finalists will be presented to our panel of judges in the UK, where an overall winner will be chosen. The overall winner's prize includes 1000 Euro in cash, and an opportunity of having their winning pair of jeans re-produced in limited edition and sold in the four participating countries, with their name and a brief write up of their experiences in the challenge printed on the hang-tag.

Good luck, and enjoy the wonderful journey it will bring.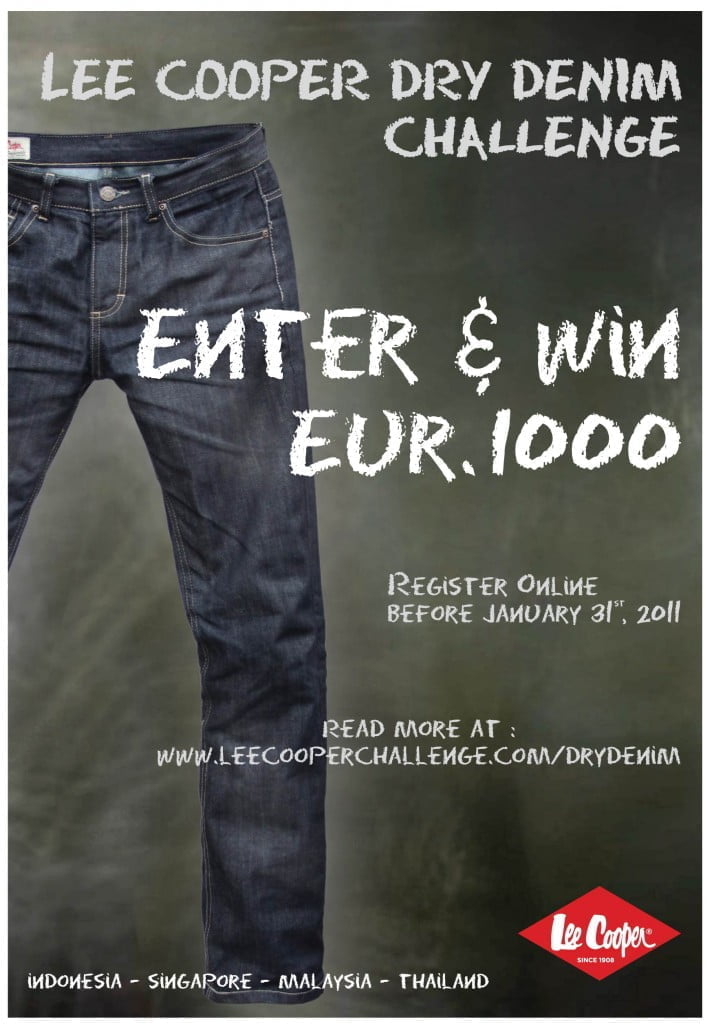 Lee Cooper akan menggelar kontes yang dimulai pada bulan Oktober 2010 dengan produk dry denim mereka yang baru yang sepertinya layak dilihat dan dicoba. Sudah saatnya produsen-produsen jeans besar ikut meramaikan dunia denim di Indonesia.
Hal menarik lainnya tentunya karena adanya hadiah yang sangat menarik. Setelah melewati pemilihan dan seleksi dari para juri dengan kriteria tertentu, pemenang akan berhak menyabet hadiah sebesar 1000 euro (tunai!) dan juga mendapatkan kesempatan menarik untuk direproduksi jeans-nya menjadi limited edition release dan nama pemenangnya juga ceritanya di kompetisi ini akan dicetak di hang-tag. Kesempatan untuk menjadi terkenal!
Tunggu apalagi, siapkan diri kalian untuk kontes ini dan juga dapatkan kesempatan untuk memenangkan hadiahnya!
Untuk info lebih lanjut langsung saja kunjungi websitenya di sini www.leecooperchallenge.com
Kami juga menyempatkan diri untuk berbincang sejenak dengan Lee Cooper Indonesia mengenai kontes ini.
Mengapa tiba2 mau mengadakan kontes?
Kami melihat belum ada kontes dry denim yang diadakan oleh satu brand di Indonesia. Mungkin ada beberapa tapi itu multi brand dan kami juga melihat perkembangan pecinta dry denim di Indonesia semakin bertambah. So, kami akhirnya berkolaborasi dengan Lee Cooper Malaysia, Singapore dan Thailand mengadakan kontes yang kami namakan "Lee Cooper Challenge". Kami berharap kontes ini merupakan langkah awal bagi kami untuk dapat lebih mempopulerkan dry denim di Indonesia
Bagaimana konsep kontes Lee Cooper ini terus apa aja syarat dan gimana proses jalannya kontes?
"Lee Cooper Challenge" ini berlaku di 4 negara. Masing-masing Country Judges akan memilih 5 peserta dengan celana dry denim terbaik dari setiap negara atau kami menyebutnya Country Winners yang berhadiah €100. Kemudian 20 pemenang Country Winners tersebut diwajibkan mengirimkan celana dry denimnya ke kantor pusat Lee Cooper di negaranya masing-masing, untuk selanjutnya dikirim ke kantor pusat Lee Cooper Group di Inggris untuk dinilai oleh International Judges. Akan dipilih 1 orang International Winner yang berhadiah €1000 dan kesempatan untuk diproduksinya celana dry denim pemenang secara limited edition dan nantinya nama pemenang akan tercantum di hang tag produk termasuk tulisan mengenai pengalaman pemenang selama menggunakan celana dry denim tersebut.
Produk Lee Cooper apa aja yang diikut sertakan dalam kontes?
Koleksi Lee Cooper Dry Denim tersedia 2 fitting yaitu straight fit (LC118) dan slim fit (LC114) dengan harga jual Rp 349.500,-
Koleksi Dry Denim ini hanya tersedia di butik Lee Cooper dan Centro Department Store



Bagaimana sih produk raw Lee Cooper yang baru?
weight : 12.5 oz, fabric description : RHT3/1, dark blue ring, double deep dying, flat finish process more flat not hairy, crosshatch denim, 100% cotton.
Apa yang kalian harapkan dari kontes ini ?
Kami berharap kontes yang kami adakan dapat merupakan sarana bagi penggemar dry denim baik di Indonesia, Malaysia, Singapore dan Thailand untuk tetap dapat terus eksis dan berkembang. Dan kami sangat berharap pemenang International Winnernya berasal dari Indonesia. Bravo Dry Denim, Bravo Indonesia