Beberapa saat lalu kami menyempatkan diri berkunjung ke kantor Lee Indonesia dan menemukan salah satu koleksi FW 12 dari Lee yang sangat menarik perhatian kami. Selain warna wine/burgundy-nya yang mencolok serta menggoda, detail dari celana ini juga sedikit berbeda dari kebanyakan workpants berbasis chino pants yang kita temui.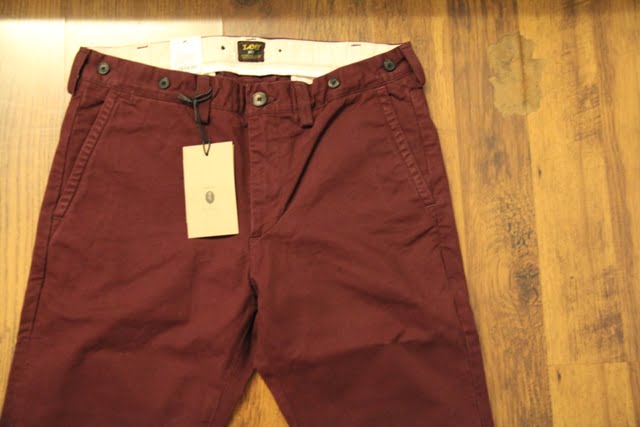 Hampir sama dengan kebanyakan model workpants berbasis chino, celana Lee ini juga dilengkapi dengan 2 buah kantong depan berbentuk slant-type dan juga 2 buah kantong belakang ala chino. Yang membedakan design celana ini adalah penggunaan suspender button berwarna hitam yang terletak di sekitar waistband. Lining putih disekitar waistband juga terlihat kontras dan mempercantik bagian interior dari celana ini.
Hal yang paling kami senangi dari celana ini selain dari modelnya yang safe dan bisa dipakai untuk aktivitas sehari-hari, yaitu penggunaan bahan dengan warna yang sangat menarik. Menurut kami warna wine/burgundy gelap pada sebuah celana sangat menunjukkan gaya Fall/Winter dan bisa dipakai menggantikan celana-celana kita yang kebanyakan berwarna biru, hitam dan khaki.


———————————————————————————————-
We've been to the Lee Indonesia's HQ a while ago and found one of the gem from their FW 12 collections which we really like. Apart from their striking and cool wine/burgundy color, the details from this workpants is a bit different from other chino based workpants. This pants is equipped with 2 slant-type front pockets and also 2 inside back pockets. The difference is that this pants also equipped with suspender buttons around the waistband. The contrast lining in the waistband also gives a cleaner and neat look for the interior. We like the rinse effect they give on the pants, it makes them unique and look more vintage.
We always love an everyday safe pants for daily use, and we like this pants better because of the really interesting wine/burgundy color. In our opinion, this kind of color really give the Fall/Winter ambience and can be a replacement to our boring safe colored pants.