Kali ini kita kedapatan sebuah rare piece dari Wrangler Japan, sebuah repro jaket 11MJ pertama yang diproduksi oleh Wrangler. Sesuai namanya, Wrangler 11MJ 1947 Prototype ini adalah sebuah model prototype jacket yang dikembangkan Wrangler ketika memulai memasarkan produk-produknya pertama kali di tahun 1947. Model ini nantinya akan disempurnakan di model 11MJ pada tahun 1952 yang akan kita review selanjutnya.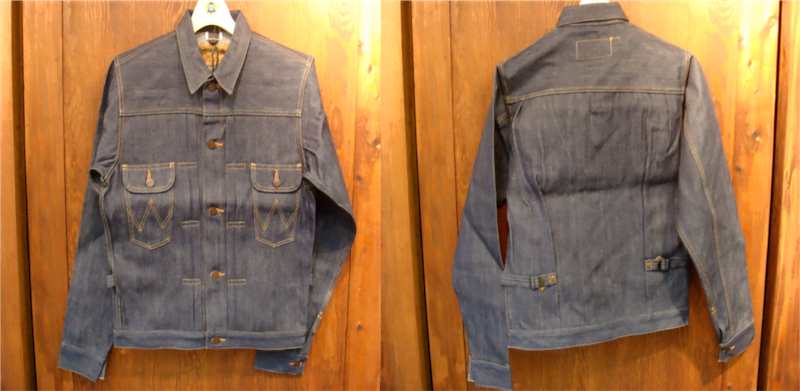 Jaket ini terbuat dari bahan raw LHT selvage denim seberat 11oz yang bisa kita lihat memiliki yellow selvage line (lihat di bagian detail selvage di placket). Warna bahan jaket ini mengingatkan kita akan jeans-jeans Wrangler seperti model 11MW tahun 1947 yang hampir sama.
Detail jaket ini merupakan detail jaket yang menjadi standar bagi jaket denim Wrangler yang dilengkapi dengan yoke depan dan belakang serta pleat di samping kedua bagian placket. Selain itu untuk membuat jaket ini makin terlihat slim, di bagian punggung terdapat 2 buah pleat di bagian pinggir kiri dan kanan serta 2 buah cinch adjuster yang digunakan untuk mengadjust bagian pinggang. 2 buah kantong dada di depan sudah menggunakan W stitch yang menjadi ciri khas Wrangler.



—————————————————————————————————–
We've stumbled upon a rare piece of product from Wrangler Japan, a jacket repro of the first 11MJ ever made by Wrangler. Like the name states, Wrangler 11MJ 1947 Prototype is a prototype jacket model which is developed by Wrangler the first time they market their products in the 1947. This model later revised and improved in a newer 1952 model of 11MJ, which we're going to review in the next article.
This jacket was made from a raw LHT selvage denim that weighs 11 oz and as we can see from the placket lining, they have a yellow selvage line. The jacket's color reminds us to the same color early Wrangler jeans has, such as the 1947 model.
This jacket's details sets the standard for the later 11MJ Wrangler jacket with a front and back yoke also a pleat in the side of the placket. To make the fit of this jacket slimmer, we can see 2 pleats on the back side with a cinch adjuster at both side. In the front, the 2 chest pocket with flaps are already using the famous Wrangler iconic details, W stitch.