Jeans satu ini sering disebut sebagai pengganti model lamanya yaitu Wrangler 11MW 1952 yang sudah pernah kita review sebelumnya. Seperti kita tahu bahwa model 1952 merupakan model yang dijadikan standard bagi model-model jeans Wrangler selanjutnya. Model 1957 memiliki detail yang mirip dengan model 1952 namun perbedaan yang paling signifikan adalah penggunaan zipper sebagai pengganti button fly.
Jeans ini terbuat dari raw LHT selvage denim dengan berat 13 3/4 oz yang memiliki warna tidak terlalu gelap dan terkesan sangat vintage. Hal ini berbeda tentunya dengan model 1952 yang masih menggunakan bahan seberat 11 oz. Seperti pada detail konstruksi khas Wrangler, jeans ini juga menggunakan double felled seam pada kedua seam sehingga tidak terlihat adanya selvage line seperti di model 10MW 1964.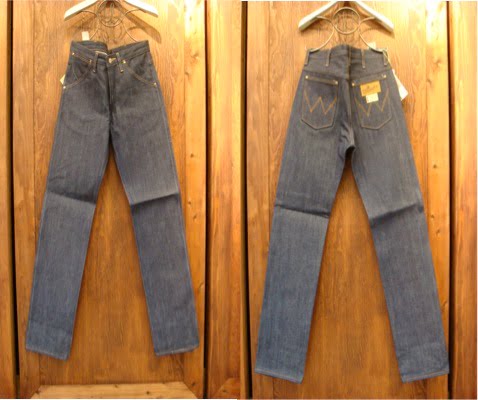 Detail yang membedakan jeans ini dengan model 1952 adalah penggunaan zipper sebagai pengganti button dimana kebanyakan jeans-jeans 11MW yang dikeluarkan oleh Wrangler juga menggunakan zipper mengikuti model 1957 ini. Selain itu top button sudah menggunakan logo Wrangler berwarna merah. Hal unik yang kami suka adalah care label di bawah leather patch di kantong belakang yang menunjukkan bahwa leather patch tidak akan hancur dengan daily wash yang seakan mengingatkan kita bahwa jeans is for hard wearing. Detail khas Wrangler lainnnya seperti W stitch, 7 belt loops dan flat top rivet juga masih ditemukan di jeans ini.


—————————————————————————————————-
This jeans often said to be the replacement of their old model which is a Wrangler 11MW 1952 which we've reviewed before. We all know that the particular 1952 model is the definite standard for Wrangler next jeans model. The 1957 is a similar one as the 1952 but has a really significant difference in the fly which use a zipper rather than a button.
This jeans was made from a raw LHT selvage denim that weigh 13 3/4 oz with a not-too-dark shade of blue which reminds us of most of Wrangler vintage denim fabrics. This is also the difference with the 1952 model which still use a lighter 11 oz fabric. Like most of Wrangler products, the jeans also use a double felled seam on both seam making the selvage line absence in the jeans, not like the younger 10MW 1964 model.
The details which sets this jeans apart from the 1952 model is the zipper fly which replace the button. The top button use a red Wrangler logo button engraving. The unique detail that we like is the care label below the leather patch in the backpocket, which clearly says that this patch will not be damaged by laundering, which also reminds us that jeans is for hard wearing. All iconic Wrangler details can still be seen in this jeans as well.