Singkatnya, leather jacket atau yang biasa dikenal dengan jaket kulit adalah jenis jaket yang terbuat dari bahan kulit hewan, seperti sapi, domba, atau kambing. Jaket ini terkenal karena kekuatan, keawetan, dan daya tahan bahan kulit. Jaket kulit memiliki tampilan yang klasik, stylish, dan sering kali dianggap sebagai pilihan fashion yang berkelas.
Pada kesempatan kali ini, mimin ingin meng-highlight beberapa style inspo dari aktor dan musisi asal negeri Paman Sam yang nggak lepas dari jaket kulitnya sehingga turut menjadi ciri khas. Mendingan, langsung aja deh, gan!
---
The One and Only, Ramones sebagai Ciri Khas!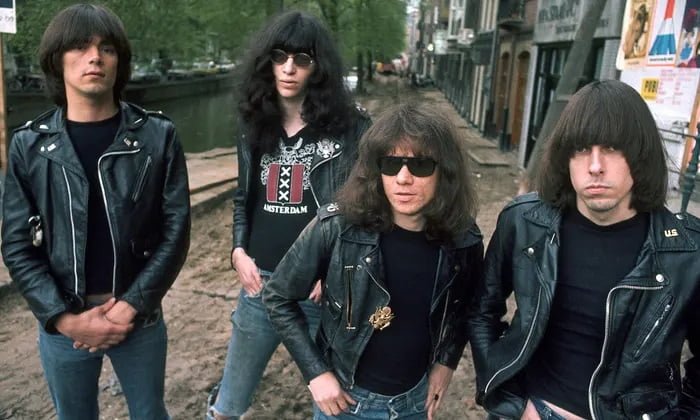 Bicara soal Ramones dan jaket kulit sepertinya nggak akan terpisahkan. Sebab, jika menarik benang garis tentang band punk rock asal Amerika Serikat ini, membuat jaket kulit hadir untuk terus menerus menggambarkan simbol ikonik yang diidentifikasi dengan Ramones dan budaya punk rock secara umum. Penampilan mereka dengan jaket kulit telah mengilhami banyak penggemar dan seniman lainnya, serta menjadi salah satu elemen visual yang terus dikenang dalam warisan cara ber-style mereka.
Johnny Deep Tampil Like a Rockabilly!

Kalo di atas ngebahas soal Ramones, kali ini jaket kulit juga diimplementasikan oleh beberapa aktor kondang asal negeri Paman Sam, yup, salah satunya om Johnny Deep! Tampil memukau dengan jambul like a rockabilly membuatnya semakin tampan dan menjadi pusat perhatian.
Baca Juga: Jaket Sherpa, Pengertian, Model, dan, Fungsionalitas!
Brad Pitt Juga Nggak Kalah Kece!

Last, ada om Brad Pitt yang termasuk ke dalam aktor ganteng kebanggaan mimin. Selain akting doi yang memukau, om Brad Pitt juga cocok untuk dinobatkan sebagai aktor ganteng idaman ciwi-ciwi era 80 hingga 90's. Goks!
---
Nah itu dia, beberapa model jaket kulit keren yang menurut mimin pantas untuk di-highlight. Kalo menurut lo, kira-kira siapa lagi sih yang bisa bersanding dengan aktor dan musisi di atas?