Sepatu kulit merupakan pilihan utama saat kalian pengen tampil rapi, apalagi kalo sepatu tersebut merupakan sepatu kulit pria branded. Walaupun begitu, sepatu kulit juga bersifat versatile loh!
Emang sih, pake sepatu ini kadang membuat penampilan kalian kelewat rapi dan lumayan sulit untuk dikombinasiin dengan fashion item lain yang santai. Tapi, seengganya kalian butuh satu sepatu kulit yang bisa kalian gunakan ketika harus tampil necis untuk menghadiri acara yang menuntut untuk tampil rapi. Untuk mendukung hal tersebut, nih mimin kasih referensi 4 sepatu kulit pria branded idaman biar tampil menawan!
---
Edward Green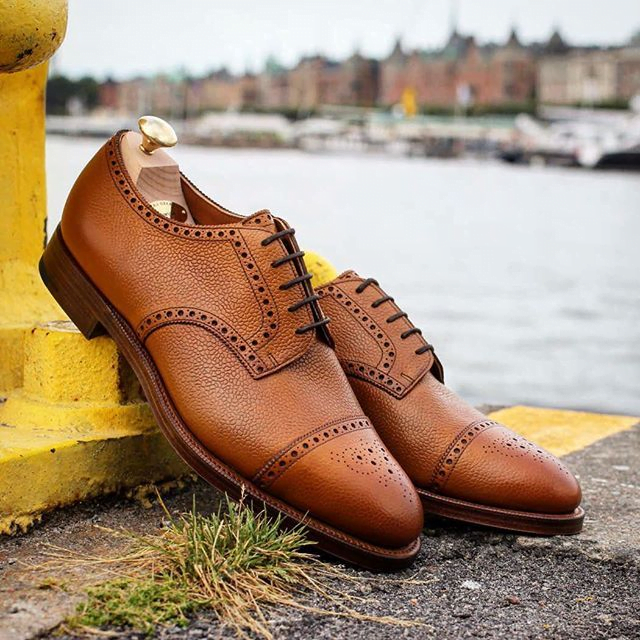 Pengrajin sepatu asal Inggris yang telah aktif membuat sepatu untuk para pria sejak tahun 1890 ini bernama Edward Green. Hasil produksi mereka bisa dikatakan cukup 'kencang', yaitu 250 pasang sepatu dalam satu minggunya. Klien mereka pun tidak main-main, diantaranya Duke of Windsor, Ernest Hemingway dan Cole Porter.
Berluti

Merek yang satu ini berada di bawah group LVMH, atau yang dikenal dengan kepanjangan Louis Vuitton and Möet Hennessey. Berluti didirikan di Paris, Perancis pada tahun 1895 oleh sang pendiri, Alessandro Berluti. Merek Berluti terkenal akan sepatu custom dan handmade-nya.
Meski begitu, beberapa sepatu Berluti masih bisa ditemukan di pasaran. Selain karena model, Berluti juga terkenal akan kenyamanannya.
John Lobb

Dikenal dengan nama John Lobb Bootmaker, perusahaan ini didirikan oleh John Lobb di Inggris pada tahun 1866 di london dan tahun 1900-an di Paris. Di tahun 1976, pengrajin sepatu ini kemudian bergabung dalam satu lini bisnis yang berada di bawah Hermés Group. Dan sama seperti merek sepatu terkenal lain, sepatu ini merupakan sepatu handmade.
Church's

Church's yang kini bernaung di bawah Prada Group sejak tahun 1999 ini memiliki sejarah yang cukup panjang. Berdiri sejak tahun 1873 oleh Thomas Church, mereka menasbihkan diri menjadi salah satu pembuat sepatu terbaik Inggris yang terkenal sebagai contemporary luxury icons.
---
Dari 4 merek sepatu kulit pria branded di atas, mana nih yang jadi idaman kalian?
BACA JUGA: Loafer, Sepatu Pantofel Pria Terbaik Berbagai Urusan!