Kabar baik kembali hadir untuk kalian para pecinta musik pop punk di Indonesia. Profil singkat buat kalian yang belum pernah dengerin, Neck Deep adalah sebuah band beraliran pop punk yang beranggotakan Ben Barlow (vokal), Matt West (gitar), Sam Bowden (gitar), dan Dani Washington (drums) terbentuk di Wrexham, Wales, Inggris Raya, pada 2012 silam.
Sepengetahuan mimin, total sudah tiga kali Neck Deep datang ke Indonesia, mulai dari kedatangan mereka pertama kali ke Indonesia pada tahun 2018, guna dalam rangka menyemarakkan perilisan sekaligus album mereka yang bertajuk, 'The Peace And The Panic', lalu pada tahun 2022, ketika Neck Deep diundang sebagai line–up dari Soundrenaline.
Nah, akhirnya pada tahun 2023 ini, mereka akhirnya mengumumkan bakalan balik lagi ke Tanah Air, namun kali ini dengan konsep konser solo yang pastinya paling ditunggu oleh fans mereka berjudul 'Neck Deep Live In Australia And Asia'. Untuk jadwalnya sendiri, pertama mereka akan datang ke Surabaya pada 15 September di Grand City, lalu lanjut ke Jakarta pada 16 September dengan venue Mahaka Square, dan yang terakhir akan digelar pada 17 September di J Garden Medan.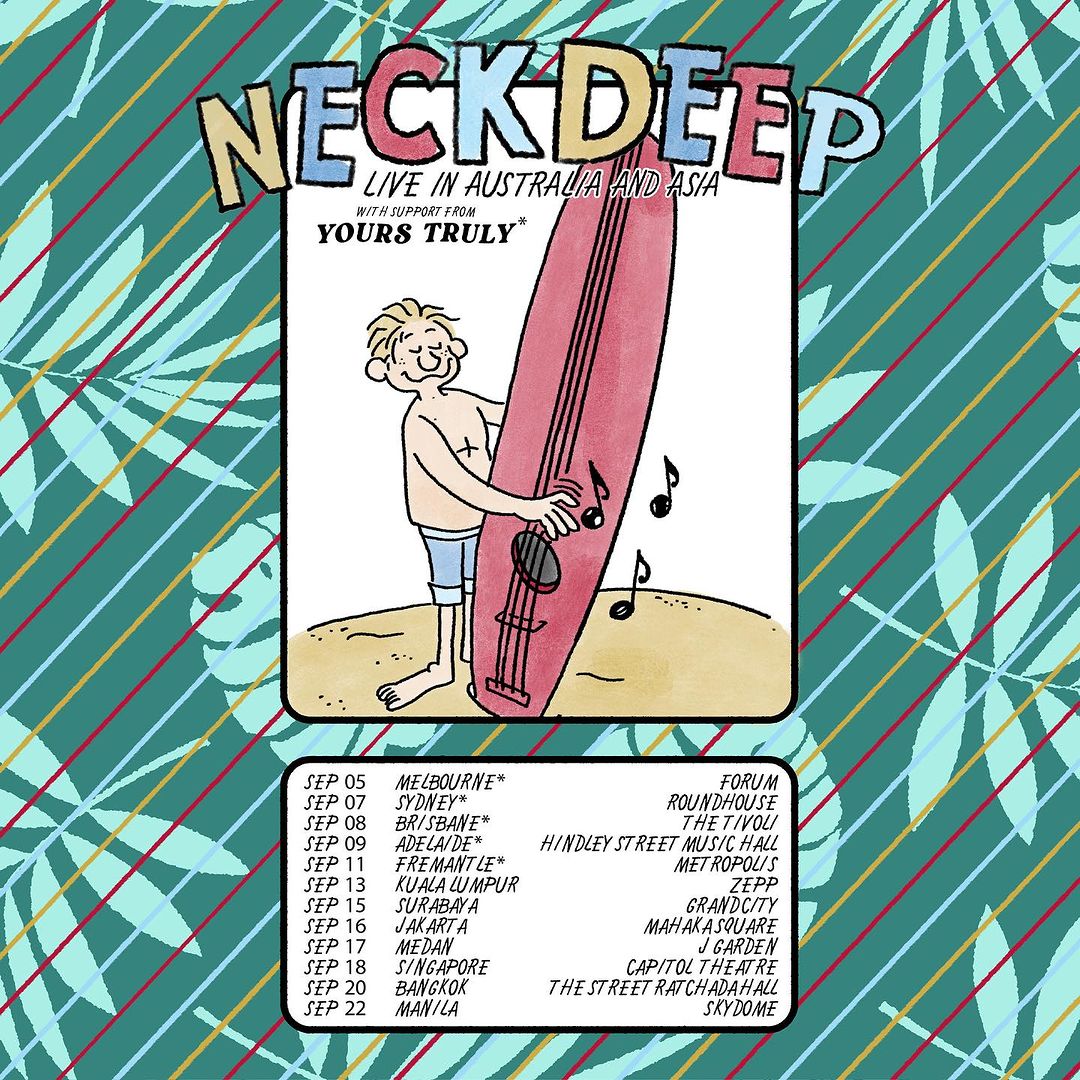 Menurut kabar yang mencuat di internet, harga tiket udah di-sounding dengan harga yang berbeda. Untuk Surabaya terdiri dari dua kategori, dengan harga early bird dari 750k IDR hingga regular 900k IDR. Sedangkan di Jakarta ada empat kategori nih, dengan sistem standing dan seating number yang dimulai dari harga early bird 820K IDR hingga regular 990k IDR.
Untuk harga tiket mereka di Medan, mimin sendiri belum dengar kabarnya sih, mungkin bakalan di-announce pada 20 Juli nanti saat mereka ngumumin pembukaan presale yang tentunya bisa lo dapetin di www.neckdeepuk.com/live pada jam 10.00 WIB.
Btw, sebelumnya buat lo yang menantikan kedatangan mereka, apa sih lagu dari Neck Deep favorite lo? Kalo mimin pribadi sih, suka banget sama penampilan live acoustic mereka sewaktu bawain 'A Part of Me' dari album yang bertajuk, Rain in July/A History Of Bad Decisions. Buat yang penasaran lo bisa nonton di channel YouTube-nya Dr. Martens di bawah ini nih!
Absen dululah, siapa yang kira-kira udah nggak sabar nih sama kedatangan mereka ke kota lo? Unjuk jari, ya!