Perkembangan budaya dan teknologi membuat banyak perubahan dan pergeseran tren semakin dinamis. Semakin cepat penyebarluasan informasi membuat suatu hal menjadi tren yang dibicarakan banyak orang hingga mempengaruhinya. Selain fashion, makanan menjadi hal yang banyak mendapat atensi orang.
Karena adanya media sosial, suatu makanan bisa diomongin dan digemari banyak orang. Entah karena unik, atau karena ada kejadian tertentu yang berkaitan dengan makanan tersebut. Di Indonesia, banyak makanan yang sempet populer pada masanya namun meredup begitu aja karena perkembangan yang tren yang pesat. Kalo diinget kembali, pada masanya kuliner ini sempet merajalela di jalanan loh!
Pada artikel ini, mimin mau coba recall kenangan kita terhadap fenomena kuliner yang sempet naik popularitasnya di Indonesia, tapi sekarang hilang bak ditelan bumi?
---
Gone But Not Forgotten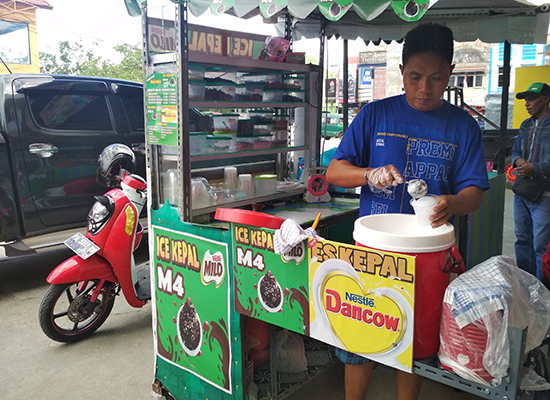 Gak dapat dipungkiri kalo yang namanya tren itu ibarat pisau bermata dua. Di satu sisi bisa membuat suatu hal terbang tinggi, di sisi lain dapat membuatnya terjun bebas. Rata-rata makanan atau minuman yang masuk ke kategori ini merupakan sajian yang mudah diaplikasikan, sehingga banyak orang dapat membuatnya.
Banyak yang memanfaatkan momentum ini dengan membuka usaha kuliner yang lagi ngetren. Mulai dari yang sederhana sampe mewah, yang membedakan adalah pedagang 'musiman' dan yang konsisten. Makanan ngetren pada dasarnya sangat bergantung pada animo masyarakat, serta inovasi dari pelaku usaha tersebut. Bagi yang persisten dapat bertahan dan riding the wave terhadap tren yang ada. Bagi yang 'musiman', asal udah dapet profit pun dirasa cukup.
Maka dari itu, berikut adalah list makanan yang masuk ke kategori the streets won't forget versi kami!
Es Krim Pot

Sajian es krim yang sempet happening sekitaran tahun 2017/2018 ini (maaf mimin lupa) memiliki bentuk yang sangat unik. Penyajiannya yang serupa dengan pot tanaman (seperti namanya) gak lupa dengan ekosistem lengkapnya seperti bunga dan cacing (?) membuat banyak orang penasaran untuk menikmati sajian ini. Tapi, seinget mimin trennya gak lama sih…
Es Kepal Milo

Es kepal Milo sempat populer di tahun 2018. Awalnya, sajian manis berbahan dasar es serut dan lelehan saus cokelat itu berasal dari Malaysia. Saat memasuki puncak popularitasnya, banyak masyarakat Indonesia yang tertarik menjadikannya sebagai ide bisnis. Pada akhirnya, nasibnya sama dengan sajian lain di artikel ini.
Bakso Lobster

Setelah sajian manis, yang satu ini yang paling membangongkan nih. Sajian bakso khas Bekasi ini sempet rame diomongin tahun 2020 lalu nih. Seperti namanya, sajian ini merupakan gabungan bakso dan lobster utuh seperti yang terlihat di gambar. Warga Bekasi ada yang pernah nyoba?
Kopi Dalgona

Pada masa awal pandemi, banyak orang berlomba-lomba membuat minuman ini. Minuman yang populer dari Korea Selatan ini awalnya disajikan dalam program reality show, kemudian banyak orang melakukan eksperimen membuat kopi ini saat pandemi karena gak ada kegiatan lain. Didorong kreatifitas orang Indonesia, mulai banyak bermunculan varian lain seperti dalgona green tea, dalgona jeruk, dan masih banyak lagi. Masih ada yang bikin kopi dalgona gak nih?
---
Seleksi alam juga dapat terjadi di bidang kuliner. Sajian di atas merupakan contoh nyata perputaran roda hidup. Kira-kira kuliner apa lagi nih yang masuk kategori streets won't forget?