Teruntuk para cowok-cowok nih, setuju nggak sih, kalo menjaga penampilan biar selalu keren di setiap kesempatan pastinya adalah sebuah keharusan? Yakan? Makanya, update lemari pakaian lo dengan fashion item yang lagi ngetren itu penting banget, coy. Selain lo bisa memadukan dan memadankan warna pakaian supaya tampak serasi, terlebih juga khususnya sweatshirt memiliki fungsi yang penting guna untuk menunjang aktivitas keseharian lo nih.
Nah, jadi kali ini, kami ada beberapa rekomendasi sweatshirt yang wajib ada di lemari lo, nih. Namun sebelum kami memberikan rekomendasi sweatshirt, udah pada tau belum perbedaan sweater dan sweatshirt secara umum?
Dari fungsinya, sweater berfungsi untuk menghangatkan badan sedangkan sweatshirt berfungsi untuk menyerap keringat dan bisa digunakan untuk olahraga.
Dari bahannya, sweater masih banyak yang menggunakan wol rajut sebagai bahan utama. Beberapa sweater modern ada yang menggunakan bahan katun atau polyester seperti sweatshirt. Namun pada sweatshirt, bagian dalamnya lebih terasa halus dan tidak membuat kulit iritasi saat berkeringat.
Secara pribadi, kalo lo adalah orang yang gampang berkeringat, sweatshirt lebih cocok digunakan sehari-hari daripada sweater (kayak gue). Hmm, btw, kalo gitu mau tau apa aja rekomendasinya kan? Gas, langsung aja simak artikel di bawah ini, ya!
---
Humblezing: Crewneck Paloma Black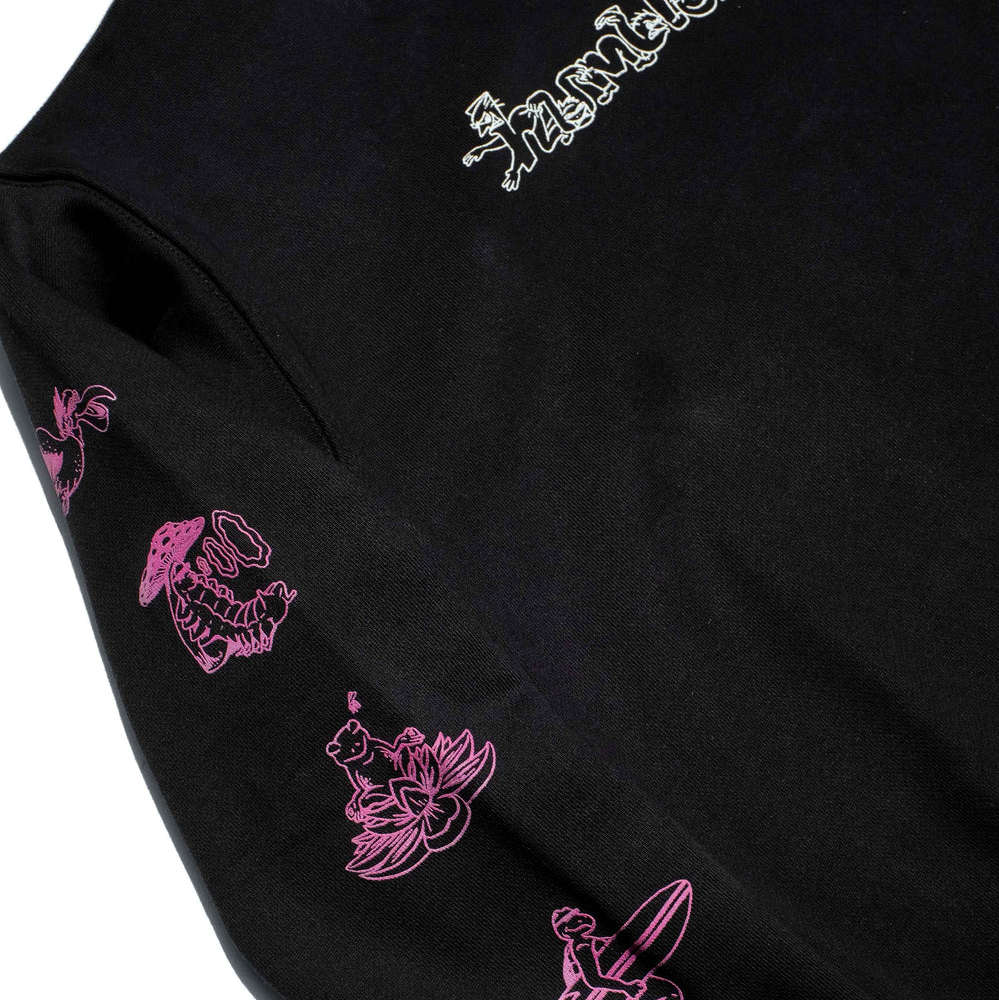 Oke, so, yang pertama ada lokal brand yang menurut kami tidak asing lagi karena sudah melalang buana di skena fashion lokal nih. Yup, ini dia Humblezing. Nyatanya Humblezing yang dikenal sebagai urban outdoor, cukup menarik perhatian kami dengan salah satu artikelnya bernama Crewneck Paloma Black. Terlebih desainnya yang bergenre joyful tribe graphic, dengan menggambarkan visual beberapa hewan seperti kura-kura, kodok, dan ulat yang tengah bersantai, serta bahan yang lembut namun tebal dan yang pasti nggak bikin gerah. Cocok banget untuk nemenin keseharian lo di musim penghujan ini. Daripada penasaran, langsung meluncur ke account Instagramnya aja ya, @humblezing!
STEEZE.LTD: Tie Die Mini College Crewneck Tan

Selanjutnya untuk rekomendasi kedua, pastinya gue nggak mau out of the topic nih. Kali ini ada salah satu streetwear yang berasal dari kota Surakarta, yup ini dia, STEEZE.LTD! Tentunya gue mau mengangkat atau merekomendasikan salah satu produk artikelnya yaitu, Tie Die Mini Collage Crewneck Tan. Tentunya sesuai dengan nama artikel, kalo doi memang menggunakan teknik tie die pada pewarnaannya. Secara pribadi gue akuin crewneck dari STEEZE.LTD ini cukup keren! So, buat lo yang ingin meminangnya langsung, segera meluncur ke account Instagramnya, ya!
Edwin: KTN BLACK HOODIE

Nah, buat lo yang lagi yang mencari hoodie dengan model dan desain yang simple, pastinya untuk menjawab pertanyaan lo Edwin punya solusinya nih! Secara yang dikenal, Edwin ini juga udah menemani gue dan keluarga gue dari masa ke masa. So, pastinya untuk segi kualitas nggak perlu diraguin lagi kan!? Nah, kalo gitu langsung aja ini dia, Edwin KTN Black Hoodie.
Dikemas dengan desain yang cukup simple, Edwin menghadirkan hoodie yang pastinya jadi jagoan gue pribadi. Terlebih untuk persoalan dari bahannya, jelas Edwin nggak main-main, karena doi menggunakan bahan katun dan reguler fit, yang alias pastinya adem, nyaman, dan cocok banget, coy! Pokoknya bisa banget deh lo memadukan dan memadankannya dengan berbagai bawahan. Fyi, berbicara persoalan outer, Edwin juga ada crewneck dan artikel lain, loh! Yang pastinya bisa langsung lo kepoin dan segera meluncur ke account Instagramnya, @edwin.indonesia!
UNKL347: MENT

Waaah, nggak berasa sampai di rekomendasi yang keempat alias yang terakhir nih. Yauds langsung kita gas aja kali ya. Sung ini dia, UNKL347, coy! Nah, untuk rekomendasi sweatshirt yang terakhir ini, UNKL347 dengan artikelnya yaitu MENT cocok banget buat lo yang suka berekspresi dengan desain yang simple. Tanpa basa-basi, langsung aja kepoin dan segera meluncur ke account Instagramnya, @unkl347!
---
Nah, mungkin segitu aja rekomendasi sweatshirt dari kami yang bisa menunjang aktivitas keseharian lo. Selanjutnya rekomendasi apa lagi ya? Boleh kasih tau kami, ya! See you, guys!