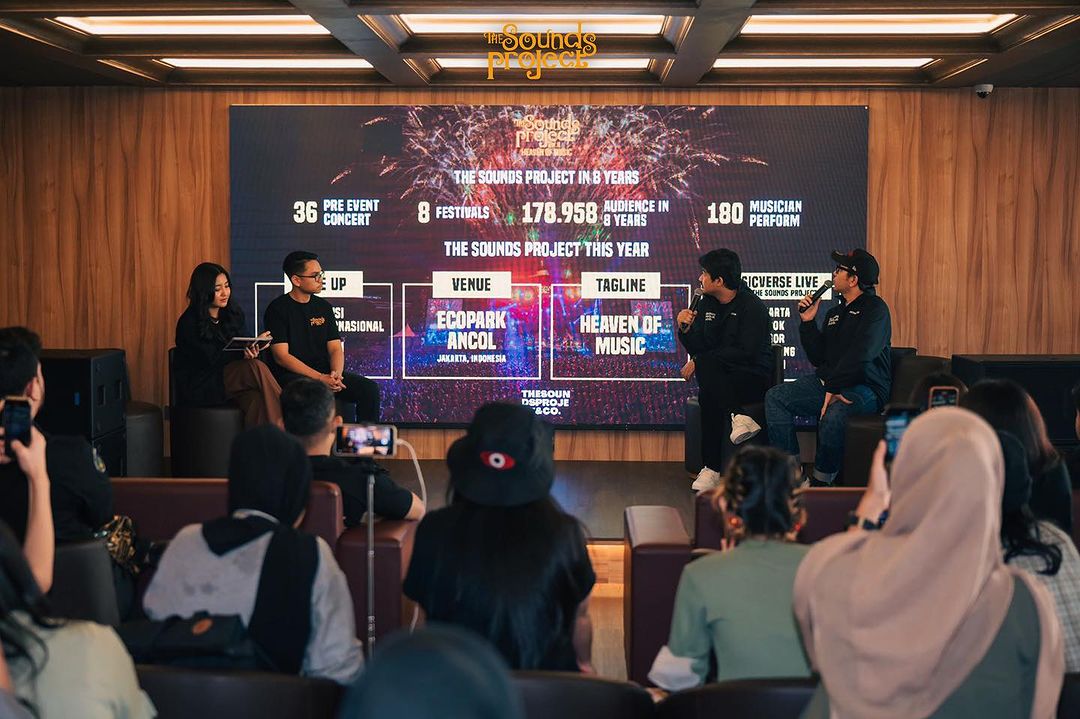 Berawal dari hajatan yang digelar anak kampus yang bermarkas di kota Depok, festival musik yang bernama The Sounds Project kini nggak terasa sudah memasuki tahun kedelapannya. Pada tahun ini, The Sounds Project Vol. 6 siap kembali digelar dengan menghadirkan tema yang cukup ngeri, yang kali ini bertajuk, 'Heaven of Music'.
Menyajikan hampir dari ratusan line up terbaik di Indonesia, dan beberapa artis Internasional di setiap tahunnya, membuat The Sounds Project tetap konsisten selama 8 tahun dan telah menjelma menjadi festival musik terbesar di Indonesia. Begitupun juga, TSP juga berhasil untuk mengundang antusiasme penonton dari mancanegara seperti, Malaysia, Thailand, hingga Singapore.
Diselenggarakan pada 11, 12, dan 13 Agustus 2023, The Sounds Project tahun ini kembali berlokasi di Ecopark Ancol, Jakarta. Menariknya, The Sounds Project Vol. 6 kali ini digelar selama 3 hari, berbeda dengan tahun sebelumnya yang hanya diselenggarakan selama 2 hari.

Mengutip pernyataan Gerhana Banyubiru, selaku festival director sekaligus promotor, "Tahun 2022 bisa dibilang cukup sukses, mungkin setelah pandemi euforia audiens kita lebih luar biasa, kita sadar betul sekarang TSP sudah semakin populer di kacamata pecinta konser di Indonesia. Untuk menghindari kapasitas venue yang terlalu padat hal-hal yang tidak diinginkan, dan untuk menyuguhkan pengalaman menonton festival yang lebih maksimal, dan pastinya nyaman, kita selaku promotor extend festivalnya menjadi 3 hari di tahun ini, tentunya dengan lebih banyak line-up dan sajian-sajian yang bisa dinikmati pengunjung."
Berbeda dari tahun-tahun sebelumnya, pada tahun ini The Sounds Project akan menghadirkan 5 panggung untuk lebih mengakomodasi para penontonnya ketika menikmati festival musik ini.

Adapun, The Sounds Project Vol. 6 menghadirkan beberapa musisi internasional, seperti Mac Ayres, Vacations, dan The Black Skirts.

Untuk informasi lebih selengkapnya, lo bisa langsung berkunjung ke Instagram mereka, serta buat yang mau beli tiketnya langsung aja lo bisa cek di sini, ya!