Jakarta, – Wall of Fades (WoF) adalah sebuah event tahunan berupa eksibisi denim dan bazar lokal brand yang diadakan oleh Darahkubiru sejak tahun 2009 silam. Darahkubiru sendiri merupakan komunitas denim terbesar di Indonesia dan telah berkembang ke spektrum men's lifestyle secara lebih general. Hal ini membuat setiap pagelaran Wall of Fades tak hanya menyita perhatian para pencinta denim tapi juga penggemar mode di Indonesia.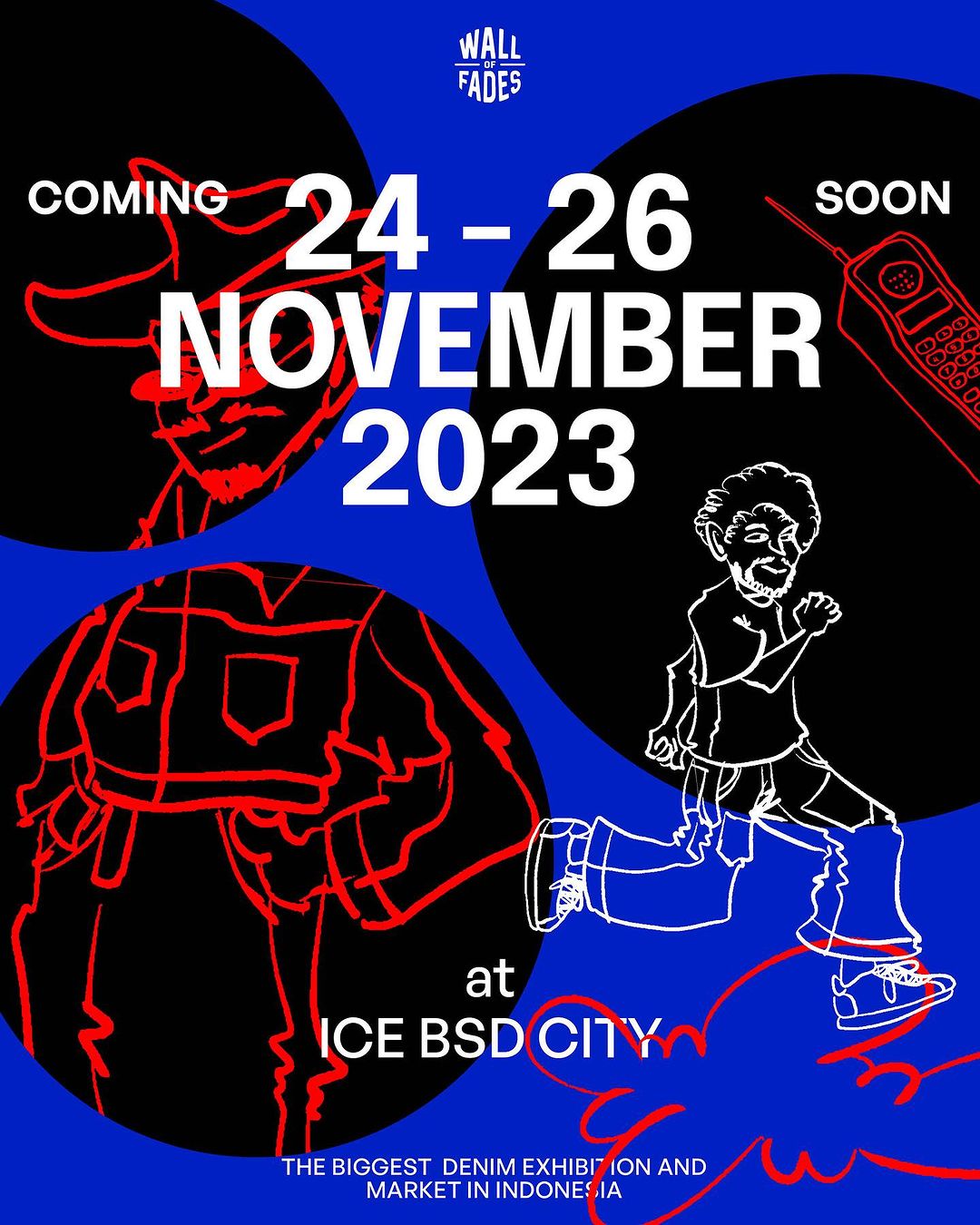 Mengusung tema eksibisi 'Days Away', Wall of Fades 2023 akan berkolaborasi dengan pagelaran 'It's His/Her Day'. Wall of Fades 2023 akan diselenggarakan pada 24-26 November 2023 di Hall 1, ICE BSD, Tangerang Selatan.

Sebelum menggelar acara utama, Wall of Fades telah melangsungkan pre-event eksklusif bertajuk "Road to Wall of Fades 2023" pada 11 November 2023 di kantor Darahkubiru yang beralamat di Grand Wijaya Centre, Jakarta Selatan. Agenda utama dari acara pre-event ini adalah Media Press Conference dan Tenant Gathering bersama Panca Novianto selaku co-founder Darahkubiru dan Phelia Amadea selaku Project Vice Leader Wall of Fades 2023.
Pada tahun ini, Wall of Fades mengangkat tema 'Days Away' sebagai tema acara yang terinspirasi dari perjalanan dan pengalaman setiap individu yang selalu membawa sebuah identitas dan pengalaman yang membentuk diri kita, mulai dari masa lalu hingga masa yang akan datang.

Untuk beberapa orang, denim telah menjadi essential pieces yang tetap relevan dengan setiap fase di hidup mereka, itulah alasan kami mengangkat tema acara tahun ini. Di eksibisi nanti, kami akan memberikan visualisasi dimana akan ada perubahan dalam setiap fase kehidupan mereka, tapi ada hal yang tidak akan berubah dan mereka terus jaga karena itu yang membentuk identitas mereka.

— Phelia Amadea selaku Project Vice Leader dari Wall of Fades.
Selain edukasi dan eksibisi denim, Wall of Fades diadakan sebagai bentuk dukungan terhadap brand lokal dan UMKM untuk bisa berkembang dan lebih dikenal oleh masyarakat Indonesia.

Yang berbeda di tahun ini adalah Wall of Fades berkolaborasi dengan acara 'It's His/Her Day', di mana akan ada banyak acara lain juga mulai dari bazaar fesyen, beauty, otomotif, dan kuliner yang diselenggarakan di satu area yang sama. Wall of Fades akan hadir bersama dengan event-event seperti Soulnation, Slowmove Bazaar, Oh My Food x Jajarans Festival, dan masih banyak event seru lainnya. Hal ini akan memberikan sebuah pengalaman unik dan baru untuk pengunjung, di mana pria, wanita, bahkan keluarga bisa menikmati sebuah one stop experience dengan hanya berkunjung ke sebuah event.

— Panca Novianto selaku co-founder Darahkubiru.
Phelia Amadea selaku Project Vice Leader mengatakan, untuk acara di tahun 2023 ini, Wall of Fades telah menyiapkan lebih banyak hal menarik di tahun ini melalui eksibisi yang lebih atraktif, booth-booth interaktif seperti 'Centil Corener', workshop area dan pastinya akan ada music performance dari musisi kenamaan tanah air seperti, Lomba Sihir, Basboi, Matter Halo, Refo dan Fauna, Dongker, Sunwich, dan Pelteras.
Akses untuk Wall of Fades 2023 akan dibuat gratis untuk semua pengunjung, jadi pastikan kalian datang dan menghabiskan akhir pekan di event 'It's His/Her Day' dan Wall of Fades 2023.
See you at Wall of Fades Jakarta 2023 – "The Biggest Denim Exhibition and Bazaar in Indonesia".