Halo halooo sobat DB! Balik lagi di segmen honest review bareng gue. Gokil, akhirnya gue kembali mendapat kesempatan untuk me-review sebuah jeans yang namanya sudah tidak asing di telinga gue. Yoi, Edwin! Hahaha gue sih seneng banget. Soalnya, kalo kalian inget sebelumnya gue udah pernah me-review slub jeans dari Edwin ini, sekarang giliran gue buat me-review soft jeansnya nih. Penasaran kan? Sung aja yuk, cekidots!
---
MATERIAL & SPECIFICATION
Description:
– Bahan : 46% Cotton, 30% Rayon, 14% Polyester
– Warna : Black Overdyed
– Sit at waist
– Extra room pada bagian paha
– Potongan lurus dari lutut sampai bottom leg
– Handfeel lebih lembut dibanding jenis bahan jeans pada umumnya
– Berbahan type "Soft Jeans" dan Jeans Non-Stretch karena mengandung rayon pada kandungan bahannya
FIRST IMPRESSION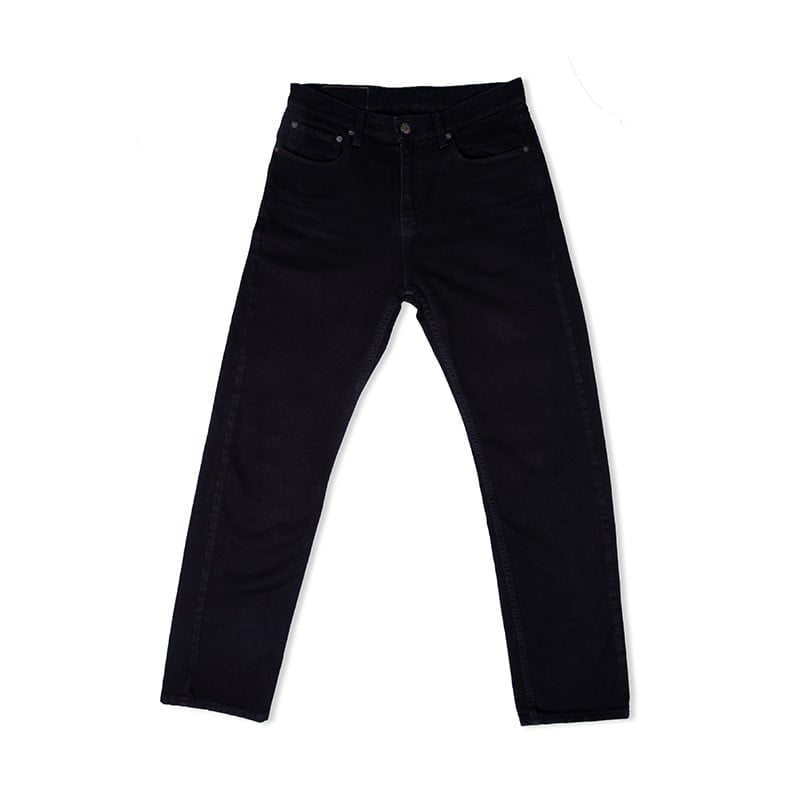 Oke, first impression gue ngeliat jeans 801 soft jeans dari si Edwin ini udah langsung jatuh hati sih, terlebih warnanya black overdyed juga hahaha. Hmm, mungkin langsung to the point aja ya, yakali nggak bakal cocok dikombinasikan dengan berbagai atasan? Yang menurut gue sendiri pun, doi juga sangat bertekstur nyaman dan cocok untuk menemani berbagai aktivitas keseharian.
Terbilang 801 soft jeans dari Edwin ini bener-bener ngebuat gue ngerasa nyaman ketika memakainya. Doi emang jelas terlihat standar, namun ternyata memberikan kenyamanan sendiri ketika lo memakainya. Jadi, ya gitu deh. Gue nggak bisa terlalu memberikan banyak komentar lagi. Daripada lo penasaran, mending lo cobain deh! Intinya, dari awal gue ngeliat celana ini, gue jelas udah naksir!
EXPERIENCE
Nah, kalo berbicara soal experience sebenarnya ada alasan tersendiri kenapa gue memilih Edwin 801 Regular Fit Soft Jeans ini, khususnya untuk varian black overdyed ya. Ini dia, alasannya!

Pengalaman gue menggunakan Edwin 801 Regular Fit Soft Jeans ini mungkin nggak berbeda jauh dari keluaran Edwin satunya, slub jeans. Namun yang jadi perpedaan antara keduanya adalah jelas material yang digunakan berbeda, karena soft jeans dari si Edwin ini lebih terasa tipis dan lembut ketika digunakan.

Menurut gue, dari segi looks pun tentunya asik untuk dibawa ke styling apa aja, doi nggak banyak neko-neko kok tapi adem, asli. Makanya juga gue pilih si black overdyed, udah bisa combine kemana-mana kan? Hahaha. Terus juga kalo lo berbicara soal fit pun, tentunya pas banget terutama buat tipe yang kakinya panjang nih, terus terlebih juga bahannya pun super nyaman sih. Hmm, lagi pula doi juga udah nemenin serta hadir dari masa kecil gue, nyokap gue pun aja masih tau sampe sekarang. Jadi, yaudalah, Edwin nggak perlu gue raguin lagi sih.

Oh, iya, btw Edwin 801 Soft Jeans ini nggak cuma hadir dengan warna black overdyed ya coy, tapi hadir juga dengan warna varian lain, seperti vintage indigo, blue indigo, light blue indigo.
---
CONCLUSION
Dengan harga normal yang bisa kalian dapatkan senilai Rp. 599.000, ternyata pas gue check out eh doi, ternyata lagi diskon nih menjadi Rp. 249.900. Hahaha, jadi buruan deh kalo lo mau dapet diskonnya, langsung meluncur aja ke account Instagramnya @edwin.indonesia, atau mungkin bisa langsung ke webstore-nya aja ya, gaskeun dah!