Memilih sebuah model jeans yang tepat buat kita memang sulit, apalagi ketika pilihan yang ada sangatlah mirip satu sama lain. Itu yang kita rasakan ketika membandingkan Wrangler 11MW 1947 dengan Wrangler 11MW 1952. Kedua jeans ini bisa dibilang 2 buah model yang sangat mirip satu sama lain. Kita hampir tidak bisa menemukan perbedaan yang siginifikan di antara keduanya, namun kita akan mencoba membuat perbandingan antara keduanya untuk membantu yang bimbang dalam memilih antara kedua model ini.
Wrangler 11MW 1947 adalah jeans Wrangler pertama yang diproduksi oleh Blue Bell. Selain menjadi jeans pertama, model jeans ini dipercaya menjadi model standar bagi model Wrangler selanjutnya. Berbagai macam karakteristik dan detail Wrangler Blue Bell sudah bisa kita lihat di model awal ini seperti W stitching, flat top rivet, 7 belt loops, dan lain sebagainya.
Wrangler 11MW 1952 merupakan turunan dari pendahulunya, model 1947. Dibuat dengan bahan yang sama dan detail yang mirip, makin menjadikan model ini menjadi sebuah model jeans Wrangler yang sempurna. Kita bisa mengatakan bahwa model 1952 ini sudah merupakan versi sempurna dari model 1947 dan seterusnya dipakai sebagai acuan bagi produk-produk Wrangler lainnya. Pada model ini pula Wrangler mulai mempromosikan dengan gencar celananya ke kalangan koboi dan penunggang rodeo. Hal ini bisa dilihat di bagian Qualitag dan juga flasher yang menampilkan Rodeo Ben dan juga para rodeo terkenal lainnya.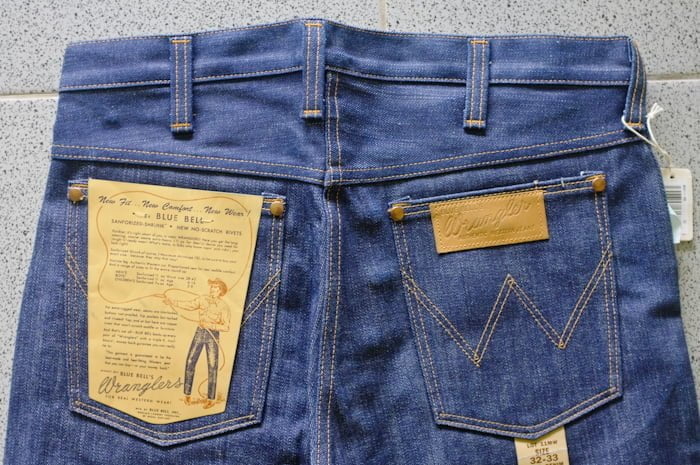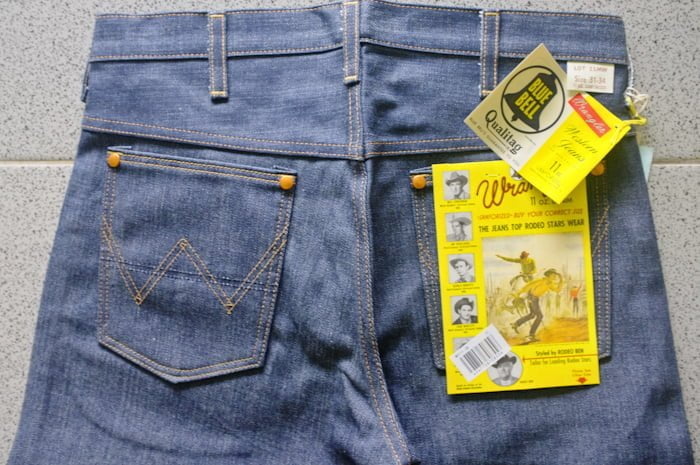 Perbedaan yang paling mencolok dari kedua buah model ini adalah di bagian kantong belakang. Kedua model ini memiliki W stitching yang cenderung mirip, namun pada model 1947, kantong belakang tidak dilengkapi dengan half-lining, sementara versi pembaruannya 1952 sudah memiliki half-lined backpocket yang menambah durability dari kantong belakang jeans ini.


Sekali lagi dalam hal fit, kedua jeans ini memiliki cutting yang sangat mirip. Straight cut adlaah cutting yang kerap dibuat pada jamannya, dan kedua jeans ini memiliki cut straight dengan rise yang cukup tinggi. Jika anda menginginkan model standar dan sempurna dari Wrangler, model 1952 menjadi pilihan yang cocok, sementara model 1947 akan lebih cocok bagi yang menghargai sejarah dan ingin memakai produk Wrangler yang benar-benar dikeluarkan pertama kalinya.
Yang manakah dari kedua produk ini yang lebih kalian suka? Langsung saja isi pollingnya di bagian bawah artikel ini
——————————————————————————
Choosing between numbers of jeans is difficult, especially when we're faced with similar products. That's what we felt when we compare Wrangler 11MW 1947 with Wrangler 11MW 1952. Both jeans could be considered as a really similar model. We almost couldn't find a significant difference between these two models, but we're going to try to compare them to help you choose.
Wrangler 11MW 1947 is the first jeans manufactured by Blue Bell. This jeans also sets some standard to the other Wrangler product. All those Wrangler characteristics already thrown in this product such as the W stitching, flat top rivet, 7 belt loops to name the few.
Wrangler 11MW 1952 is 1947's brother.  Made with same material and similar details, making this jeans a more perfect rendition of the previous model. We can say that this particular jeans is the distinct Wrangler jeans and act as a standard for other Wrangler jeans product. With this model, Wrangler starts it marketing to the cowboy and rodeo world by featuring Rodeo Ben and other famous Rodeo Champion in the flasher and their qualitag.
One of the most distinct difference that sets these two models apart is in the backpocket. Of course they both have W stitching, but in the 1947 model, half-lining is not present, meanwhile the next model featured a half-lined backpocket which increase backpocket's durability to a next level.
In terms of fit, they both offer similar fit. Straight cut is mainly produced in that era and these 2 jeans feature a really cool vintage straight cut with a high rise. If you are looking for a distinct and iconic model of Wrangler, the 1952 would be a suitable choice for you. While for those history and vintage appreciator and wants to feel what it looks like to wear the first Wrangler jeans ever made, then the 1947 model is the choice.
Which one of those two product you prefer the most? Just vote in the polls below!
———————————————————————————————–
[poll id = "4"]