Blue Bell yang kembali dibangkitkan kembali di bawah Wrangler, saat ini lebih mengutamakan desain yang sesuai jaman dan lebih modern. Blue Bell bukanlah brand seumur jagung namun memiliki akar dan sejarah yang sangat dalam di bidang jeans dan workwear. Dengan kedua hal ini digabungkan, maka Blue Bell saat ini adalah sebuah brand yang memiliki desain yang modern dan tepat guna untuk jaman sekarang namun tetap dengan mengutamakan kualitas dan mengambil elemen-elemen heritage yang dimilikinya. Lantas mengapa Blue Bell tidak membuat replica line saja?
Bagi Blue Bell, membuat sebuah produk replika bukanlah tugas Blue Bell saat ini. Seperti sudah kita lihat dari sejarah dan review produk-produk Blue Bell, kita bisa melihat adanya referensi yang kuat terhadap sejarah dan heritage di dalam koleksi Blue Bell. Namun saat ini sudah saatnya para desainer yang menentukan dan membuat inovasi yang berdasarkan pada desain jaman dahulu dan membuatnya relevan bagi denim consumer saat ini. Blue Bell sudah memiliki ciri khas dan ikon yang lahir dari sebuah fungsionalitas dan sampai saat ini tetap berjalan dan melestarikan ciri khas tersebut.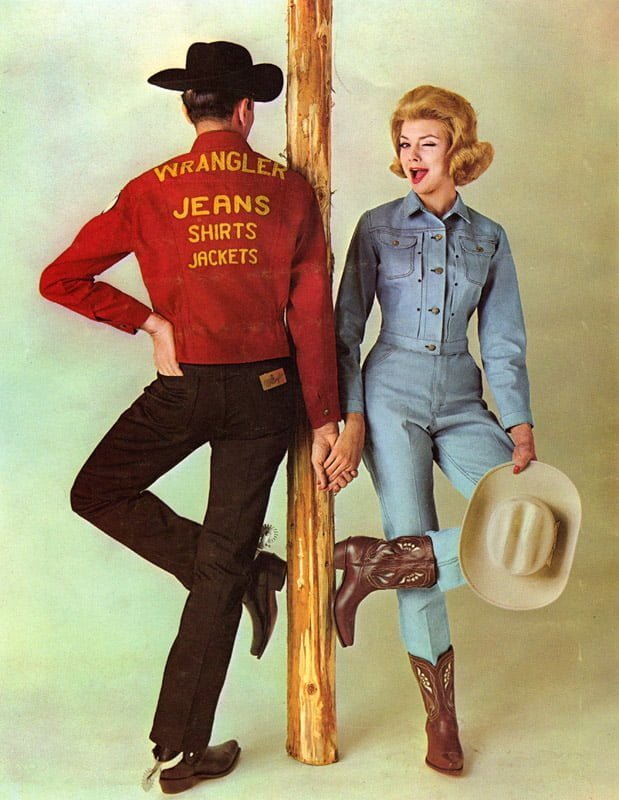 Menurut Blue Bell, desain adalah sesuatu yang bisa diadaptasi untuk menjadi relevan, tetapi tetap memikirkan sisi fungsional dan estetik yang mendefinisikan Wrangler sebagai sebuah brand. Mungkin bisa dianalogikan sebagai sebuah grille pada mobil yang selalu membawa sejarah mobil tersebut, sementara mobilnya sendiri bisa jadi sebuah interpretasi yang sama sekali modern. Fit jeans Wrangler dahulu ditujukan untuk menunggang kuda, saat ini jeans ini ditujukan untuk mengendarai sepeda, sepeda motor atau juga mengendarai mobil.


Pakaian dengan nilai historis dan heritage akan selalu ada dan menetap. Tren saat ini adalah untuk menciptakan pakaian yang less disposable dimana pakaian dibuat dengan tujuan lebih kuat dan tahan lama seiring berjalannya waktu, baik dari segi fisik pakaian dan juga dari sisi styling. Brand dengan nilai heritage seperti ini biasanya merupakan spesialis di bidangnya, dan Wrangler Blue Bell adalah sebuah brand spesialis dan ikonik di bidang denim yang selalu dari sejarah untuk mengembangkan masa depan.

PS: Bahas juga mengenai Wrangler Blue Bell di forum.
—————————————————————————-
This is not the job of Blue Bell. There is a huge reference to the past within the collections of Blue Bell, but it's up to today's designers to make the innovations of the past relevant to today's denim consumers. We have inherited an unmistakable set of icons that were born out of function, and we stay true to those icons. Designs are adapted to be relevant, but always adhere to those functional and aesthetic elements that define Wrangler – in much the same way as the grille of a car carries the legacy, while the car can be a modern interpretation. The fit was designed for riding a horse, now it's fit for riding a bike or driving a car…. it's about modern life.
Heritage clothing is here to stay. The wider trend is for less disposable, more long lasting goods that can stand – and have stood – the test of time, both physically but also from a styling point of view. Brands that have a heritage to talk about are usually specialists in their field. Wrangler Blue Bell is an iconic heritage denim specialist that is learning from the past to develop the future.
PS: You can also discuss anything about Wrangler Blue Bell in forum.