Workware Heritage Clothing adalah sebuah toko yang bergerak sebagai penyalur vintage goods dan denimwear di Hong Kong. Toko ini menawarkan koleksi-koleksi ekletik dan pakaian vintage untuk pria dan wanita termasuk collectors garment, vintage accessories, vintage military apparel sampai ke vintage home décor. WHCC menawarkan sisi historis bagi para kolektor dan pembeli lainnya dengan menyediakan waktu untuk memberikan informasi detil seperti deskripsi garmen dan sejarahnya. Saya  tertarik untuk menghubungi pemilik WHCC dan menanyakan sedikit mengenai cerita di balik toko dan brand mereka.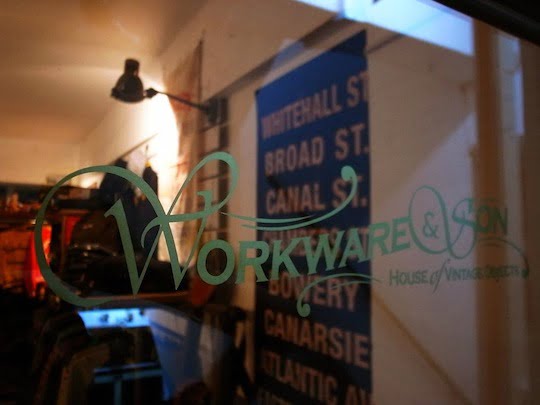 Bisakah anda berikan sedikit cerita mengenai Workware Heritage Clothing Company?
Workware Heritage Clothing Company didirikan pada tahun 2010 dan sebelumnya sudah berpengalaman dalam mengkoleksi dan menyalurkan vintage clothing kira-kira 10 tahun. Tujuan kita adalah mencari bermacam-macam jenis pakaian dari seluruh dunia mulai dari denim dan workwear, seragam militer, aksesoris bagi pria dan wanita sampai properti-properti antik untuk dekorasi. Di WHCC, kamu dapat dengan mudah menemukan vintage Levi's jeans dari tahun 40an dan juga produk-produk repro Jepang, selain itu juga vintage sneakers dan backpack.
WHCC adalah campuran dari yang lama dan baru. Kita percaya bahwa setiap benda memiliki ceritanya sendiri. Seperti sebuah buku, kamu mungkin suka sampul depannya, tetapi yang benar-benar berisi adalah cerita di baliknya. Workware Heritage Clothing Company memiliki bermacam-macam koleksi dan berdedikasi pada vintage wear dan vintage ware yang berkualitas. They have soul to everyone.


Bagaimana dan sejak kapan anda tertarik pada vintage goods dan denim?
Kami benar-benar terpengaruh oleh James Dean dan Steve McQueen yang merupakan bintang Hollywood ternama di tahun 1960 & 1970. Terlebih lagi, mereka sering memakai pakaian-pakaian vintage dan jaket militer yang menarik.
Bisakah anda menjelaskan sedikit highlight dalam koleksi atau projek terbaru anda, detail dan cerita di baliknya.
Koleksi terbaru kami adalah sebuah reproduksi dari P.O.W. sweatshirt yang digunakan oleh tawanan perang pada perang dunia. Selanjutnya ada versi kedua dari WORKWARE Overalls yang kita namai no.2 workware overalls.
Kita selalu sebisa mungkin mereproduksi sebuah produk vintage dengan cara yang sama dengan referensi yang kita miliki. Kita ingin orang mengerti lebih mengenai sejarah dan cerita dibalik setiap detail. We believe it is the soul of the product itself.


Anda lebih condong sebagai seorang vintage collector atau businessman?
Karena kita menjual vintage product sebagai pekerjaan utama, maka lebih tepat jika kita disebut sebagai vintage hunters. Tentu kita juga punya koleksi vintage pribadi.
Sampai saat ini, apa yang menjadi tantangan terberat dalam menjalankan perusahaan anda?
Seberapa jauh masyarakat menerima vintage clothing, terutama fitting dari tiap garment.

American authentic vintage goods atau Japanese repros?
Banyak orang lebih memilih Japanese repro karena cuttingnya dan terlebih karena mereka lebih terekspos oleh media dan mulai masuk dalam tren. Kadang mereka mungkin kehilangan detail, cara pembuatan dan cerita dibaliknya. Melalui WHCC, kami ingin mereka tahu lebih mengenai hal-hal tersebut. Karenanya kami membuat produk pakaian kami sendiri untuk bercerita. Konsep vintage clothing diantara masyarakat Hong Kong tidaklah sekuat di Jepang.

Terakhir, ada pesan-pesan bagi para denim dan vintage goods enthusiast di Indonesia?
Try to understand more before you bought a vintage cloth.
Nah, kalau kalian benar-benar tertarik pada vintage clothing dan barang-barang vintage, Workware Heritage Clothing Company adalah tempat yang harus dikunjungi di Hong Kong. Tempat ini tidak hanya menarik secara aestetik dan visual, tetapi juga menawarkan pilihan produk yang beragam dan berkualitas.
Workware – Heritage Clothing Company
www.workwareheritageclothing.com
shop 340, president centre,
Mongkok
602-608
Hong Kong
wawancara dan cerita oleh Adystra Bimo