Setelah sempet me-review salah satu jeans besutan Blue States Denim beberapa waktu silam, di tahun yang baru ini gue kembali me-review salah satu jeans teranyar mereka. Lucunya, jeans ini merupakan jeans heavyweight yang pertama kali gue akan pakai dalam beberapa tahun terakhir. Apakah gue masih sanggup memakai jeans heavyweight? Mari kita coba.
Tidak lupa terima kasih aku panjatkan kepada pinang alias Bang Ben yang telah merekomendasikanku ke brand YBS sehingga jeans ini akhirnya bisa mendarat ke pangkuanku. Semoga murah rezeki dan sehat selalu
Jeans ini adalah jeans kedua gue dari brand asal Jakarta ini. Kalo kemarin cukup middleweight, kali ini heavyweight. Cukup menarik untuk jadi rotasi sehari-hari apabila gue perlu keluar malam atau ketika cuaca sedang dingin.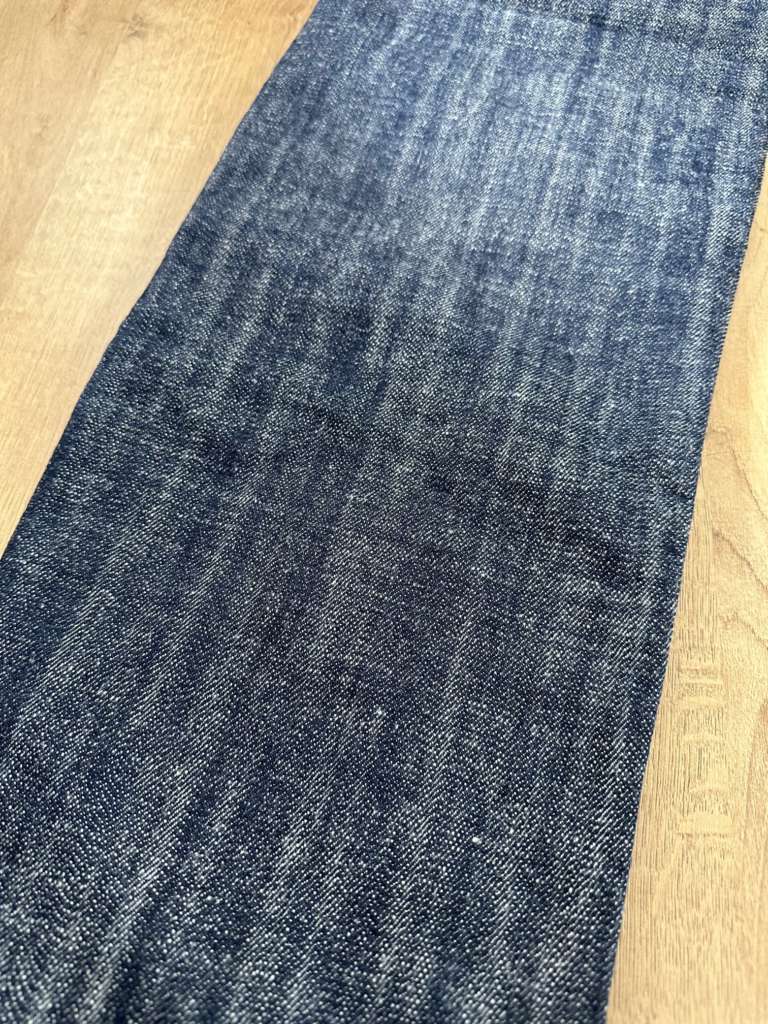 Jeans bertajuk Red Samurai II ini merupakan versi terbaru dari artikel yang bernama sama, makanya ada ditulis "II" di situ. Untuk spesifikasinya, jeans ini dibuat dengan unsanforized 22oz rope-dyed medium-light indigo denim with red selvedge line. Kalian bisa lihat sendiri denim-nya yang cukup streaky alias bergaris dan ditambah lagi handfeel-nya juga cukup slubby. Mimpi basah anak denim ini mah.
First impression, gue suka banget tampilan streaky-nya. Berasa beda dan spesial. Bosen kan pake deep mulu. Paling downside-nya jeans streaky dan berwarna medium seperti ini akan lebih susah menghasilkan fades, tapi 2023 masih nyari fading? Grow up man.

Seperti namanya, jeans ini juga didominasi warna merah, seperti yang bisa dilihat di leather patch dan juga bordiran di backpocket kanan. Gue pribadi cukup suka sih jeans yang arc-less seperti ini, bikin orang bertanya-tanya gue pake jeans apa. Eh anak denim jaman now masih suka meratiin pantat orang nggak sih? Bukannya meratiin pantat cewek malah meratiin pantat cowok. Aneh memang.

Tidak seperti jeans T.N.T yang pernah gue review, jeans ini tidak menggunakan shell-stitch di bagian fly-nya, melainkan obras seperti biasa. Tapi tentu hal ini tidak mengurangi kekuatan dari konstruksinya, hanya ngaruh di estetika semata.

Semua detail seperti rivet dan button sudah branded, yang menurut gue menandakan kalo brand ini serius dan bisa dibilang sudah cukup established. Ya kecuali hidden rivet-nya ya, ngapain juga di-branding, kan judulnya aja hidden. Banyak detail yang tersemat di bagian dalam jeans ini, seperti rayon label dan gimmick pada pocket bag, di mana kalian bisa membuat jurnal cuci/rendam.

Pas gue coba fitting, wah gue cukup kaget karena ini pertama kalinya gue pake jeans heavyweight setelah sekian lama. Sangat berasa stiff. Tapi karena fit-nya yang nyaman jadi cukup mengakomodir kenyamanan selama penggunaannya. Nggak seperti T.N.T yang menurut gw berasa lebih slim, Red Samurai II ini berasa lebih roomy. Keputusan tepat sih, kalo ini dibikin slim gue yakin pasti nggak nyaman banget. Tapi seperti yang lo bisa lihat, fit-nya oke banget. Gue nggak terlihat seperti anak hip-hop jaman 90an. Rise-nya juga nggak serendah T.N.T, menambah kenyamanannya.
In general, I prefer this over the T.N.T. Gue suka jeans ini minim detail yang "teriak", gue suka bagaimana simplicity dari jeans ini justru bikin orang jadi bertanya-tanya dan penasaran sama jeans apa yang gue pake. Denimnya yang streaky juga jadi mengingatkan gue pada jeans premium pertama gue. Lalu fit-nya juga di luar ekspektasi gue, walaupun pas pertama gue pake gue ngerasa canggung tapi pas ngaca dan setelah seharian dipake gw tau banget ini jeans pas buat gue.
Saat gue intip di Shopee, jeans ini dibanderol seharga IDR 825.000. Buat temen-temen yang mau nyobain jeans heavyweight dengan harga yang affordable, boleh banget jeans ini dijadikan opsi. Selamat mencoba!