Nggak disangka, gue kedapetan job untuk me-review lagi. Gue kira abis PMP kemarin nggak bakal ada brand yang mau jeans-nya gue review. Namun ternyata gaya me-review gue yang apa adanya dan sesuka hati gini cukup menarik beberapa pihak ya, sampai Blue States Denim mau salah satu jeans mereka yang teranyar untuk gue review. Ya semoga nggak dengan keadaan terpaksa ya hehe.
Pas banget gue lagi nggak punya celana karena berat badan gue turun drastis. Jadi ya syukur alhamdulillah deh. Makasih ya tim DB, makasih juga ya Blue States Denim.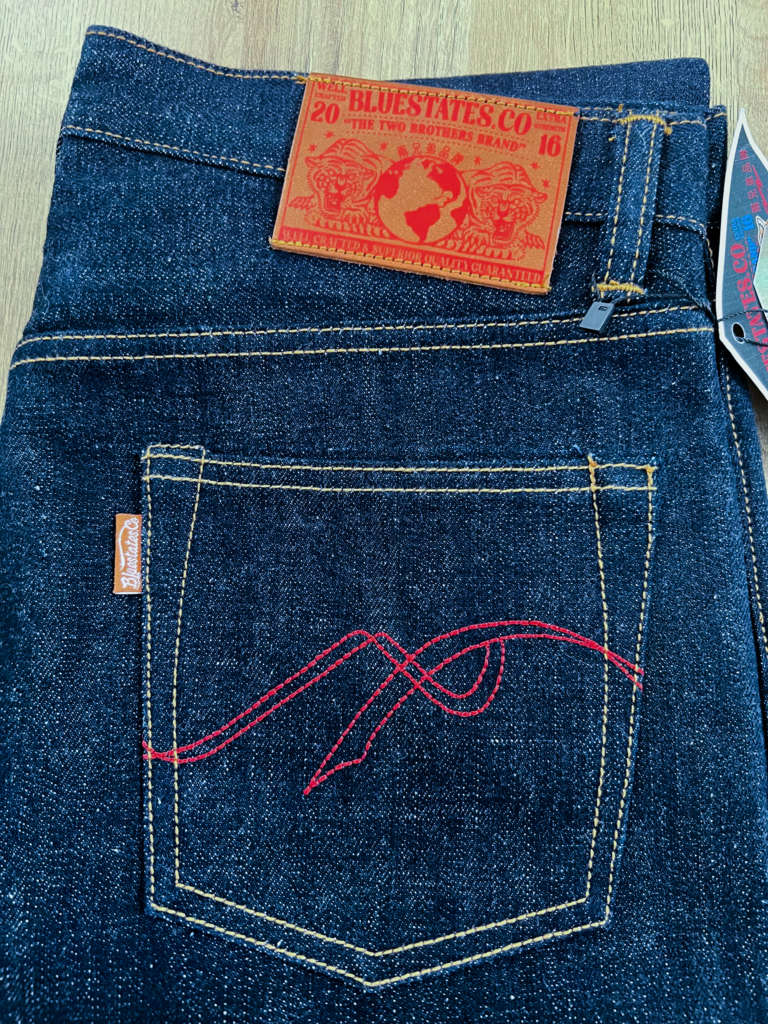 Ini adalah jeans pertama gue dari brand asal Jakarta ini. Sering sih melihat sepak terjang mereka di WoF, namun karena gue emang asalnya kere jadi belum pernah nyobain huhu.

Jeans bertajuk T.N.T alias Tiger on Your Tank ini cukup unik, karena kapan lagi lo bisa lihat harimau naik tank. Sebelum kita masuk lebih detail, berikut adalah spesifikasi dikutip dari brand-nya langsung:
•17oz Extra Deep Indigo Denim
•Cherry Red Selvedge Line
•Unsanforized
•Slim Straight cut
•100% cotton – Cross Fire Slub
•Mid stiffness
•Blue States' brand new "Eye of The Tiger" Cherry Red Arcuate
•T.N.T series Exclusive Flasher & Hangtag
•Exposed Cherry Red Selvedge coin pocket
•BlueStatesCo Ant. Copper Bright Top button
•BlueStatesCo Ant. Copper Bright Mid button
•BlueStatesCo Copper rivets
•BlueStatesCo Oranje Tab
•Classic Gold shell stitch fly
•Hidden rivets
•T.N.T Plastisol printed pocket lining
•Cherry Red dyed "The Two Brothers Brand" Tanned leather patch
•Notorious Syndicate woven label
•Mid-low Rise
•Broken white Interlock inseam
•Chainstitched by the Union Special 43200G
First impression, jeans ini warnanya yang sangat deep sehingga membuat warna di beberapa bagian terlihat sangat kontras. Teksturnya juga mengundang untuk dielus, nggak terlalu slubby dan juga nggak terlalu polos.

Jeans ini didominasi dengan warna merah, seperti yang bisa dilihat di leather patch, selvedge line dan juga yang paling mencolok di arcuate-nya.

Selain warna merah yang dominan, terdapat juga beberapa detail berwarna orange seperti di pocket lining sebelah kanan dan tab di backpocket kanan.

Gue suka shell-stitch banget di bagian fly. Lebih menarik untuk dilihat daripada selvedge fly, in my opinion. Untuk selvedge-nya ngga sampai ke waist band tapi cuman sampai ke pangkal pocket lining.

Semua detail seperti rivet dan button sudah branded, yang menurut gue menandakan kalo brand ini serius dan bisa dibilang sudah cukup established.
Pas gue coba fitting, wah anjing ternyata kegedean dong apakah gue kurusan lagi eh ternyata gue lupa kalo jeans ini unsanfor hehe maklum pikun. Akhirnya setelah gue rendam dengan air hangat selama 30 menit, jeans ini dengan cantik melekat di kaki gue.
Feel-nya di kaki nyaman banget, nggak berasa kalo jeans ini cukup tebal dan stiff di 17 oz. Sweet spot, lah kalo kata anak jaman. Fit-nya pun gue suka banget, slim straight-nya dapet, tapi gue rasa bakal ada beberapa orang yang bakal nggak nyaman sama rise-nya yang bisa terbilang pendek. Kalo gue duduk sedikit mungkin bokong gue bakal ngintip-ngintip keluar.

Overall, I really love this pair of jeans. It has everything I need: great fit, comfortable to wear, attention to details and many more. Tapi untuk selera, warna merah di arcuate menurut gue pribadi agak tacky, dan exposed selvadge di coin pocket juga agak kurang manis. Gue lebih suka pakaian yang agak lay low, jadi detail yang tadi gue sebut agak "tereak" nih. Tapi nggak papa, itu cuman selera belaka, dan pros-nya jauh lebih banyak daripada cons-nya yang sebenernya juga subjektif banget.
Dan juga ternyata detail berwarna merah ini bisa jadi nilai plus kalo gue pake outfit yang banyak unsur merahnya juga. Berasa jadi kaya Megawati tapi nggak pake tai lalat. Cakep lah pokoknya.
Saat artikel ini ditulis, jeans ini lagi diskon lho jadi IDR 723.000 dari harga aslinya IDR 1.100.000. Semoga pas artikel ini rilis diskonnya masih berjalan ya. Kalo udah nggak sih yaudah nggak papa, karena mereka masih punya banyak artikel lain yang tentunya nggak kalah bagus!