Balik lagi bareng gue, mimin magang, di segmen Honest Review! Nah, kali ini gue diberikan kepercayaan untuk me-review salah satu produk jeans rilisan dari The Worker Shield yaitu THE LIFELINE! Tapi sebelum masuk ke review-nya ada fun fact sedikit nih. Yaitu, sang pemilik brand TWS ingin menjadikan produk ini sebagai benda bersejarah atas pengorbanan tim medis pada saat pandemi covid-19, dan juga sebagai pengingat untuk membantu orang-orang yang membutuhkan disekitar kita. Udah sih segitu aja fun fact-nya. Nah langsung aja deh kita masuk ke review-nya. Sung simak aja, gan!
---
SPECIFICATION
14 oz Indigo Selvedge Denim
Unsanforized, Sakura Selvedge ID
Milled In Kurabo Mills, Japan
Slim Straight Leg, Medium High Rise
Custom Tanned Cowhide Leather Patch
FIRST IMPRESSION
Pada saat jeans ini sampai, yang menjadi ketertarikan utamanya adalah bahan dari jeansnya dengan ketebalan 14OZ yang menunjukan karakter hairy-nya atau agak berserabut kecil-kecil. Apalagi ditambah design flasher dan juga hang tag yang bisa dibilang makin membuat jeans ini terlihat makin keren. Tapi sayangnya, dibagian flashernya tidak diberikan informasi mengenai spesifikasi daripada jeansnya. Jadi untuk menambah informasi, mimin sempet bertanya ke Mas Arya (pemilik TWS) "ini sanfor atau unsanfor ya?" dan juga ngulik dari websitenya TWS itu sendiri. Ternyata setelah diselidiki, jeans ini finishing-nya unsanforized, coy.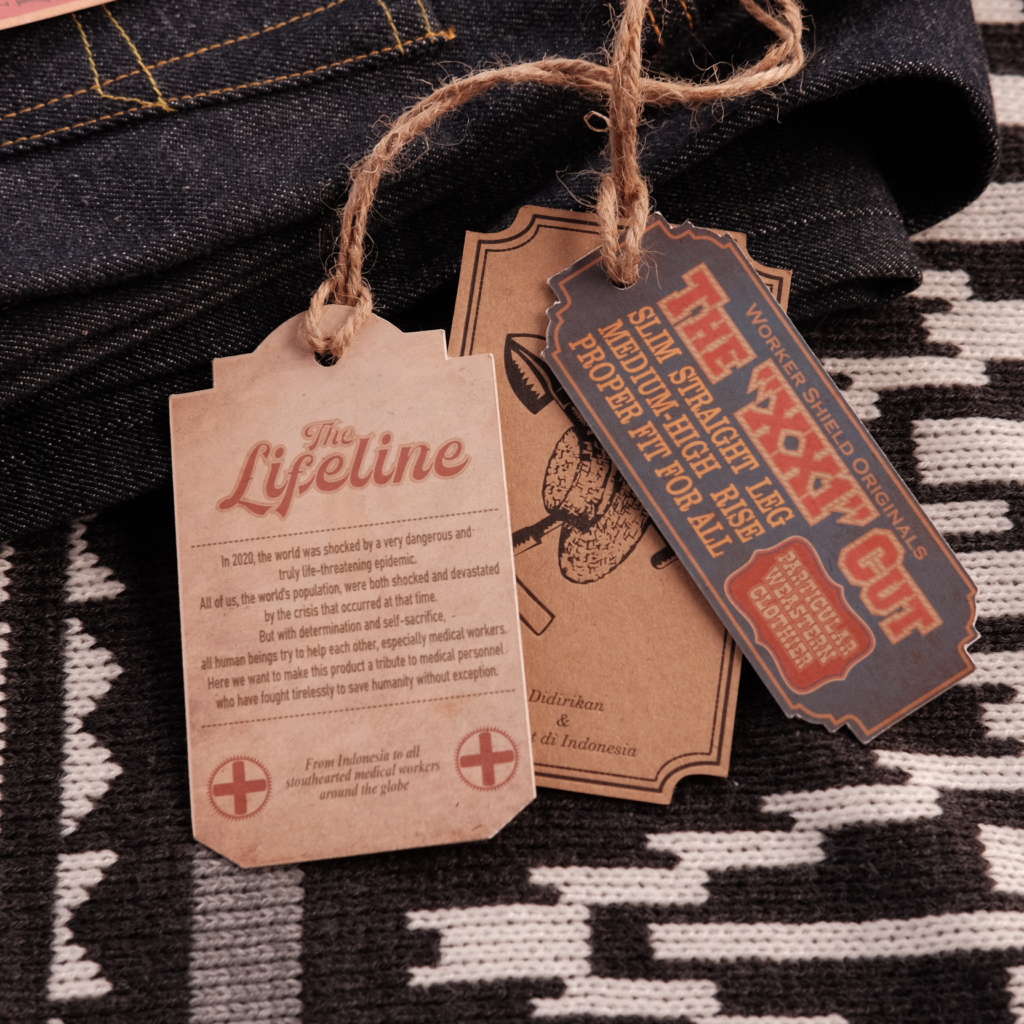 Yang menjadi nilai plus buat ini jeans menurut mimin adalah, detail-detail lainnya dengan menunjukan merk jeansnya diberbagai tempat, seperti dibagian Red Tab, Button dengan warna hitam dan solid Copper Rivets yang digrafis "The Worker Shield".

DETAIL
Lanjut gan, yang menjadi ciri khas jeans dari The Worker Shield ini adalah arcuate dan backpocket-nya yang unik. Ditambah hidden rivets yang ketika lo liat dari dalam ada grafisnya. kemudian, gue mau bahas leather patch-nya dulu nih. Leather Patch jeans ini hadir dengan warna tan yang berasal dari dari kulit sapi. Di patch ini terdapat nama artikel dan juga dengan bangga si pemilik brand menegaskan bahwa jeans ini berasal dari indonesia. Salut! Udah pasti dilirik bokong lo sama mudamudi denimheads!

Ngintip bagian dalamnya, terdapat dua front pocket dengan bahan canvas natural 8OZ. Selain itu, gue tidak menemukan adanya benang-benang yang menguntai alias rapih banget! Label size yang ada dibagian kiri jeans, tapi cukup disayangkan karena lumayan sempit nih kantongnya.

Nah, lanjut ke Selvedge line-nya. Dengan warna soft pink, yang menurut gue tidak terlalu mencolok ketika dilihat dari jauh sehingga bikin penasaran. Cakep deh !

PERBANDINGAN SETELAH INITIAL SOAK
Sebelum initial soak, jeans ini mempunyai ukuran true size. Jadi awal mimin pakai, ada sisa 2-3 cm dibagian pinggang, dan rasanya terlalu loose dibagian lutut ke bawah. Dengan panjang yang lumayan, jadi harus mimin cuff ketika memakai sepatu supaya nggak kepanjangan.

Sesudah initial soak, jeans ini mengalami penyusutan yang lumayan banyak dibagian pinggang sampai ke paha. Kesan pertama saat dipakai adalah, jeans ini cukup sulit untuk dikancing pada bagian atasnya. Lalu, untuk panjangnya sendiri tidak mengalami penyusutan yang banyak sehingga kedepannya harus di hemming sekitar 2-3 cm. FYI, tinggi gue 178cm ya. Oh iya, backpocket juga mengalami penyusutan yang menjadikan pocketnya terlihat lebih kecil.

Dan yang paling menarik adalah, pada bagian leg opening sudah terlihat ropping effect yang membentuk pola kerutan.

KESIMPULAN
Overall, jeans ini menjadi hal yang spesial buat gue pribadi karena mempunyai latar belakang tersendiri. Selama gue pakai, jeans ini rasanya nyaman untuk segala aktivitas sehari-hari. Karena OZ-nya yang rendah dan mudah gue padukan dengan alas kaki apapun.
---
Jadi, buat kalian yang masih ragu-ragu untuk ngangkut jeans ini, sekedar informasi, jeans ini tidak akan diproduksi lagi nantinya ketika udah soldout. Daripada nyesel langsung aja bungkus dengan harga Rp 1.850.000! Langsung aja mampir ke Instagram-nya, coy!