Halo fren! Kali ini gue mimin magang 2 dikasih kesempatan buat honest review salah satu artikel dari brand denim asal bumi pasundan nih fren, yaitu Wingman Denim dengan artikelnya Twisted Black 17 Oz yang gacor abis! Ini menjadi artikel honest review gue yang pertama nih di website DB. So ikutin gue terus dalam mengupas tuntas artikel ini, let's go!
Spesifikasi
Edition : Exclusive Mills Denim
Fit : Slim Straight – Medium Rise
Fabric : 17oz Selvedge Denim
Unsanforized fabric
Deep indigo color
Indigo rope dyed warp
Twisted black x white weft
Slubby texture
100% cotton
Black x Silver line selvedge ID
Hickory pocket lining fabric
Branded button on fly
Branded rivet
Natural leather patch
Hidden rivet
Tucked in beltloop
Chainstitch hem with Union Special 43200G
First Impression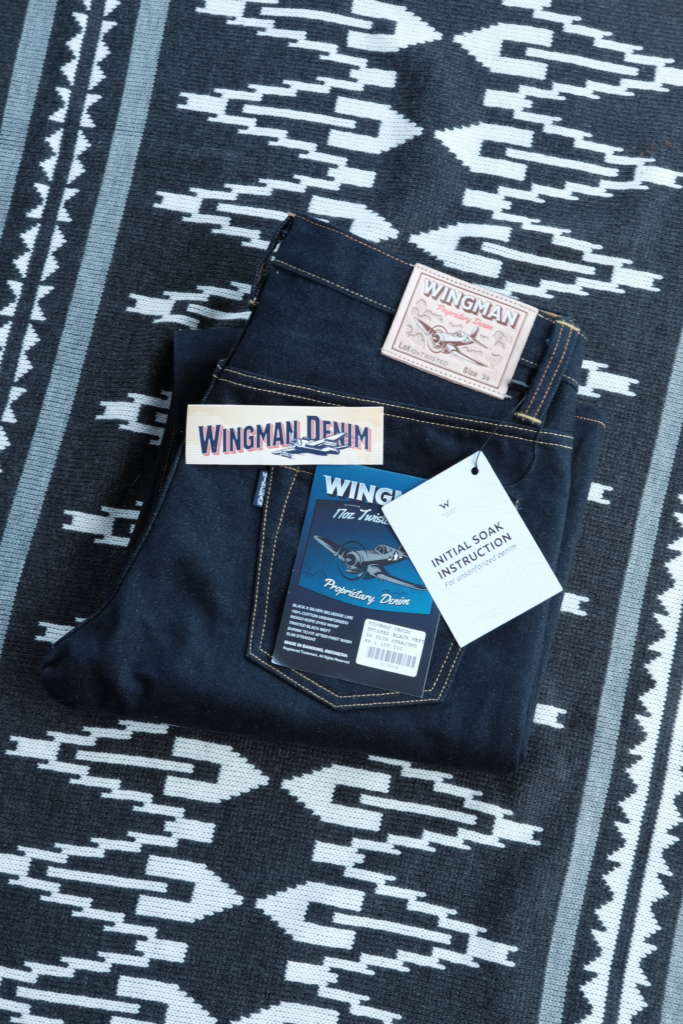 Wingman Denim sudah cukup populer di kalangan denimhead tentunya fren. Brand denim lokal asal Bandung ini yang gue tau emang selalu menghadirkan produk yang kualitasnya cukup nyetel dikelasnya, ini yang buat gue cukup excited ketika gue diberi kesempatan untuk memakai artikel 17oz twisted black. Ketika gue dapet barang ini, emang bener kata orang-orang, GOKIL! Dengan tetap memperpadukan design modern dengan klasik, celana ini mendapatkan segala perhatian gue, walaupun untuk unsanforized denim dengan berat 17oz menurut gue ini cukup kaku. Begitu juga dengan warna deep indigo yang sangat kental ngebuat gue makin gasabar buat nge-break ini celana! Tapi kayaknya kurang nih kalo kita ga ngomongin terkait detail yang dimiliki celana ini, yuk lanjut!
Details

Hal pertama yang menjadi perhatian gue adalah tidak adanya arcuate pada back pocket celana ini. Ternyata gue salah fren, bukannya tidak ada tapi ternyata ini hidden arcuate. Untuk penglihatan secara sekilas mungkin ga keliatan, tapi pas gue raba dan lihat secara mendalam artikel ini tetap menunjukan design arcuate ciri khas dari wingman yang sesotoy-nya gue arcuate ini bakal muncul seiring kita nge-break jeans ini.
Leather patch pada 17oz twisted black ini tidak terlalu tebal dan menurut gue ketika dipegang memang sangat soft untuk sebuah leather patch, mungkin itu yang membuat leather patch ini terkesan natural. Artwork pada leather patch ini memvisualisasikan vibes yang classic banget. Hal pertama yang ada di kepala gue ketika ngeliat grafis dari leather patch ini adalah pesawat tempur jadul! Ya, pada design leather patch ini menyuguhkan grafis wings airplane yang sedang mengudara. Beserta dengan tagline pada artikel ini yaitu "Proprietary Denim". So far so good fren!

Untuk hidden rivets pada celana ini gue ga bakal berkomentar banyak karena warna bronze nya sudah cukup nyetel dengan warna line jahitan dari celana ini. Sementara untuk buttonnya yang berwarna sliver memberikan gue kesan classic vintage pada jeans ini, well itu sejauh mata memandang sih menurut gue begitu fren.
Karena artikel 17oz twisted black ini adalah selvedge denim, line selvedge juga menjadi perhatian gue untuk dilihat detailnya. Perpaduan antara warna black x silver pada line selvedge nya memunculkan kesan elegan dan terjahit sangat rapih. Begitu juga dengan warna twisted black weft pada jeans ini menjadi enak dipandang ketika gue melakukan cuffing. Selain itu, chainstitch pada bagian leg opening juga terlihat sangat rapih. Lagi-lagi details ini membuat kesan pada celana ini yang serius banget!
Experience

Sejujurnya ini adalah celana dari Wingman pertama bagi gue dan Wingman benar-benar memberikan kesan yang bagus bagi gue ketika celana ini dateng. FYI barang yang gue dapetin itu ukuran 34 slim straight. Ya, Gue biasa memakai ukuran 34 pada denim-denim gue sebelumnya, tetapi setelah gue insoak gue agak panik karena ketika gue pake jeans ini rada sempit di bagian pinggang dan keringetan juga gue saat memasang buttonnya. Tapi fren, ketika gue paksain dan gue pake jalan, fit nya cocok banget buat gue dan comfortable banget untuk dipakai sehari-hari! Walaupun first impression gue terhadap artikel ini kaku banget untuk berat 17oz, tapi wingman ga maen-maen soal fit yang disuguhkan kepada customernya. Gue makin ga sabar buat nge break celana ini dan hasilnya pasti sangat memuaskan!
Dengan mengeluarkan uang sebesar Rp 1.100.000 untuk artikel 17oz Twisted black Wingman ini menurut gue sangat worth it. Lo bakal ngerasain sebuah heavyweight selvedge denim namun nyaman banget buat dipakai sehari-hari. Ditambah lagi setiap detail yang ada di celana ini memberikan kesan elegan dan sangat rapih. Worth to try banget pokoknya deh! Jadi gimana fren masih ragukah dengan celana ini? Kalo udah ga ragu langsung aja mampir ke websitenya!