Dari sekian banyak jeans yang kami review akhir-akhir ini, akhirnya gue berkesempatan ngereview salah satu produk jeans dari brand ternama yaitu Oldblue Co. Buat sobat DB yang selalu nebak brand pada question box yang sering kami lempar di story instagram, kali ini gue #mimin12 mau penuhin semua ke BM-an lo nih!
Singkat cerita, jadi Oldblue Co merupakan brand asal Jakarta yang berdiri sejak tahun 2012 silam. Pada jamannya brand ini disebut sebagai brand lokal jeans paling idealis, dimana Oldblue Co selalu mengedepankan Quality dibandingkan Quantity. Semua terlihat jelas dari apa yang mereka suguhkan selama ini mulai dari segi branding, produk, service, hingga pesan yang selalu mereka sampaikan di social medianya. Nah sebelum gue ngajak lo lebih jauh lagi, gue akan kasih liat dulu nih full spesifikasi produknya, sikat!
Spesifikasi Produk
18 ounces indigo selvedge denim
Exclusively loomed for Oldblue
Milled in Atlantic Mills, Thailand
Rope dyed indigo
Raw sanforized
100% cotton
USA Cotton, Spun in Japan, Loomed in Thailand
Constructed using short-staple super slub yarns
Extremely uneven texture
Unsinged denim hence the hairy texture
Indigo hickory pocket lining fabric
7.75″ Cut / Slim cut with medium rise
Oldblue special customized hardware sets from Scovill USA
100% copper washer-burr rivets
Thick zync-alloy doughnut top buttons with burnt-copper finish
Brass doughnut fly buttons with burnt-copper finish
Hidden rivets
Raised belt loop
Raised back pockets
Pebbled grain cow hide leather patch
Two-tone double felled inseam co
First Impression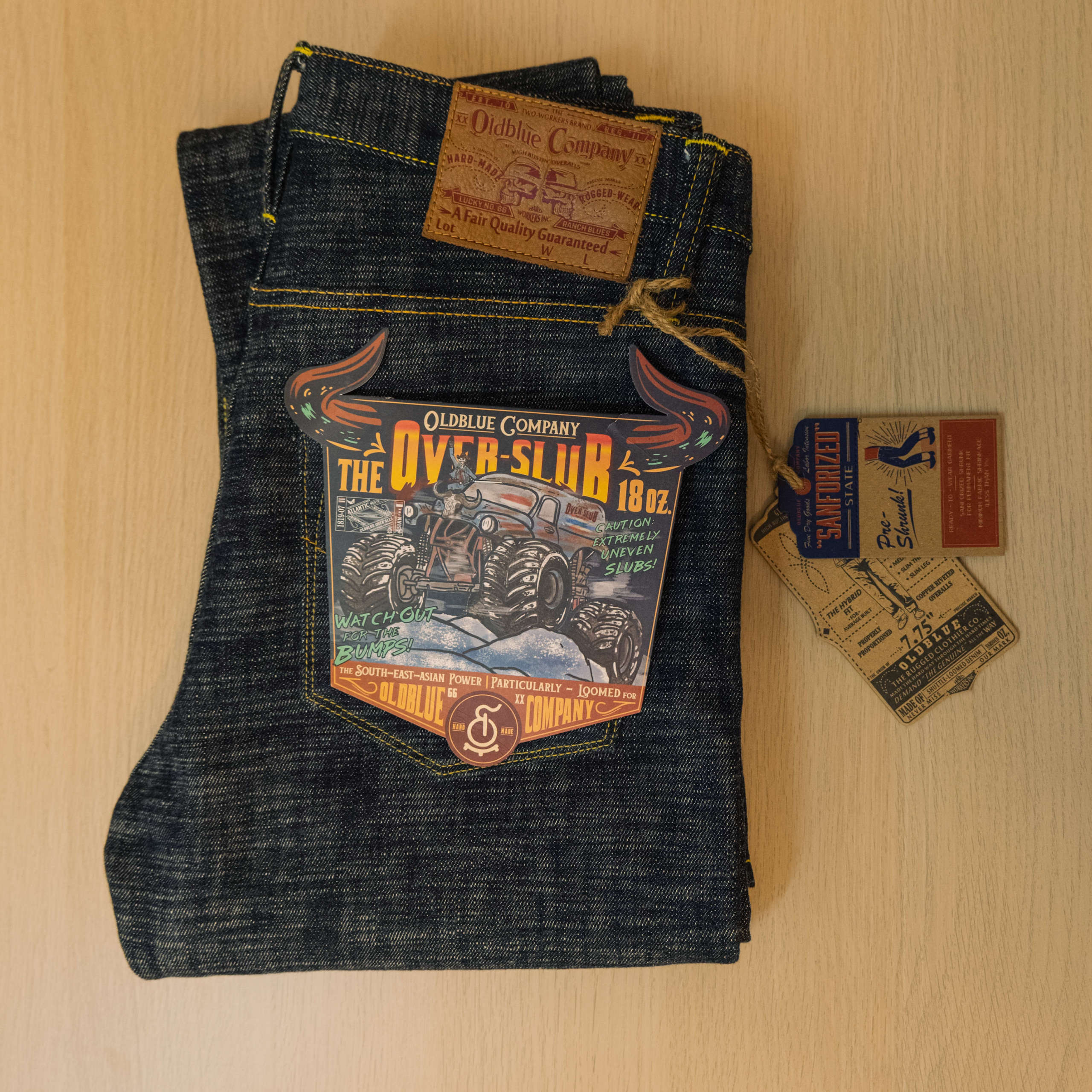 Jujur pas pertama kali gue nerima barang ini, sesuai dengan ekspetasi gue yang selama ini gue liat pada postingan instagramnya Oldblue Co. Soal packaging Oldblue Co emang ngga pernah main-main. Dengan dus menyerupai box pizza + papper bag yang iconic, mereka juga selalu memberikan kesan mewah untuk customernya. Ngga cuma itu, pas pertama kali gue buka dalemnya gue langsung disambut dengan jeans yang lengkap dengan flasher, hang tags, juga sticker yang nice banget. Nah pengen tau details produknya seperti apa? swipe up layar lo sekarang juga!
Details

Untuk yang pertama kita masuk pada details yang paling iconic dari setiap brand jeans pada umumnya, yap betul apa lagi kalo bukan bentuk arcuate juga design yang terpapar pada leather patch-Nya! Seperti yang kita semua tahu, bentuk arcuate yang satu ini merupakan bentuk arcuate yang kedua, setelah sekian tahun mereka meninggalkan "The broken arch" yang menjadi primadona dimata denimheads. Namun jika dibandingkan dengan bentuk arcuate yang sekarang, kalo boleh jujur gue lebih menyukai bentuk arcuate yang lama, tapi bukan berarti arcuate yang sekarang ngga keren ya hehe peace!
Sekarang alihkan perhatian lo sedikit ke bagian leather patch! Dari sekian banyak design leather patch yang telah dibuat oleh Oldblue Co, menurut gue ini yang paling OG. Penggabungan dua karakter yang berbeda yaitu miners dengan cowboy ini menjadikan jeans ini lebih special layaknya american jeans. Leather patch yang terbuat dari kulit sapi ini, memiliki tekstur dan terasa lebih lentur sehingga nyaman saat digunakan.

Selanjutnya gue coba ngeraba-raba sedikit kainnya, hal yang kebayang difikiran gue kain ini pasti punya tekstur yang kasar. Karena kalo dilihat sekilas pada permukaan kain ini memiliki karakter slub horizontal yang solid tapi ternyata dugaan gue salah besar. Nyatanya pas gue pegang bagian weft yang satu ini super lembut, pantes aja pas gue liat dari spesifikasi produknya ternyata kain ini menggunakan USA Cotton yang udah ngga bisa diragukan lagi soal kualitasnya. Nah kalo soal warp pada kain ini, gue jamin deh bikin lo ketagihan grepe-grepe jeans ini pas lo lagi pake ahay!

Lalu kita mulai masuk ke bagian dalem jeans! Lagi-lagi gue menggelengkan kepala pas ngeliat setiap button yang mentereng dari Oldblue Co. Seperti yang gue bilang di atas kalo Oldblue Co selalu mengedepankan kualitas, hal ini terbukti pada hardware sets from Scovill USA. Nah soal kunstruksi menurut gue udah top markotop dah, di sini gue hampir ngga bisa nyari kekurangan pada detail konstruksi pada jeans ini. Tapi semua balik lagi ke selera masing-masing ya!
Experience

Karena jeans ini bukan size gue, jadi sebenernya gue ngga bisa cerita banyak soal experience gue bareng jeans ini. Akhirnya gue menyerahkan jeans ini ke salah satu team DB yang memiliki tinggi badan sekitar 165cm dan berat badan sekitar 62kg. Over all menurut gue fit pada jeans ini agak sedikit kebesaran, mengingat size yang tertera pada jeans ini 32 dengan 7.75″ cuttnya, jadi menurut gue silhouette pada jeans ini terlihat seperti cuttingan slim straight pada umumnya. Jadi saran gue sebelum kalian pick up jeans ini alangkah baiknya konsultasi terlebih dahulu kepada pihak Oldblue Co, agar fitnya sesuai dengan apa yang kalian harapkan.
Oh iya artikel The Over Slub 18oz Atlantic Mills ini bisa lo beli dengan harga sekitar 1.850.000, dengan semua kualitas yang udah gue jabarin di atas menurut gue jeans ini wort to buy banget! Apa lagi buat lo yang suka sama karakter fabric yang unik-unik, jadi buat lo yang udah ngincer jeans ini langsung aja melipir ke official websitenya di sini!