Tidak diragukan bahwa angka '101' merupakan angka yang iconic dari brand Lee. Nama 101 sendiri digunakan semenjak tahun 1924 yang diambil dari nomer lot dimana celana Lee Cowboy disimpan dan dikirim dan semenjak saat itulah lot 101 menjadi sebuah identitas orisinil untuk produk jeans dari Lee. Dari tahun ke tahun kemudian, Lee 101 pun berevolusi dari satu model ke model lainnya, seperti 101Z yang menggunakan zipper dan 101B yang menggunakan button fly tradisional.
Lee sebagai brand workwear awalnya, mulai mengenalkan produk yang fokus pada jeans pada tahun 1924 dengan dikeluarkannya Lee Cowboy 101. Pada pengenalannya, produk Lee 101 memiliki bagian crotch berbentuk U (U-shape saddle crotch) yang didesain sesuai dengan kebutuhan spesifik para koboi dan penunggang rodeo pada saat itu. Ide untuk memfokuskan produk jeans bagi para koboi dan penunggan rodeo terbukti sangat krusial dan tepat karena ternyata pasar koboi dan penunggang rodeo merupakan pasar yang mempromosikan Lee Jeans ke seluruh dunia.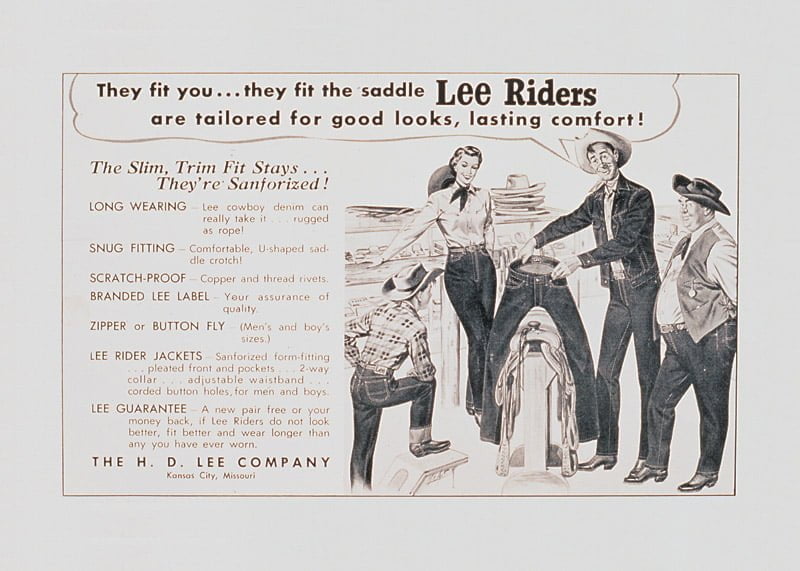 Seiring perkembangannya, Lee 101 memiliki banyak varian jeansnya sesuai dengan waktu dan jaman, seperti ketika mereka pertama kali mengenalkan jeans dengan zipper fly, penggunaan leather patch dengan Hair-on-hide sampai penggunaan Lazy S pada kantong belakang. Seiring dengan makin terekspos dan terkenalnya Lee 101, para artis Hollywood seperti James Dean, Marlon Brando dan Marilyn Monroe juga turut membawa denim dan jeans dari dunia workwear ke popular culture.



PS: Bahas juga sejarah Lee di forum.
———————————————————————————————————-
Having taken its name from the lot number where the original Lee Cowboy pants were shipped and stored, lot '101' was the origin of the company's jeanswear. From timeafter Lee 101 become the brand's identity and origin and evolved from one model to another, for example 101z which use zipper fly as opposed to the more traditional 101b with button fly.
Lee is a major player in workwear industry at the time and they started to introduce their product which focus on jeanswear on 1924 with the introduction of Lee Cowboy 101 as their main product. It has a U-shape saddle crotch with button fly which was designed to cater to the specific needs of cowbots and rodeo riders. This idea to focus on the cowboy proved to be crucial as it was the market that was to become the major promoter of jeanswear throughout the world.
As time goes, Lee also evolves and introducing some of revolutionary features, such as the world's first ever zip fly cowboy jeans '101Z' in 1926, 'Hair-on-Hide' leather patch in 1936 and 'Lazy S' back pocket stitching in 1944, and those made Lee '101' ever proud denim choice for decades. Movie stars like James Dean and Marlon Brando wore Lee jeans in movies and played a big part in the transformation of denim from workwear to pop culture.
PS: You can also discuss the history of Lee in forum.