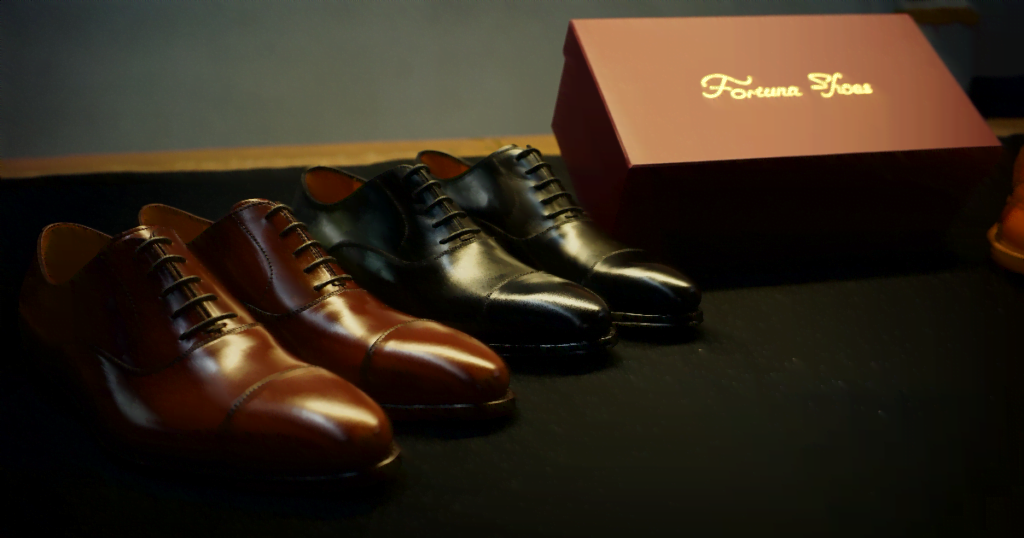 Seperti yang kita ketahui, industri sepatu di Indonesia sedang merangkak naik saat ini, mulai dari sneakers hingga sepatu kulit. Dari sekian banyak produsen sepatu di Indonesia, ada satu merk sepatu asal kota Bandung yang merupakan salah satu suhu di industri sepatu kulit, dan sudah menembus pasar internasional loh!
Fortuna Shoes merupakan salah satu merk sepatu kulit pria terbaik di Indonesia yang reputasinya gak perlu diragukan lagi. Dengan pengalaman lebih dari 40 tahun, Fortuna Shoes masih terus berkarya dengan craftmanship serta bahan yang berkualitas!
Penasaran? Simak bahasannya sampe habis!
---
Fortuna Shoes

Bisa dibilang kota Bandung merupakan salah satu pusat industri kreatif di Indonesia. Banyak bermunculan brand serta tangan terampil yang lahir dari kota ini. Salah satu yang identik dengan Bandung adalah kota ini dikenal sebagai sentra produsen sepatu. Kalo ngomongin Bandung, ada satu produsen sepatu kulit yang udah ada dari tahun 60-an yang masih eksis hingga sekarang. Namanya pun cukup tersohor di dalam maupun luar negeri, Fortuna Shoes!
Fortuna Shoes, yang menjadi salah satu merk sepatu kulit pria terbaik di Indonesia ini berasal dari Bandung yang berdiri sejak 1969 dan sempat mengalami pasang-surut dalam menjalankan bisnis sepatu hingga hari ini. Pendirinya, Dede Chandra, memulai karirnya dengan membuat sepatu anak di rumahnya di daerah Ciateul Tengah, Bandung. Semua proses pembuatan dilakukan bersama istri, mulai dari mendesain, memilih bahan, hingga memasarkannya, saat itu ke para pedagang di Pasar Senen, Jakarta. Bisnis sepatu yang dibangun Dede perlahan berkembang seiring dengan sambutan hangat yang diterima dari pasar, and the rest is history.
Momen Kebangkitan

Seiring waktu berjalan, Fortuna Shoes mengalami banyak pasang surut hingga tahun 1990-an, saat bisnis sepatu menggeliat, krisis moneter menerpa. Ngga hilang akal, Fortuna Shoes pun memutuskan untuk memproduksi sepatu dengan konstruksi goodyear welted, yang mereka pelajari berkat pengalaman ekspor dan berbisnis dengan negara Eropa seperti italia dan Belanda. Berkat inovasi tersebut, perlahan tapi pasti Fortuna Shoes dapat melakukan penetrasi ke pasar global dengan mengikuti pameran luar negeri dan mendapat respon positif berkat kualitasnya yang tinggi.
Selain konstruksi tersebut, Fortuna Shoes juga menggunakan full grain leather kualitas terbaik yang berasal dari luar negeri. Oleh sebab itu, standar yang diterapkan juga tinggi menyebabkan harganya bisa dibilang cukup premium. Namun, hal tersebut terbayar lunas dengan produk yang sangat mumpuni!
Sekarang ini, selain memasarkan dengan merk sendiri, Fortuna Shoes juga bertindak sebagai produsen sepatu beberapa merk yang dipasarkan di negara asalnya! Bahkan, Fortuna Shoes cukup populer di Jepang yang dikenal sebagai Jalan Sriwijaya. Pasti ngga asing kan?
---
Setuju ngga kalo Fortuna Shoes merupakan salah satu merk sepatu kulit pria terbaik di Indonesia?