" I put a spell on blue, for any blues that you do..
Zat biru ajaib yang dikenal dengan nama indigo telah menghipnotis banyak orang di seluruh dunia. Kita semua terpesona oleh potensinya yang dapat berubah menjadi sesuatu yang ajaib. Indigo dye has the ability to transform plain and simple fibers into complex and glorious textiles!
Koleksi Blue Spell ke-12 ini adalah wujud komitmen Oldblue terhadap kualitas dan inovasi sekaligus menjadi chapter terakhir koleksi 'sihir biru' ini. Sebagai pengingat, koleksi ini bermula ketika mereka merilis celana Heavy Indigo Duck 5-Pocket dan beberapa kaos grafis khusus. Koleksi ini terdiri dari beberapa potongan pakaian yang terbuat dari bahan berbasis indigo yang sangat unik dan istimewa, seperti Indigo Sashiko, Indigo Wabash, dan Indigo Cord.
Yuk simak pembahasan detail koleksi ini!
---
Work Jacket Type III – 17.5 Oz Indigo Sashiko Okayama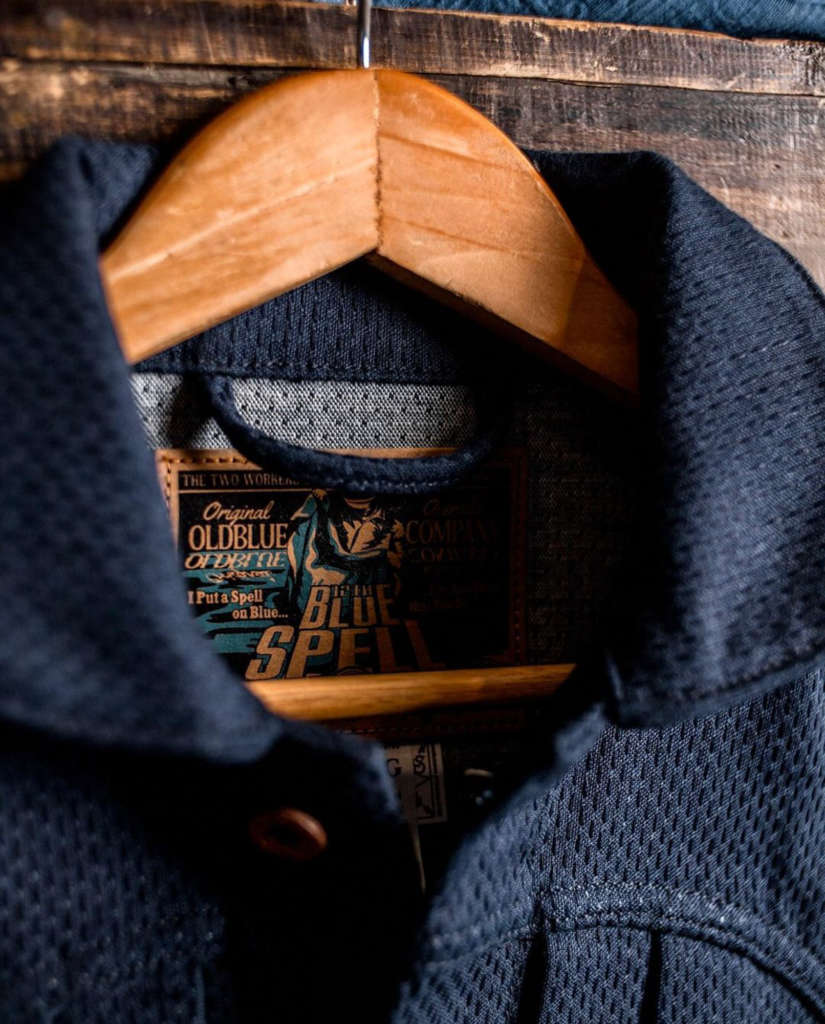 It's indigo, and it's sashiko. Salah satu ciri utama yang membuat bahan ini istimewa adalah tampilan bordir sashiko-nya. Untuk menciptakan tampilan yang unik ini, kain ini melalui apa yang dikenal sebagai teknik dan proses tenun dobby.
Oldblue memilih pola Work Jacket Type III sebagai dasar untuk bahan ini. Ini adalah pola jaket asli Oldblue yang terinspirasi oleh gaya jaket denim tahun 1930-an. Jaket ini memiliki kerah bundar dan dua lipatan pada bagian depannya. Jaket ini dilengkapi dengan kantong besar dan dihiasi dengan jahitan looped-arcuate khas Oldblue.
The Prospector – 8 Oz Indigo Wabash Cord Osaka

Celana ini hadir menggunakan kain korduroy indigo ringan seberat 8 oz. / yard persegi yang khusus ditenun di Osaka, Jepang, dan dihias dengan cetakan wabash yang istimewa. Motif bercorak yang disebut 'Dekoboko-ten' (yang berarti Titik Tidak Teratur) di Jepang. Kain ini memberikan kesan seperti jahitan tangan yang dibuat secara manual.
Celana ini menggunakan pola Prospector Pants dari Oldblue sebagai dasar. Prospector Pants sendiri terinspirasi oleh berbagai model celana sebelum tahun 1890; masa ketika paten kancing rivet masih berlaku. Model ini menggunakan konstruksi single-needle tradisional. Semua jahitan dijahit tangan dengan teliti dan reinforcement stitch digunakan untuk menggantikan fungsi kancing rivet.
Work Jacket Type III – 10 Oz Indigo Cord Osaka

The last piece of the puzzle of Oldblue's 12th Blue Spell collection. And still with an indigo persona. Kali ini, Oldblue memutuskan untuk menggunakan kain korduroy, namun tidak sembarangan. Ini adalah korduroy dengan benang indigo yang diwarnai secara spektakuler. Kain berat seberat 10 oz. / yard persegi ini diwarnai dan ditenun di Jepang, berasal dari inventaris stok kain yang tersisa. Oleh karena itu, Oldblue hanya dapat membuat 20 jaket dari kain ini.
Indigo Duck, Indigo Sashiko, and Indigo Cord

Kalian mungkin menyadari ada sebuah hal yang hilang. Betul, ngga ada bahan dari kain denim di koleksi ini! Itulah kejutan besar dari koleksi Blue Spell. Mereka memutuskan untuk menghilangkan kain denim yang begitu erat terkait dengan Oldblue sejak pertama kali lahir. Tantangan utamanya adalah bagaimana menjaga identitas Oldblue tetap utuh tanpa diketahui publik bahwa tidak ada satu pun potongan denim dalam koleksi ini.
Menurut mimin, inovasi dan eksplorasi ide terbaru dari Oldblue ini sangat keren dan layak untuk masuk ke lemari koleksi pakaian kalian, terutama bagi kalian yang sedang nyari sebuah outer yang versatile dan berkualitas!
---
Terakhir, bagi yang berminat dengan koleksi terbaru dari Oldblue ini, kalian bisa langsung mampir ke our Oldblue General Store & Outpost atau di website resmi mereka ya!
Semoga koleksi ini terus mempesona kita dengan keajaiban indigo yang tak pernah pudar.