Di awal Darahkubiru berdiri, mungkin belum terlalu banyak brand leather boots yang muncul. Opsi material, gaya, detail, dan harga masih itu-itu saja. Tapi kali ini, sudah banyak brand baru bermunculan yang menambah referensi dan pilihan kita.
Rasanya masih kurang jika hanya 5 brand sepatu saja yang disebutkan. Maka dari itu, edisi kedua ini akan coba membahas brand-brand pendatang baru atau bahkan yang sudah lama berdiri tapi masih kurang mendapatkan exposure. Semua sama-sama memiliki kemampuan untuk memproduksi leather boots dengan konstruksi handwelted dan dibuat secara tradisional oleh tangan para pengrajin.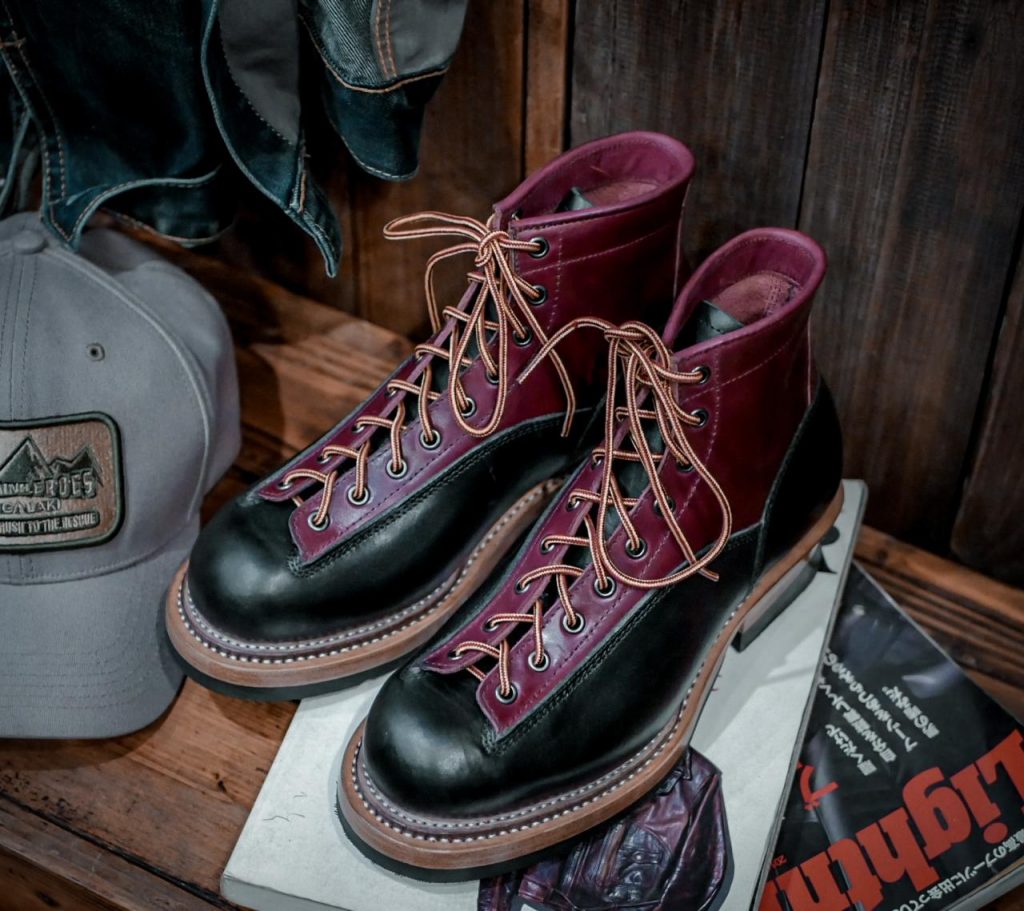 Tahura Boots Company (@tahurabootsco)
Sudah berdiri sejak 2010 di Bandung, Tahura Boots Co menekankan pada jahitan welt yang mumpuni dengan stitch per inch (SPI) tinggi. Pengembangan shoe last dilakukan secara khusus untuk kenyamanan boots ketika dipakai dan looks yang berbeda dari sepatu pada umumnya. Range harga: Rp1,5 juta – Rp2,7 juta.
Benzein Shoes (@benzeinshoes)
Walaupun baru berdiri di tahun 2018, Benzein sebagai brand tumbuh di sekitar keluarga yang juga berbisnis di bidang sepatu kulit sejak 1986. Benzein ingin membawa nilai-nilai tradisional dari pembuatan leather boots untuk bisa dikenali lebih luas oleh pasar global. Berbagai artikel sudah dikeluarkan oleh Benzein, termasuk Chelsea Boots sebagai salah satu andalannya. Range harga: Mulai dari Rp1,6 juta untuk ready to wear, Rp2,5 juta untuk made to order.
Hidalgo Boots (@hidalgo_boots)
Hidalgo Boots terlihat fokus ke ranah rugged leather boots dan otomotif yang biasanya membutuhkan leather boots sebagai pelengkap kala riding. Gaya yang ditawarkan cukup luas, mulai dari yang minimalis sampai spesifik untuk memenuhi kebutuhan riding. Range harga: Rp2,2 juta – Rp2,8 juta.
Midas Bootmaker (@midasbootmaker)
Midas Bootmaker berfokus ke segmen rugged leather boots yang juga merupakan sister brand dari Winson Shoemaker yang lebih berfokus ke dress shoes premium. Midas dapat dipastikan menggunakan berbagai standar yang setara dengan brand utamanya yang diaplikasikan ke leather boots yang lebih casual. Range harga: Mulai dari Rp2,5 juta.
Renav Goods Company (@renavgoodsco)
Renav Goods Company berasal dari Jakarta yang berfokus pada detail jahitan welt yang rapat, serta hasil akhir leather boots yang kuat dan 'tahan banting'. Renav juga menyediakan berbagai variasi konstruksi handwelted dan veldtschoen. Range harga: Rp1,9 juta – Rp4,5 juta.
Prof. Barnets Boots (@prof.barnets)
Tidak mengikuti standar leather boots konvensional, Prof. Barnets memiliki keunikan utama pada pattern upper yang seringkali dikombinasikan dengan warna benang jahitan yang tidak biasa. Belum lagi jika melihat dari nama artikelnya yang tak kalah unik, membuat produk yang dihasilkan memiliki kekhasan tersendiri. Range harga: Rp2,1 juta – Rp7 juta, tergantung dari material yang dipilih.
Old Dog Shoes (@olddogshoes)
Jika dilihat dari output produk, Old Dog Shoes adalah yang paling berani memainkan material, pattern, juga hasil akhir leather boots yang agak terlihat 'urakan' sekaligus ekspresif. Penggemarnya sendiri sudah terbentuk di dalam dan luar negeri, bahkan pernah berkolaborasi dengan salah satu desainer ternama. Range harga: mulai dari Rp1,7 juta.
---
Sekarang, sudah semakin banyak brand baru bermunculan yang bisa dijadikan sebagai opsi. Tinggal sesuaikan dengan preferensi yang diinginkan dan juga budget yang tersedia.