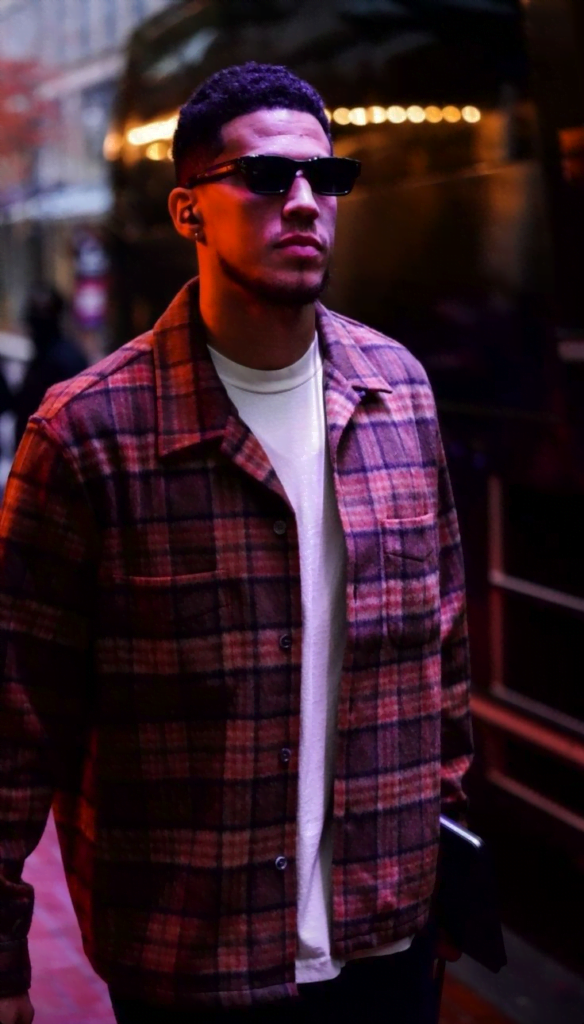 Sebagai salah satu basic fashion item, seengganya pasti kalian punya sebuah kemeja flanel di lemar baju kalian kan? Kemeja flanel emang gak pernah salah, didukung dengan berbagai macam motif dan bahannya yang nyaman, kemeja ini menjadi andalan banyak orang di dunia, bahkan oleh mendiang Kurt Cobain yang identik dengan kemeja ini!
Pada artikel kali ini, kami ingin memberikan rekomendasi style kemeja flanel pria dari seorang atlet bola basket profesional, yaitu gak lain dan gak bukan Devin Booker! Nah, pasti pada nanya nih, dari sekian banyak atlet lain, kenapa Devin Booker yang kami highlight? Baca sampe habis dehh!

Sebagai seorang bintang Phoenix Suns, seperti yang kita tahu kebanyakan bintang NBA mempunyai signature style-nya saat datang ke stadion, gak terkecuali Devin Booker. Namun, Devin Booker terkenal dengan style-nya yang simple yet relatable karena doi sering memadukan kemeja flanel dan straight pants. Walaupun terlihat basic, Devin Booker dengan pintar sering meracik style-nya ini dengan paduan warna yang pas, juga fit-nya yang proporsional. Seperti yang terlihat pada foto di atas, Devin Booker sering menggunakan kemeja flanel yang oversized fit yang jatuh pas di bagian pinggangnya (boxy fit) lalu memadukannya dengan dalaman kaos yang fit-nya gak balapan dengan kemejanya. Style-nya ini ia beri finishing dengan menggunakan straight pants & his lovely cons yang membuat style-nya ini terlihat cozy dan gak flashy seperti bintang NBA lainnya!

Pada foto kedua ini, Devin Booker yang emang terkenal dengan kegemarannya terhadap vintage car, memamerkan salah satu koleksi mobil kesayangannya, yaitu 1959 Chevy Impala. Tentunya, style yang ia terapkan di foto ini menjadi highlight selain mobilnya itu. Doi lagi-lagi terlihat memadukan kemeja flanel dengan dalaman sebuah hoodie dan prewashed jeans yang dipermanis dengan sneaker berwarna senada sehingga membuat looks-nya ini sangat harmonis.
Menurut kami, style dari Devin Booker ini walaupun terlihat sederhana tapi sebenarnya memperhatikan beberapa aspek detail seperti dari permainan warna, fit, serta persona yang menggambarkan dirinya. Terlepas ia merupakan superstar NBA, style yang simple pun gak kalah dengan style yang flashy! Buktinya, doi baru aja menangin penghargaan sebagai 2022 #NBAFanFavorites Style Of The Year tuh! Maka dari itu, kami merekomendasikan style kemeja flanel pria ala Devin Booker ini kepada kalian! Sssstt, style kaya gini aja pernah bikin Kendall Jenner kecantol loh!