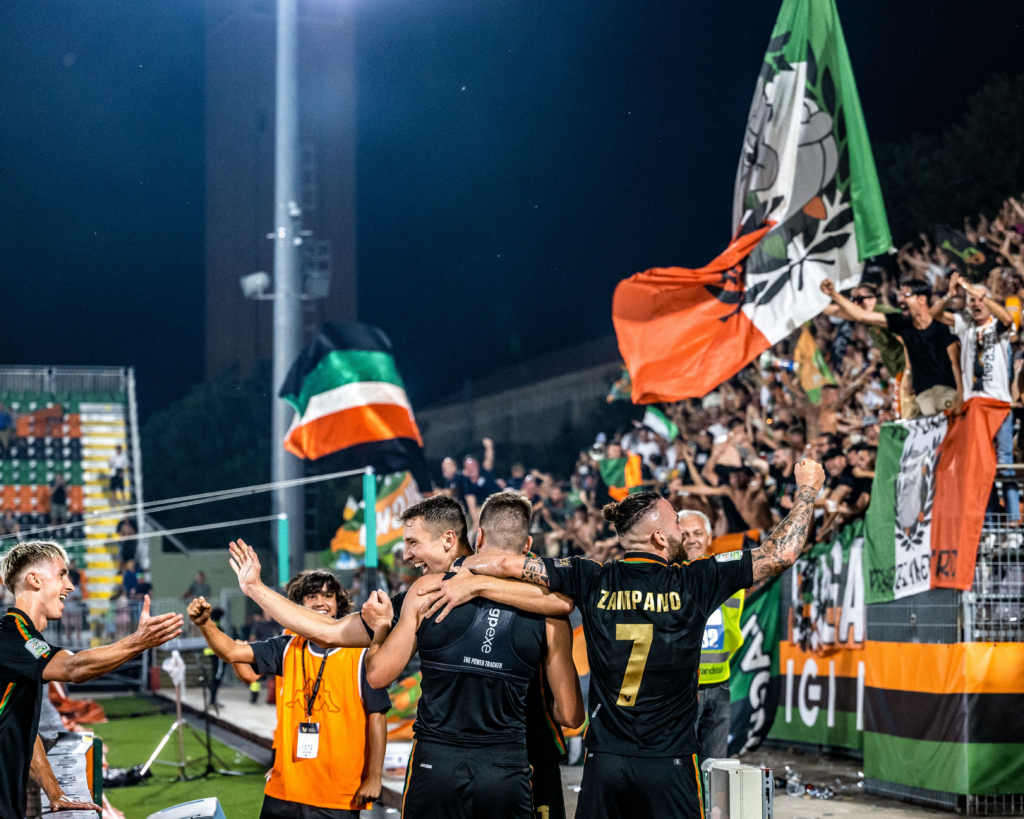 Seiring dengan naiknya tren blokecore, sebuah tren gaya berpakaian yang terinspirasi dari stereotipycal pub-goer British men yang kerap menggunakan jersey klub kesayangannya sebagai pakaian utama sehari-hari, membuat banyak orang berlomba-lomba untuk mencari dan menggunakan jersey yang unik maupun memiliki rasa sentimental terhadap orang tersebut.
Kalo ngomongin jersey bola sih rasanya ngga lengkap kalo gak bahas klub satu ini. Penasaran? Simak sampe habis!
---
The Spirit
Beberapa musim terakhir, terdapat sebuah klub sepakbola asal Italia bernama Venezia FC kerap merilis jersey yang menawan dan memikat banyak orang, baik untuk pecinta sepak bola maupun pemerhati fashion. Walaupun mereka bisa dibilang sebuah klub kecil di liga sepak bola Italia, mereka terkenal dengan desain jersey elegan dan menasbihkan mereka menjadi salah satu klub bola paling fashionable saat ini!

Lantas, apa sih rahasianya mereka? Jawabannya adalah karena mereka bekerja sama dengan konsultan mode sekaligus studio desain asal Jerman, Bureau Borsche. Hal ini terjadi karena Venezia FC ingin membawa sekaligus memberi penghormatan terhadap spirit dan kultur warga setempat, serta terinspirasi dari arsitektur kota Venice yang elegan dan penuh sejarah.
Innovation

Mimin rasa mempercayakan Kappa sebagai vendor jersey mereka adalah pilihan yang tepat, karena 3 musim terakhir ini terbukti Kappa berhasil merepresentasikan spirit yang diusung secara on point. Tercatat , sejak musim 21/22 hingga saat ini mereka berhasil menjual habis jersey Venezia FC!
Inovasi yang mereka lakukan dalam menyambut musim 23/24 mendatang dimulai dengan meluncurkan sebuah pre-match jersey yang mengusung desain elegan menggabungkan tradisi dan sentuhan modern. Ngga lama, mereka meluncurkan home jersey mereka yang masih konsisten dengan desain yang elegan dan minimalis. Overall, kedua jersey ini terlihat clean tanpa adanya sponsor yang terpasang di dada, ditambah desainnya yang elegan membuat mereka berhasil step up the game.
---
Prinsip kesederhanaan dan membumi membuat jersey Venezia FC menjadi incaran banyak orang karena selain keren, juga cocok dipakai di dalam dan luar lapangan. Gimana? Udah tertarik buat ngoleksi jersey ini belom?