Kita kembali akan melakukan review mengenai jaket denim dan kali ini kita kedatangan sebuah produk jaket Wrangler yang merupakan jaket dengan zipper pertama yang digunakan oleh Wrangler. Wrangler 11MJZ adalah sebuah jaket yang didesain pertama kali oleh Wrangler menggunakan zipper sebagai pengganti button. Jaket ini diperkirakan dikeluarkan pertama kali sekitar tahun 1956. Desain jaket ini menurut kami sangat unik dan berbeda dari kebanyakan jaket denim yang menggunakan button.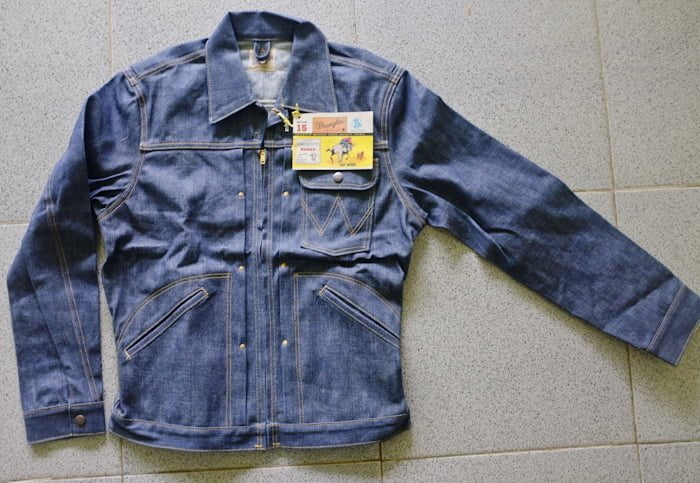 Jaket yang kami terima ini merupakan versi raw dari Wrangler Blue Bell Japan yang tentunya diproduksi oleh Edwin. Bahan denim yang dipakai merupakan bahan raw selvage denim yang sanforized sehingga mengurangi penyusutan nantinya ketika dicuci. Warna yang ditawarkan jaket ini merupakan warna biru indigo khas produk-produk vintage denim, kebiru-biruan namun tidak terlalu gelap.


Pada jaket ini, terdapat 3 buah kantung, dimana satu kantung dengan flap dan W stitch terletak di bagian kiri dada, sementara 2 buah kantong dengan tipe slant opening yang miring terdapat di bagian bawah kedua sisi jaket. Desain kantong dan peletakannya cukup berbeda dengan jaket denim yang biasanya menggunakan 2 buah kantong dengan flap di bagian dada. Sementara itu stitching di sekitar kantong bawah juga cukup menarik, berbentuk hampir menyerupai huruf D, hampir sama dengan bentuk kantong pada motorcycle jacket pada era 60an.


Desain yang paling unik dari jaket ini terdapat pada bagian belakang jaket yang memiliki pleat di bagian pinggang. Pleat ini berfungsi hampir sama seperti pleat pada celana ataupun dart yang biasanya berfungsi untuk membuat sebuah bagian terlihat lebih mengikuti bagian badan manusia. Pada kasus pleat di jaket ini, tampaknya dibuat untuk membuat jaket ini terasa lebih tailored dan slim, dengan membentuk bagian pinggang, maka jaket ini terhindar dari kesan fit yang boxy. Di bagian dalam pleatnya, terdapat sebuah bahan stretch yang akan melonggar mengikuti bentuk pinggang seseorang. Selain pleating di bagian pinggang, bahan stretch ini juga terdapat di bagian dada dan bahu yang berfungsi untuk membuat jaket ini bisa bergerak lebih comfy.


Desain bagian lengan juga cukup unik. Bagian lengan menggunakan 2 buah seaming, yang pertama terletak di bagian atas yang menyambung dengan bagian yoke belakang jaket, dan satu lagi menyambung dengan seam di bagian punggung yang berakhir di cuff. Pada cuff opening, terdapat sebuah rivet flattop ala Wrangler untuk memperkuat stress point. Jaket ini menggunakan Waldes Zipper sebagai pembukanya yang berkesan sangat vintage.


Jaket ini dilengkapi dengan Qualitag yang berbentuk semacam komik pendek mengenai kehidupan Rodeo dan Cowboy. Kita akan membahas secara mendetail mengenai qualitag ini pada posting-postingan berikutnya. Jaket ini sangat cocok untuk para penyuka gaya cowboy ataupun peminat denim yang ingin mencari denim jaket dengan desain yang unik dan lain dari desain jaket biasanya.
PS: Bahas juga produk-produk Wrangler Blue Bell lainnya di forum.
—————————————————————————————————
We are back with a denim jacket review and this time we are going to review a Wrangler denim jacket which was the first Wrangler jacket with zipper fastener. Wrangler 11MJZ is their first designed jacket with zipper instead of button which is normally used on denim jacket. This jacket was launched in the 1956 and we think is one of the most uniquely designed denim jacket different from the other.
The jacket we received is a raw version of Wrangler Blue Bell Japan which been produced by Edwin. This jacket is made from a raw selvage denim treated with sanforization to minimize shrinking after wash. The color of this jacket is a really vintage blue indigo, not too deep and too dark.
There are 3 pockets in the jacket. The flapped pocket is in the left torso with W style stitching. Meanwhile the other 2 pockets with slant opening are located in the both side of the abdomen. Pocket design is pretty different from the usual denim jacket which basically use 2 torso pocket. The D-letter like stitching around the lower pockets are also a unique design, we can see some resemblence to a D pocket in a motorcycle jacket in the 60s.
The most unique design from this jacket is in the back, which has pleats in the waist area. This pleat is used to made this jacket looks more appealing and follows the human body shape. In this case, the waist pleat is used to make this jacket has that tailored look and slim fitted, moreover to avoid that boxy fitting jackets. On the inside part of the pleat, there are these stretch fabric which stretched along and follows the wearer's waist shape. We can see more of these stretch fabrics on the torso and shoulders to make this jacket move smoothly and more comfy for the wearers.
There are 2 seams in the arm part, first one is at the top coming along from the back yoke. The other seam come from a seam from the back and ends at the cuff. In the cuff opening, there is a flattop rivet ala Wrangler to reinforce the stress point. These jacket use a very vintage Waldes Zipper as the fastener.
This jacket also included with Qualitag in a form of a short comic books about Rodeo and Cowboy life. We will try to discuss about Qualitag in our next postings. This jacket will fit people who are into cowboy and western style and also for denim enthusiast searching for a uniquely designed denim jacket.
PS: You can also discuss about Wrangler Blue Bell other products in forum.