Seperti telah kita baca di sejarah Blue Bell sebelumnya, Blue Bell memulai bisnisnya dalam lingkup workwear yang menyediakan produk-produk pakaian kerja dan kita lebih mengenal Wrangler sebagai sebuah brand denim. Dengan kemunculan Blue Bell kembali pada tahun 2009 di bawah brand Wrangler, maka Blue Bell pada saat ini lebih ditekankan sebagai sebuah denim brand melainkan brand workwear pada umumnya. Seberapa pentingnya Blue Bell sebagai denim brand terhadap brand Wrangler sendiri?
Blue Bell sebenarnya memiliki semua DNA dan heritage yang sekarang dimiliki oleh Wrangler, karena perkembangan Wrangler sampai sekarang ini juga dipengaruhi Blue Bell ketika dulu Blue Bell membeli Wrangler. Kita bisa melihat ciri khas jeans Wrangler pada produk-produk Blue Bell yang baru seperti patch di kantong belakang yang unik, penggunaan felled seam, rivet yang flat, watch pocket (atau disebut juga coin pocket) yang ergonomis yang didesain oleh Rodeo Ben, 7 buah belt loop, jahitan "W" di kantong belakang, dan juga logo tali tambang. Tujuh buah detail ini merupakan ciri khas Blue Bell dan Wrangler yang terlihat jelas pada koleksi Blue Bell saat ini.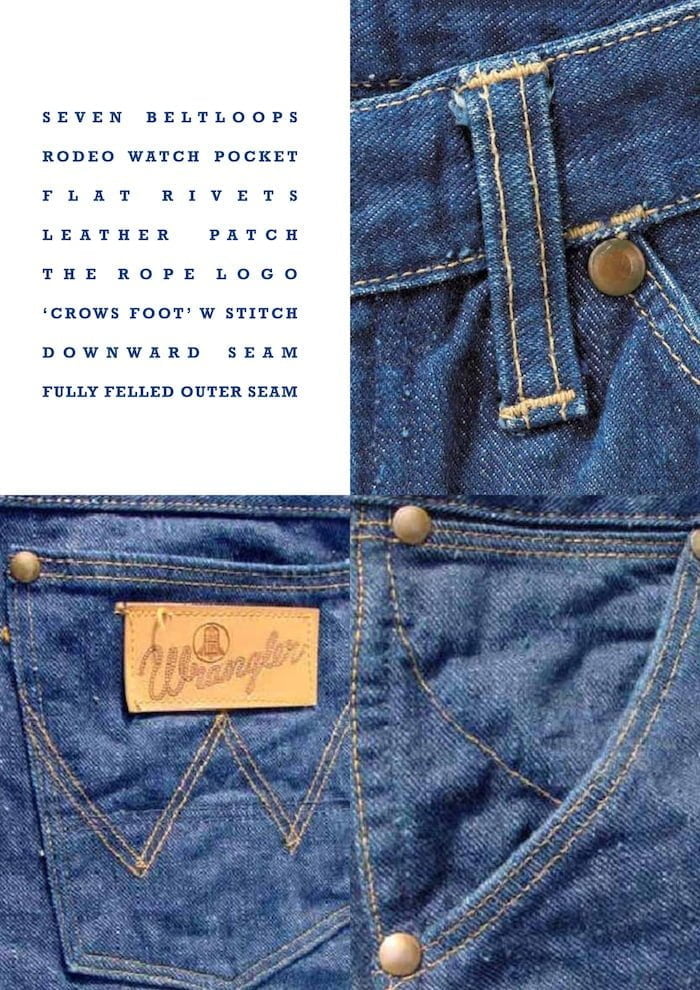 Blue Bell sebagai denim brand di bawah Wrangler saat ini merupakan brand yang arahnya lebih purist, dalam arti lebih banyak menekankan detail-detail jeans yang unik tanpa terpengaruh perkembangan fashion yang bersifat seasonal. Aspek-aspek Wrangler dan Blue Bell pada masa lampau membawa brand ini maju di masa kini, bisa kita lihat dari detail-detail antik yang sudah ada dari dulu masih dipakai untuk produk-produk jaman sekarang.


Hanya sedikit brand denim dengan heritage dan akar yang kental dalam sejarah perkembangan denim seperti Wrangler dan Blue Bell. Seperti kita tahu, Blue Bell sudah dari sekitar tahun 1920 menyediakan produk-produk denim kepada dunia dan terus berkembang sampai saat ini. Kedua brand ini juga merupakan pembuat jeans yang bisa dibilang sering dikopi desain dan detailnya, tetapi tetap memiliki detail, desain, dan sejarahnya yang melekat sampai sekarang. Bisa dibilang Blue Bell yang modern dan saat ini adalah produk andalan Wrangler yang menjaga sisi desain, sisi kualitas dan juga posisinya di pasar.

PS: Bahas juga mengenai Blue Bell di forum.
————————————————————————————————————-
We already seen how Blue Bell write their own history from their business in workwear to provide quality workwear. We also more familiar with Wrangler as a denim brand rather than Blue Bell. With their relaunch in 2009 under Wrangler, Blue Bell is now developing more as a denim brand rather than the general workwear brand. How important is Blue Bell as a denim brand in relation to Wrangler?
It's the DNA and blueprint of all Wrangler has, mainly because Wrangler is in a way developed by Blue Bell since their acquisition back in the day. The patch, felled seams, flat rivets, "Rodeo Ben" ergonomic watch pocket, the seven belt loops, the "W" stitching on back pockets, the rope logo – these 7 iconic details are reflected in Blue Bell's main collection.
For Blue Bell, they come in a more purist, more focused on unique and quality details and developing in a less fashion season-driven way. The finest aspects of Wrangler's past drives the brand into the future. We can see how this reflected in Blue Bell's main product by seeing their details which is unique and have been used for more than we know, almost from when they started the Wrangler brand itself.
There are few denim brands with a heritage and relevance in denim history such as Wrangler's and Blue Bell's, as we already know that they have been in the industry since the 20s and keep providing the world with quality denim products. They are legendary jeans-makers that are always copied, but the details and history are their own. The modern Blue Bell brand is the light that guides Wrangler, in design, in quality and in market position.
PS: You can also discuss more about Blue Bell in forum.