Halo halo halo! Perdana nih, Minmoy a.k.a Mimin Gemoy menulis artikel khususnya pada segemen Honest Review! (Title yang gue dapet dari anak-anak DB buat gue). Sesuai dengan judul yang udah kalian baca, gue berkesempatan untuk me-review salah satu artikel terbaru dari NBDN yaitu BONSAI 001.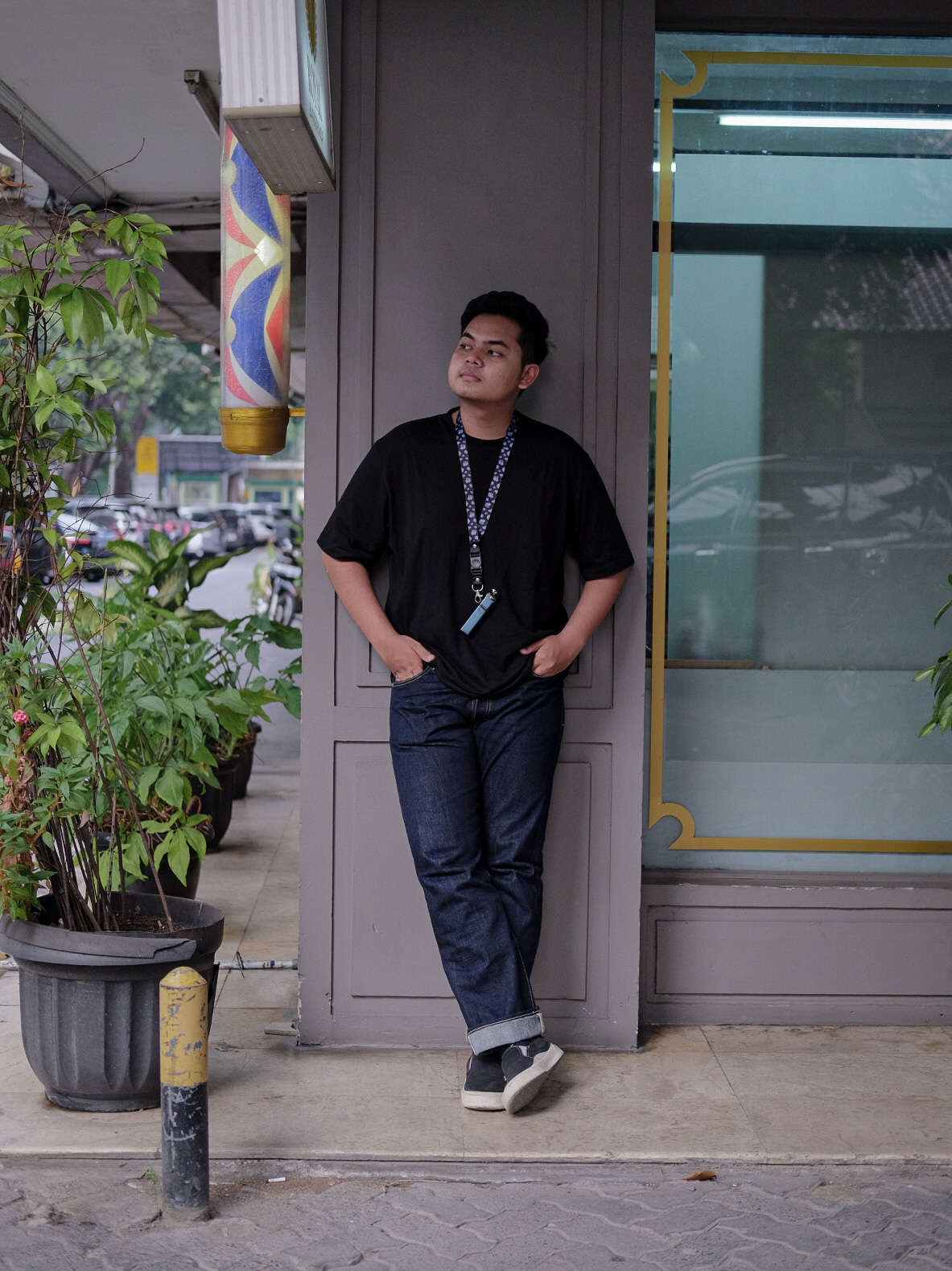 Sebelum kita memulai Honest Review kali ini, perlu dicatat kalau tinggi gue 178 cm dengan berat 93 kg serta size celana yang biasa gue pake di 36/38. Oia, buat jeans-nya sendiri udah gue pake beberapa hari ya.

Sesuai dengan namanya, celana ini mengambil inspirasi utamanya dari tanaman Bonsai asal Negeri Sakura. Kalau gue googling sedikit ya, tanaman ini memiliki filosofi kehidupan yang dalam ternyata! Karena bonsai sendiri diartikan sebagai simbol atas kesabaran, kesederhanaan, serta keindahan. Semakin berumur seseorang, sudah sepatutnya manusia semakin dewasa dan bijak.
Balik ke BONSAI 001, gue bisa melihat serta merasakan dengan jelas filosofi dari bonsai yang ditanam ke artikel BONSAI 001 ini. Gak banyak hal yang sifatnya bombardir. Dua kata buat celana ini: Sederhana dan penuh daya tarik.
Materials And Spesification
Rich Deep Indigo 15oz Medium Weight
Sanforized Shrunk
Rope Dyed
Classic Red Selvedge Line
Slim Straight & Slim Fit as you requested
BONSAI Special Embroidered Patch
100% Cotton, 100% Selvedge, 100% Shuttle Loomed
100% Hand Process, 100% Artisanal Jeans
Poly Cotton Heavy Thread (super strong thread)
Double Selvedge Peek-a-Boo Coin Pocket
Button Fly
NBDN Silver & Copper Rivets
Continuous N Stitching on Waist Band
Single Felled Inseam
Hemming by Union Special 43200G
DETAILS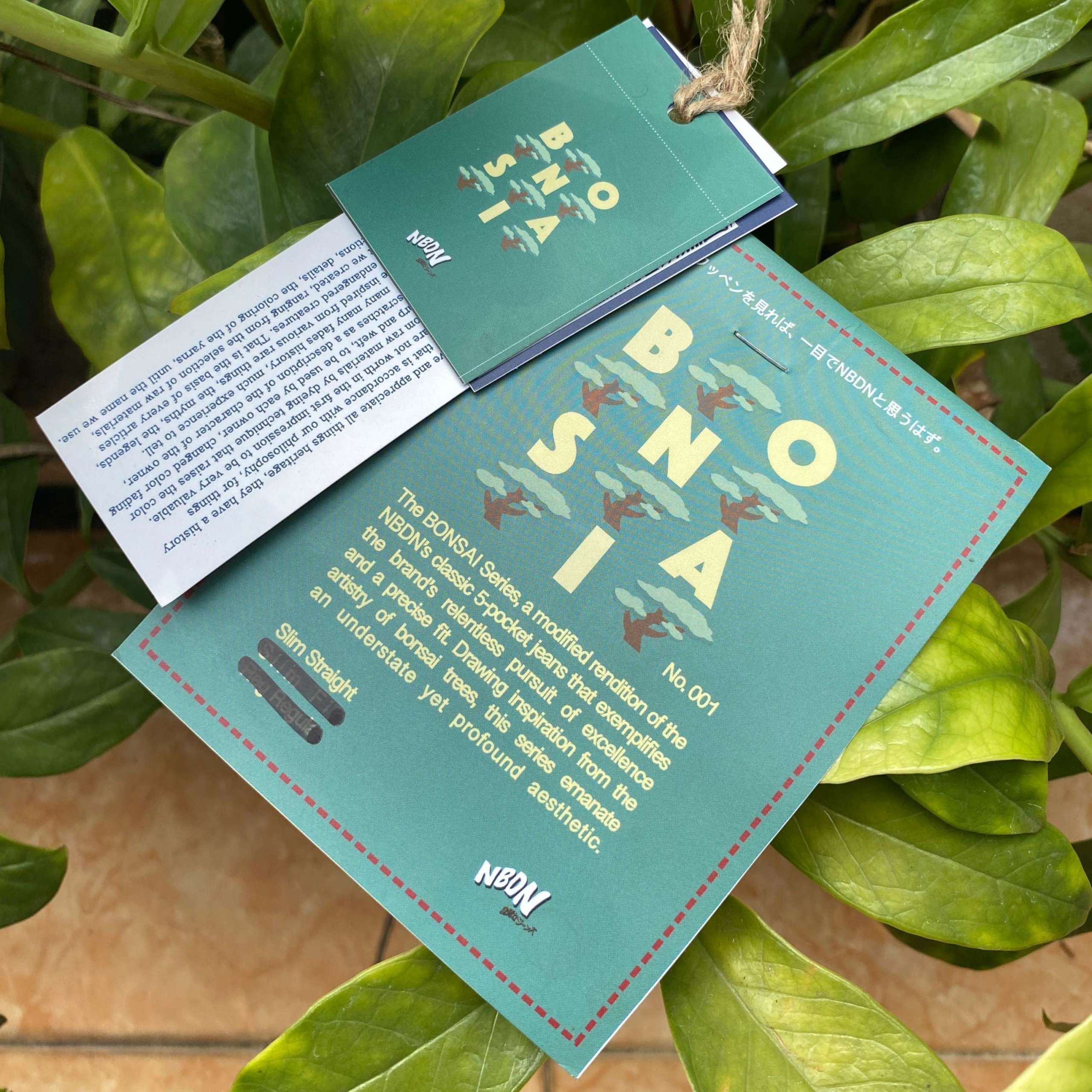 Dimulai dari flasher, artikel ini bisa dibilang simple dan sedikit berbeda dengan artikel NBDN lainnya, sesuai filosofi yang ditanam yaitu bonsai. Memainkan grafis tanaman bonsai dan kata per kata dari bonsai itu sendiri yang disusun secara manis di mata gue, to the point.

Bahan dengan kategorisasi mid-weight seberat 15oz, menurut gue tergolong sangat nyaman untuk digunakan meskipun pada pemakaian awal-awal, gue merasakan perih di area selangkangan selepas pulang ke rumah akibat akitivtas yang bisa dibilang heavy karena jalan kaki seharian. Ngomongin soal karakter dari BONSAI 001 dari segi fabric-nya, buat gue ini cukup slubby sih.

Masuk ke bagian fitting, BONSAI 001 punya cutting-an slim straight yang sangat pas dalam segala aspek. Selvedge line dari jeans ini berwarna merah yang buat gue gak bisa banyak diomongin sih selain bagus karena kembali ke konsep artikel ini, yaitu classic. Satu point plus bikin gue suka banget sama BONSAI 001, embroidery-nya! Embroidery tanaman bonsai yang lucu dan pasti kalian semua juga akan betah ngeliatnya, sama kayak gue.
CONCLUSSION

Overall, BONSAI 001 merupakan pilihan yang sempurna buat gue yang suka kesederhanaan. Akan tetapi, kalo kita ngomongin dari kenyamanannya setelah gue pakai beberapa hari, jeans ini perlu dibawa main lebih jauh lagi aja sih biar bisa terkoneksi dengan sempurna sama pemiliknya. Oia, buat kalian yang punya badan big size, gue saranin buat up size aja biar ruang gerak paha kalian yang gede itu masih bisa bernafas lega.

Jadi, kalau kalian suka sebuah barang yang simple tapi punya sisi nyentrik, BONSAI 001 adalah pilihan yang sangat cocok! Celana ini dibanderol dengan harga yang terjangkau di kelasnya, cuma Rp 699.000 aja! Mumpung masih anget, langsung aja beli lewat official store mereka di Tokopedia atau Shopee!

Jadilah seperti Bonsai seperti BONSAI 001, makin tua makin bijaksana!

-Aman Aza, Aman Reza