Denim dan musik memiliki hubungan yang sudah sangat lama. Flashback ke tahun 70-an, pada masa itu Elvis Presley udah manggung dengan setelan denim. Di belahan dunia lain, tepatnya di Inggris, The Beatles juga sudah menggunakan denim sebagai atribut ketika manggung. Seiring berjalannya waktu, popularitas denim semakin terangkat karena semakin banyak public figure maupun musisi yang menggunakan denim. Hal itu mendorong kalangan muda yang ingin terlihat trendi untuk mengenakan denim sehingga menjadikan denim sebagai must have item.
Hal serupa juga terjadi di Indonesia, denim begitu identik dengan musik. Dari musisi rock, hingga pop, semua terlihat serasi ketika manggung dengan balutan denim. Berikut ini adalah musisi Indonesia yang rajin manggung dengan atribut denim, simak artikelnya gan!
---
David 'Naif'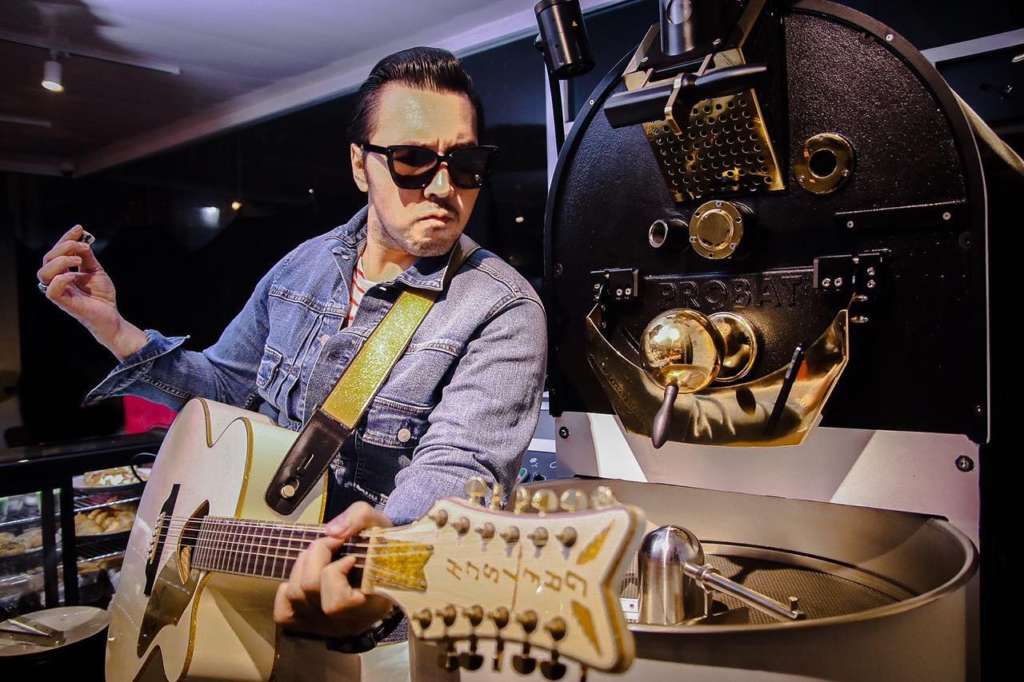 Vokalis band Naif ini cukup sering manggung dengan jaket denimnya yang berbeda-beda. Selain itu, David memiliki hobi di bidang otomotif, tepatnya motor. Bahkan sang vokalis sempat melakukan road trip menggunakan motor di Amerika. Ketika itu David berkesempatan untuk memperkenalkan brand Union Well di Amerika. Brand tersebut lekat dengan kultur anak motor, makanya jangan heran kalau David sering tampil dengan jaket denim coy.
2. Rekti 'The Sigit'

Ketika kebanyakan orang memilih slim fit dan skinny sebagai fitting celana, pentolan 'The Sigit' ini justru memilih melawan arus. Rekti memilih untuk tampil nyentrik dengan celana jeans cutbray. Celana cutbray merupakan trend tahun 70-an yang kala itu dipopulerkan oleh Elvis Presley. Seiring berjalannya waktu, cutbray kembali menjadi tren di tahun 90-an. Namun saat ini sudah sedikit orang yang tertarik dengan celana tersebut, sehingga jika seseorang mengenakan celana cutbray, terdapat kesan authentic pada style-nya.
3. MALIQ & D'Essentials

Grup band beraliran jazz ini juga punya capaian di kancah per-denim-an coy. Pasalnya, MALIQ & D'Essentials sempat menjalin kerjasama dengan salah satu brand jeans terbesar di dunia, yaitu Levi's. Kerjasama itu terjadi dalam rangka merayakan hari jadi celana legendaris dari Levi's, yaitu blue jeans 501. Selain itu, para personil juga sering terlihat manggung dengan kemeja jeans yang identik dengan musisi era 70-an.
4. Seringai

Masih tentang kolaborasi, awal tahun ini Seringai berkolaborasi dengan brand denim lokal, yaitu Mischief. Kolaborasi ini menghasilkan celana dan jaket denim limited edition dengan tema lagu Seringai yang berjudul "Selamanya" (Seperti Api, 2018) dan "Amplifier" (Serigala Militia, 2007). Harga produk koleb Seringai X Mischief ini berkisar dari Rp 700 ribuan hingga Rp 1 jutaan. Selengkapnya bisa lo cek di website Mischief ya gan.
---
Nah, itu dia musisi maupun band lokal kalcer yang punya jejak di kancah per-denim-an coy. Jangan lupa cek artikel lainnya ya!