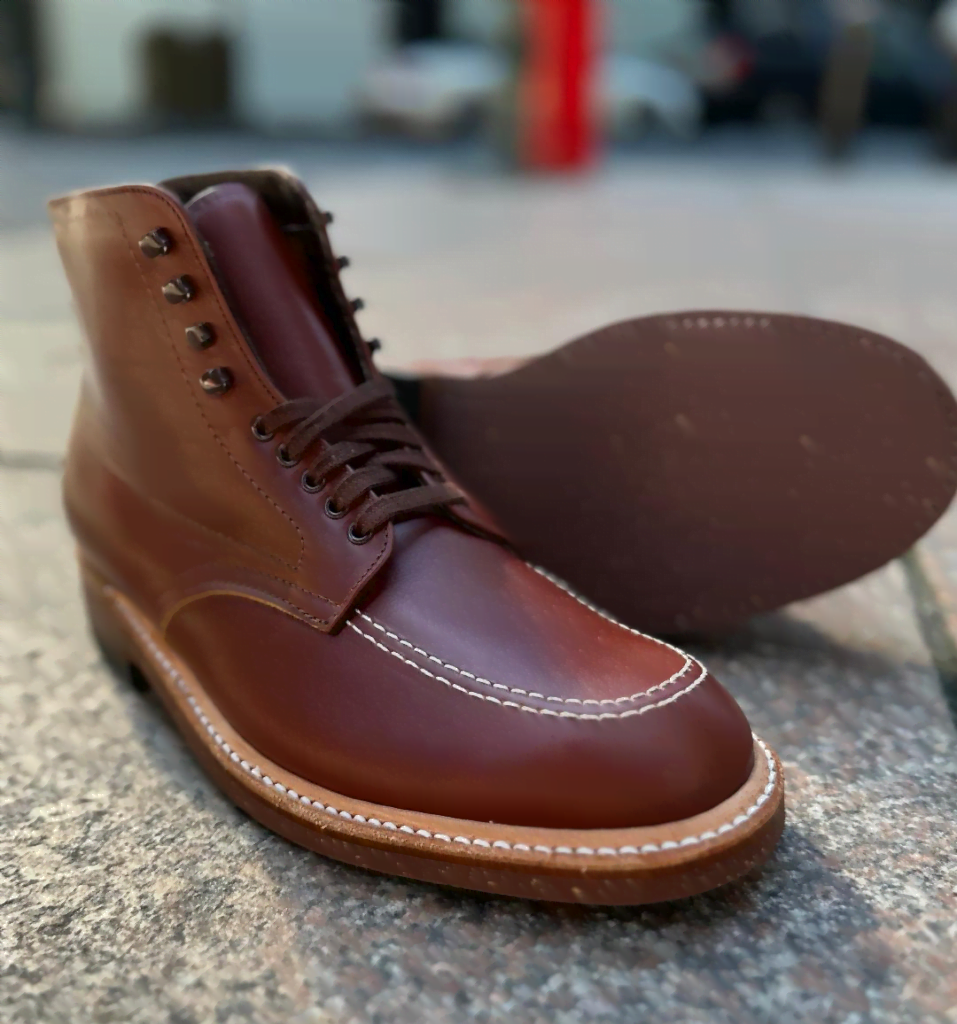 Membahas seputar sepatu boots emang ngga ada abisnya. Mulai dari sejarahnya, fungsinya, brand, bahkan hingga modelnya. Sepatu tangguh ini masih menjadi topik bahasan yang sangat menarik untuk dikulik!
Pada artikel kali ini, mimin mau membahas salah satu sepatu boots pria keren legendaris yang juga menjadi ikon salah satu ikon film petualangan terbaik sepanjang masa, yaitu Alden 405 alias Alden Indy! Sepatu yang dipakai oleh Indiana Jones ini ternyata memiliki sejarah dan trivia yang menarik loh!
Penasaran? Simak bahasannya sampe habis~
---
Alden Indy

Sebelum membahas sepatu ini lebih jauh, mari sedikit membahas film yang membuatnya menjadi salah satu siluet sepatu legendaris di dunia. Film Raiders of the Lost Ark menjadi awal mula kisah epik petualangan Indiana Jones sang arkeologis legendaris mencari artefak kuno. Dengan safari style yang khas membuat karakter ini menjadi karakter ikonik dalam sejarah perfilman. Balik membahas soal sepatunya, di film ini juga digambarkan kalo Indiana Jones menggunakan sepatu boots buatan brand kaya sejarah asal Amerika Serikat, yaitu Alden, tepatnya Alden 405. Menurut sumber, awalnya sang aktor, Harrison Ford direncanakan untuk menggunakan sepatu boots dari Red Wing. Namun, doi merupakan seorang fanboy Alden sehingga terpilih lah Alden 405 menjadi sepatu yang dipakai di film ini, and the rest is history.
Gak bisa dipungkiri, reputasi Alden membuat sepatu emang gak perlu diraguin lagi. Tapi, dengan terpilihnya Alden 405 menjadi sepatu Indiana Jones seakan meningkatkan popularitas sepatu ini lebih tinggi lagi. Bahkan, sebagai bentuk penghormatan, Alden turut menjadikan Alden Indy sebagai nama resmi sepatu ini loh! Gak main-main nih emang efek Indiana Jones.
Terlepas dari pengaruh film tersebut, pesona sepatu ini seakan membius banyak orang di dunia ini, terkhusus pecinta leather boots. Moc toe stitching yang dipadukan dengan speed hook, serta konstruksi goodyear welted udah menjadi jaminan mutu Alden untuk menjawab permintaan orang terhadap work boots yang tangguh. Terlebih, dengan persona yang tercipta oleh Indiana Jones menjadikan sepatu boots pria keren ini jadi melegenda hingga saat ini. Terbukti, banyak brand yang mencoba mempelajari dan mengikuti model sepatu ini.
---
Setuju ngga kalo Alden Indy menjadi salah satu siluet sepatu boots pria keren sepanjang masa? Btw, kami pernah mengulas sepatu ini loh! Coba mampir ke sini~