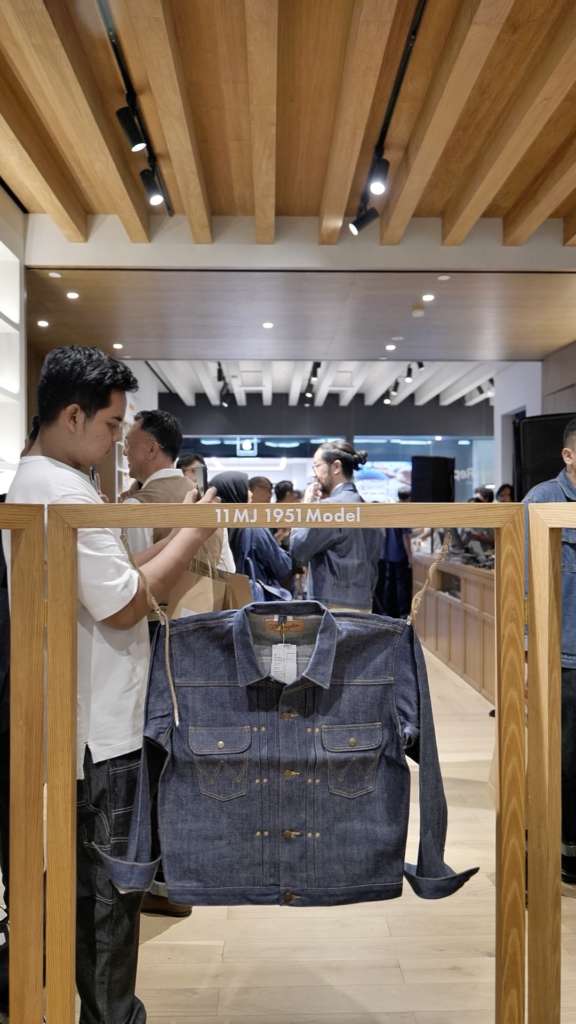 Koleksi-koleksi klasik dari Wrangler® selalu dinanti. Sehubungan dengan itu, pada FW23, tim Wrangler® Jepang meluncurkan koleksi The Archive. Koleksi ini mereplikasi karya-karya vintage Wrangler, mulai dari gaya keseluruhan, detail jahitan, hingga aksesoris yang trend di masa tersebut. Tidak hanya memadukan gaya klasik nan unik, koleksi The Archive dibuat secara ekslusif dengan material premium Jepang. Di Indonesia, lisensi Wrangler® Indonesia dibawa oleh PT DELAMIBRANDS Kharisma Busana.
Susanna, Brand Leader Wrangler® Indonesia, mengabarkan bahwa koleksi ini hanya diproduksi secara terbatas dan eksklusif dijual di Standard Denim Store, Plaza Senayan. harga Rp3.199.000 mulai hari Kamis, 16 November 2023.
Wrangler® yang sebelumnya dikenal dengan nama Blue Bell Overall Company awalnya hanya fokus membuat denim untuk workwear. Kemudian, Wrangler® membuat sejarah penting dengan menghadirkan outfit denim khusus penunggang rodeo. Sejarah itu terus berlangsung, hingga saat ini, Wrangler® selalu identik dengan kompetisi dan event rodeo.

Norman Lukan, Head Of Product Wrangler® Indonesia
---
The Archive Collection

Terkait koleksi The Archive lebih lanjut, di Indonesia hadir tiga koleksi ekslusif dengan rincian dua model celana dan satu jaket. Berikut informasi dan detail ketiga koleksinya.
10MW 1964 Model


Jika membahas soal bahan yang digunakan Wrangler® pada produknya, selalu ada dua pilihan utama yang menjadi perdebatan, yakni left-hand twill di model 11MW atau 11MWZ dan broken twill yang telah menjadi standar sejak 1970-an. Namun, selalu ada pengecualian untuk model 10MW yang menggunakan right-hand twill denim.
Sesuai namanya, seri 10MW 1964 Model ini dulunya hanya diproduksi selama satu tahun, yakni di tahun 1964. Sudah 59 tahun berselang, koleksi 10MW sangat sulit ditemukan. Hingga saat ini, alasan penggunaan right-hand twill denim secara tiba-tiba pada koleksi 10MW ini masih simpang siur. Tekstur denim yang kasar dan bahan yang tebal, warna pudar yang kontras, selvedge on roll-ups, dan pola yang unik menjadi ciri khas tersendiri dibanding koleksi Wrangler® lainnya.
111MJ 1951 Model


Koleksi ini merupakan desain dari Benjamin Lichtenstein, seorang designer khusus rodeo cowboys, yang merasa frustrasi dengan jaket denim tradisional yang desainnya tidak pernah berubah selama beberapa dekade. Dari kefrustrasian itu, lahirlah desain 111MJ 1951 Model atau yang dulunya dikenal dengan nama Rodeo Ben. Desain utama dari 111MJ 1951 terletak pada saku depannya, kemudian detail jahitan lambang "W" yang eksklusif di kedua sisi, dan kehadiran action pleats di bagian belakang.
11MW 1951 Model


Koleksi 11MW 1951 selalu jadi incaran penyuka denim. Pasalnya, model 11MW menjadi tonggak sejarah dengan kehadiran lambang "W" di bagian saku belakannya. Koleksi ini dulunya dirancang juga oleh Benjamin Lichtenstein atau dikenal dengan sebutan Rodeo Ban Lichtenstein. Ciri khas dari 11MW 1951 Model antara lain model high rise, posisi saku belakangnya, bagian rivet, posisi bagian loop depan, dan label di bagian saku belakang.
---
Bagi kalian para denimhead sejati ngga boleh kehabisan koleksi yang satu ini sih!