Coy! Honest Review lagi nih! Minggu lalu setelah Admin DB anonim membahas heavyweight jeans dari Earthy Genova, kali ini gua sebagai Admin DB anonim lainnya akan bahas jeans kolaborasi keluaran terbaru dari Sage x @mikamotorcycles nih, yaitu No Skool Chopper 19oz Unsanforized Deep Indigo Selvedge Denim! FYI artikel ini bakal jadi tulisan pertama gua di website Darahkubiru nih, so mari kita kupas tuntas!
---
SPECIFICATION
* 19oz loom state deep indigo selvedge denim
* Milled exclusively in Sage Denim Foundry – Japanese material, milled in Indonesia
* 100% cotton – spun in Japan
* Sage Green selvedge line
* Extra deep indigo
* Right-hand twill
* Ring bumpy slub
* Rigid and hairy
* Slim & slim straight cut
* Single felled inseam with gold thread
* Collab Exclusive M-Mountain Arcuate
* Raised belt loop
* Mika Thunder insignia embroidery
* Hickory x Wabash fabric with Thunder insignia
* 3mm cowhide patch collab exclusive design
* One-way waistband stitching with signature "V" shape
* Belt loop hook
* Printed off white twill pocket lining
* Sage embossed copper rivets
* Hidden rivets
* Sage signature pattern gunmetal button
FIRST IMPRESSION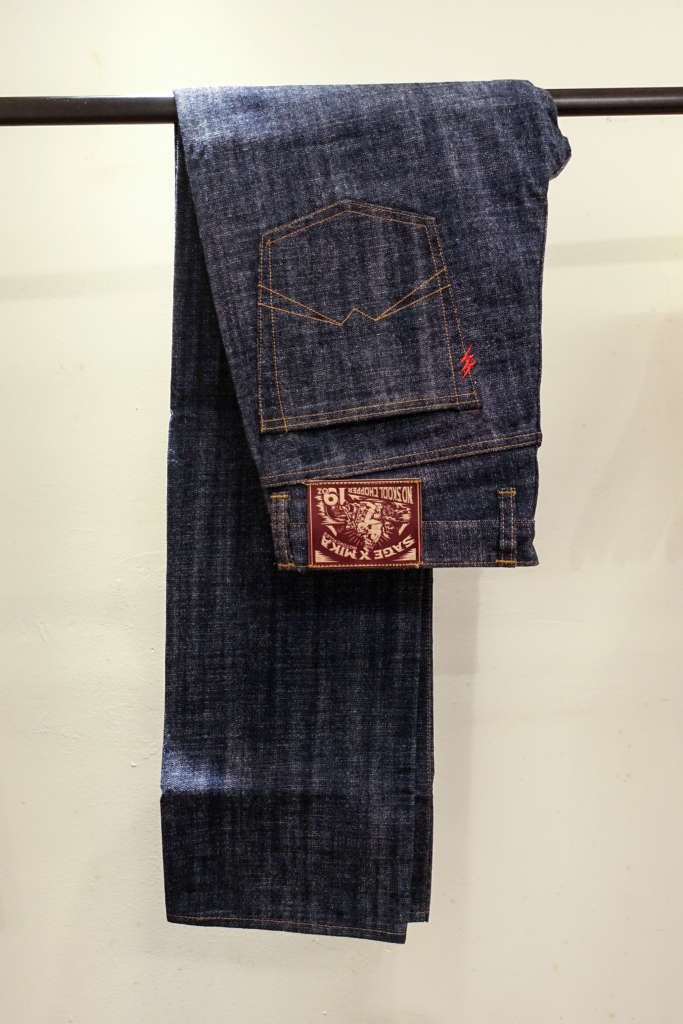 Umumnya pengguna Sage yang gua tahu sering dipake sama anak-anak gunung, tapi justru pada artikel kali ini Sage berkolaborasi dengan bengkel motor yang se-sotoy-nya gua namanya cukup besar nih di skena motor custom yaitu @mikamotorcycles. Jadi harapan gua cukup tinggi untuk artikel kolaborasi ini. Sesampainya di tangan gua, celana ini langsung gua sidak secara detail dari luar dan dalam. Ada beberapa detail yang menarik perhatian gua pada celana namun ada juga beberapa hal yang agak gua sayangkan pada jeans ini. Lanjut!
DETAILS

Biasanya gua tidak begitu memedulikan detail saat memilih jeans, namun gua pribadi sangat memperhatikan fungsi dari celana itu sendiri. Detail pada jeans ini menurut gua cukup bagus dan pastinya masuk standar celana Sage. Grafik flasher-nya cukup keren, hadir dengan "loom state deep indigo fabric" seberat 19 Oz, dengan true color yang cukup terang. Stitching pada celana ini cukup kontras dengan warna oranye yang agak gelap, namun tetap enak dipandang. Per-besi-an pada No Skool Chopper ini menggunakan button dan rivet berwarna silver dengan emboss khas dari Sage, jadi tetap senada dengan warna celana, namun tidak memberi kesan apa-apa.

Lebih jauh pada signature details dari celana Sage x @mikamotorcycles terdapat beberapa detail unik seperti "Collab Exclusive M-Mountain Arcuate" yang sebenarnya masih sangat mirip dengan arcuate Sage dengan sedikit menghilangkan jahitan pada bagian sudut di tengah agar terlihat seperti huruf "M". Lalu terdapat juga "Mika Thunder insignia embroidery" dengan warna merah menyala pada bagian back-pocket yang dijahit rapih.
Selvedge line terjahit dengan rapih sampai ke waistband, begitu pun stitching di bagian yoke dan area sekitarnya. Chainstitch di bagian leg opening pun cukup rapih. Sejauh mata memandang build quality celana ini solid dan rapih.

Leather Patch jeans ini menggunakan "3mm cowhide patch collab exclusive design" dengan tebal yang pas. Artwork pada patch cukup bagus, dengan grafis ilustrasi seekor serigala yang sedang riding dengan berapi-api melalui lanskap pegunungan. Menurut gua Artwork tersebut cukup menegaskan kolaborasi antara Sage dan @mikamotorcycles.

Masih ada dua detail terakhir yang patut untuk dibahas, pertama terdapat "Hickory x Wabash fabric with Thunder insignia" yang terletak sejajar dengan patch. Konsep yang cukup unik dengan memadukan fabric hickory dan wabash dengan warna netral dan memberikan sentuhan akhir berupa Mika Thunder insignia berwarna merah. Kedua ada fitur "Belt loop hook" juga cuy jadi nambah nilai plus dari segi fungsi celana nih! Menurut gua dua detail ini cukup menarik dan stand out untuk jeans kolaborasi Sage x @mikamotorcycles ini.

EXPERIENCE
Sebelumnya gua belum pernah menggunakan celana dari Sage, dan setelah gua cek size chart Sage gua memutuskan untuk upsize 1 ukuran, yaitu ukuran 34 dengan cuttingan slim straight. Pertama kali celana ini gua pegang, gua cukup curiga dengan berat celana yang ternyata tidak seberat celana 19Oz pada umumnya terlebih dikatakan celana ini unsanforized. Setelah gua in-soak, feel yang pertama gua rasakan pada celana ini gua agak dibuat bingung karena celana ini cukup ringan untuk ukuran 19Oz. Namun jika gua memposisikan diri sebagai "biker", celana ini akan lebih nyaman digunakan tapi mungkin bakal terasa lebih panas di area tangki motor karena seperti yang gua bilang tadi untuk ukuran heavyweight celana ini tidak setebal itu. Namun, gua suka pada tekstur slub dari celana ini dan karakter celana ini cukup kaku yang akan melemas seiring pemakaikan. Gua yakin fade-nya nanti fix istimewa!

Untuk fitting yang gua dapatkan menurut gua pas banget untuk pinggang dan kaki orang Indonesia. Bagian paha pas tidak terlalu besar dan tidak sempit, bagian lutut ke bawah juga sesuai dengan kaedah slim straight pada umumnya. Kalo lo mau nambah ikat pinggang bakal tambah pas. Panjang celana ini juga pas dengan tinggi badan gua tapi jujur gua belum memutuskan bakal pake cuffing-an apa nih, jadi untuk sementara gua pake yang basic dulu yaitu single cuff. Gini nih penampakan fit pic-nya:
CONCLUSION
Menurut gua pribadi, untuk menjadi jeans kolaborasi celana ini masih kurang "faktor x" alias not so special. Dari hal sedasar packaging saja menurut gua terlalu basic dan "Collab Exclusive M-Mountain Arcuate" yang disematkan di celana ini menurut gua masih terlalu mirip dengan arcuate Sage biasa. Tapi overall, jeans ini bisa lo tambahin ke koleksi heavyweight lo dan menurut gua bakal cocok untuk para bikers nih sesuai dengan deskripsi dari produk Sage x @mikamotorcycles " guaranteed to age beautifully along with your rides". Goks!
---
Habis ini repiu celana apa lagi yak? Sung request aja deh ke socmed kita coy!