Review ditulis oleh Aditya Pratama
Overview
Dengan tagline "Classic Inspiration Modern Presentation", Warpweft Company tak pernah henti untuk menelurkan produk-produk jeans berkualitas. Salah satunya adalah artikel bertajuk Mizu II yang tergabung dalam lini Essential Series. Sama halnya dengan artikel lain di lini ini, harga dari produk ini bisa dibilang cukup terjangkau tanpa mengorbankan kualitasnya sama sekali.
The Jeans
Iterasi kedua dari jeans yang bertemakan air ini hadir dengan pilihan fabric yang berbeda dari pendahulunya. Mizu II dibuat menggunakan 17oz indigo X black selvedge denim yang di-milled secara eksklusif untuk brand asal Jakarta ini. Kondisi unsanforized tetap dipertahankan untuk memberikan kesan crisp dan tentunya menyenangkan hati para anak denim kelas berat. Meskipun oz-nya lumayan besar, jeans ini masih sangat nyaman dipakai. Tidak terlalu kaku pun tidak terasa terlalu tebal. Jangan lupa untuk melakukan initial soak sebelum pemakaian awal ya!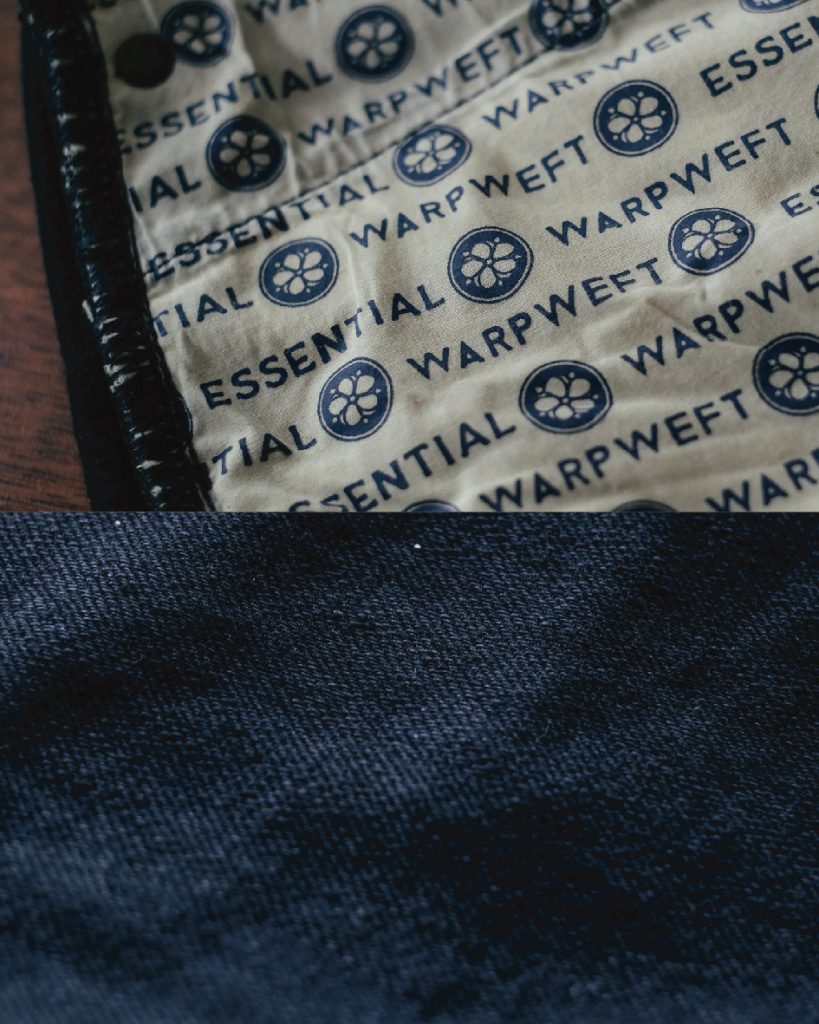 Warna biru pada jeans ini cukup gelap, namun tidak sampai terlihat seperti warna hitam. Ada sedikit hue ungu yang terlihat apabila diperhatikan dengan seksama.
Jahitan berwarna tonal memberikan kesan low-key. Saya pribadi cukup suka dibandingkan pemakaian benang yang terlalu kontras.

Perpaduan warna black dan copper pada selvedge line sangat menarik, agak berkelap-kelip ketika dilihat.

Kombinasi warna arcuate berwarna biru muda yang dibuat dengan proses screenprint dengan warna gelap dari fabric dan benang menjadi poin plus buat jeans ini. Selain itu, proses screenprint-nya itu sendiri membuat titik-titik arc-nya agak uneven, memberikan kesan handmade yang berasa menawan.
Saat pertama kali ingin membuka-tutup kancing, dari kancing teratas sampai yang paling bawah surprisingly terasa smooth, tidak sampai membuat jari perih ataupun lecet. Mungkin efek desain dari button edges-nya yang tidak tajam.
The Fit


Mizu II hadir dalam dua cutting, slim straight dan slim tapered. Kali ini mimin menggunakan cut slim straight dengan ukuran true size.
Menurut mimin, untuk cut slim straight, jeans ini lebih berasa slim. Bahkan mimin berasa agak sulit memasukkan kaki ke celana, terutama di bagian betis yang agak sempit ketika ditarik. Mungkin bagian lutut kebawah bisa dibuat lebih wide lagi.
Mizu II dari Warpweft Co. bisa kalian dapatkan di Tokopedia mereka seharga Rp990.000,00. Jangan lupa sekalian artikel mereka yang lain ya!