Sebagai salah satu warisan budaya Indonesia, batik memiliki sejarah panjang dan mengalami banyak perkembangan baik itu motif maupun metode pembuatannya. Sekarang, batik mempunyai model serta desain yang sangat beragam, mulai dari yang tradisional, hingga yang terkena sentuhan modern. Memang, gak semua hal yang terjamah sentuhan modern memiliki dampak yang positif. Namun, semua dilakukan untuk mengupayakan warisan budaya ini tetap terjaga dengan baik untuk jangka waktu yang panjang.
Oleh sebab itu, karena di awal membahas soal batik, modern, jangka panjang, pada artikel ini kami ingin memberi rekomendasi model baju batik pria gaul yang modern dan keren dari Bluesville nih!
Simak sampe habis!
---
The Natural Indigo Dyed Batik
Bagi kalian pemerhati brand lokal dan sedang mencari baju batik, pasti ngga asing dong sama Bluesville? Sebagai salah satu artikel andalannya, baju batik yang dicelup dengan warna indigo alami dari Bluesville mempunyai cukup banyak peminat sejak pertama kali dibuat. Hingga saat ini, sudah banyak motif yang diciptakan oleh Bluesville loh! Selain melestarikan warisan budaya, Bluesville juga memperhatikan soal sustainability sehingga bagi kalian yang ingin mencari pakaian yang lebih dari sekadar keren, kalian bisa nih liat seluruh koleksi dari Bluesville.
The Process
Sebelum membahas lebih lanjut, kalian bisa nonton video di atas nih buat kepoin proses pembuatan batik yang dilakukan oleh Bluesville. Masih belom yakin juga?
Mengutip dari website Bluesville, kami ingin memberikan rekomendasi model baju batik pria gaul yang modern dan cocok banget nih untuk kalian pakai di acara ataupun sekadar dipake sehari-hari!
Indigo Batik Bandana Leisure Shirt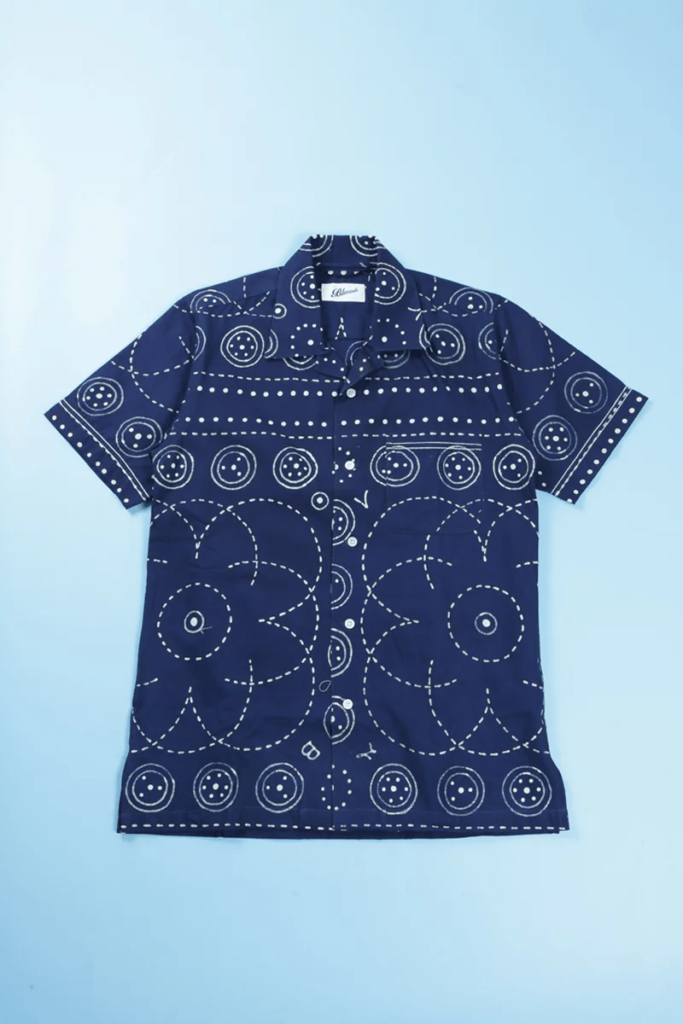 Mengusung potongan lengan pendek, batik dengan motif bandana ini mempunyai desain yang cukup eye catching. Yang menarik, motif ini dibuat dengan ukuran canting yang berbeda dengan tujuan mendapatkan detail yang kompleks!
2. Indigo Batik Guci LS Shirt

Batik ini merupakan salah satu koleksi terbaru Bluesville yang rilis baru-baru ini loh! Pada batik ini, motif guci yang disematkan menggunakan teknik screen-printing yang dicelup warna indigo selama kurang lebih 4 hari, menghasilkan warna biru yang cukup pekat. Yang menarik, batik ini sudah menggunakan twill fabric dari Tencel serta detail button yang keren loh! Jangan sampe kehabisan!
3. Indigo Batik BD Shirt

Yang terakhir, motif ombak dari Bluesville ini merupakan bagian dari koleksi SS16 yang udah jadi salah satu signature design-nya Bluesville nih! Motifnya sendiri dibuat handwritten loh! Bagi kalian yang tertarik, motif ini bisa didapatkan secara MTO di webstore Bluesville.
Selain motif di atas, kalian juga bisa liat koleksi Bluesville lainnya di sini!
---
Buat yang pengen tampil beda, mending langsung sikat aja deh rekomendasi model baju batik pria gaul dari kami ini. Apalagi, dengan sentuhan kontemporer kalian juga bisa digunakan sehari-hari loh!