Tampaknya kami terlupa untuk mewawancarai salah satu produsen jeans lokal yang sedang naik daun juga. Mischief Denim Division mulai aktif terdengar sekitar 2 tahun lalu, tepat di saat dry denim mulai boom di seantero jagat, tidak luput di Indonesia. Terdengar dan terbaca dari brand-nya, Mischief, tampaknya sangat erat hubungannya dengan pergerakan kaum muda, youth culture, dan jika dilihat dari beberapa look-booknya sangat berhubungan dengan street culture dan tentunya art. Menarik untuk menyimak salah satu produsen jeans dengan inspirasi dan hubungan yang dekat dengan youth culture ini, mari kita baca beberapa tanya jawab yang sempat kita lakukan dengan sang empunya brand Mischief.

Bisa diperkenalkan siapa saja dibalik brand anda?
Andi dan Chris
Apa yg pertama kali membuat anda tertarik pada jeans dan denim pada umumnya?
Jeans is not just a piece of clothing its more like personal identity thats why we love jeans.
Apa alasan anda membuat jeans sendiri?
terinspirasi sama jeans brand luar negeri dan bermimpi sampe pada saatnya kita bisa mewujudkan mimpi mimpi untuk menjadi denim designer and start making a denim line.
Apa jeans pertama anda?
Andi: Wrangler
Christian: Levis 501
Apa jeans favorit anda dan mengapa?
Andi: mischief denim dry selvedge slim leg cut
Christian: all mischief denim
Kira-kira apa yg membuat jeans anda stand out dibandingkan jeans lain?
Kita punya ciri khas tersendiri dengan adanya arcuates di back pocket jeans, dan untuk saat ini kita cuman keluarin dry / raw jeans.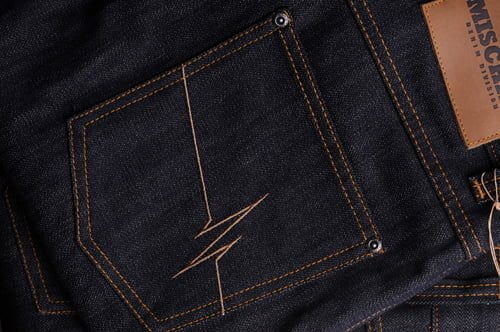 Darimanakah bahan produk jeans anda?
Semua proses produksi di Bandung, west java – Indonesia.
Kalo bahan kita bisa hunting kemana aja, yg penting dengan kualitasnya bagus.
Siapa target pasar anda? dan bagaimana cara anda merealisasikannya
Everyone who loves denim, kita realisasikan dengan membuat products lokal yang berkualitas tinggi.
Apa sajakah tantangan paling berat dalam bikin jeans sendiri?
Mungkin masalah waktu saja ya, tapi kita mengerjakan semuanya nya dengan sepenuh hati demi untuk mewujudkan mimpi mimpi. lol
Sudah berapa lamakah anda berkecimpung dalam dunia per-jeans-an?
Kalo untuk mischief denim kira2 2 tahunan
Darimanakah anda mendapatkan inspirasi untuk jeans anda? Ada brand jeans yang secara langsung mempengaruhi anda?
Banyak sekali inspirasi yg kita dapat entah itu research tentang denim dr internet, buku, magz and etc.
Brand jeans yg banyak mempengaruhi kita mungkin:Â  imperial and iron army
Apakah anda penganut "cuci sesering mungkin" atau "tunggu 6 bulan sebelum cuci"
Andi: tidak di cuci, cuman di jemur saja :D
Christian: cuci kalo sudah kerasa kotor dan bau
Bagaimana pendapat anda mengenai fenomena jeans jepang dan bahan selvage akhir-akhir ini
Jeans jepang memang sangat populer akhir akhir ini tp menurut kita itu positive dr situ orang orang mulai mengenal denim lebih dalam lagi dan buktinya sekarang orang orang lebih tau sedikit banyaknya tentang denim.
Bahan selvedge juga salah satu fenomena dimana orang orang mulai mengenal berbagai macam bahan denim yg berkualitas salah satunya ya bahan selvedge.
Saya pernah baca bahwa anda memakai synthetic leather daripada cow leather dengan alasan mendukung environment, ada cerita dibalik ini?
dulu saya seorang vegetarian tp sekarang enggak lagi, lol
Ada cerita dibalik kolaborasi dengan Ken Terror?
so far so good and the products was sold out! untuk ke depan nya kita akan berkolaboarsi lagi dengan local painting artist check  iamthebutcher.blogspot.com
Sepertinya brand anda sangat erat hubungannya dengan street culture, skateboard, dan streetwear, apa pengaruh denim menurut anda dengan hal2 tersebut (street culture, sk8, dll)
Mischief denim identik dengan youth uprising dengan kata lain kita supports all kind of youth movement dengan media denim.

Cuff or stack?
Andi: stack!
Christian: stack
Denim terjelek yg pernah anda tau?
fake denim always ugly
Apa yang kira-kira terjadi jika jeans anda tidak diciptakan
Andi: bikin chino pants, oh yeah thats my another dream. lol
Christian: gak ada brand mischief denim
Siapa orang yang pengen banget anda liyat memakai jeans anda
Andi: Junya Watanabe
christian: Adriana Lima
Mending liyat Megan Fox telanjang atau pake denim anda
Andi: gak telanjang juga sudah cukup, jadi mending pake denim kami saja lumayan buat promosi. lol
Chris: mending liat Adriana Lima pake mischief terus kalo boleh gw yg telanjangin. hahaha.

Pesan-pesan bagi para denim enthusiast
Support and respect your local denim!!
Thx!