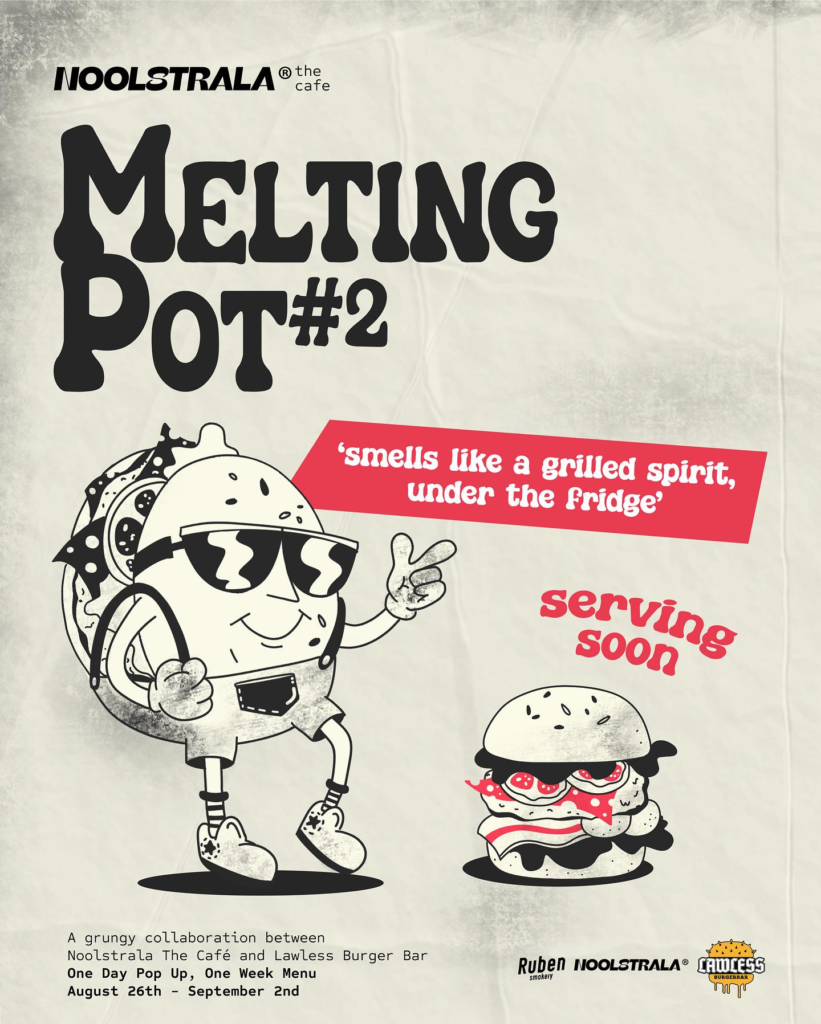 Setelah sukses menggelar Melting Pot #01 bareng @lunchformyhusband, the finest artisan bakery Nool/Strala menggandeng Lawless Burger Bar pada volume ke-2 dari aktivasi Melting Pot mereka!
---
Smells Like A Grilled Spirit, Under The Fridge
Specifically, kolaborasi ini mengangkat tema musik era 90an yang kental dengan nuansa grunge dan alternative yang berkembang pada era itu. Moreover, LBB yang diwakili oleh Medi dan Tringga Dhanara brainstorming tiga menu spesial bareng Kade Chandra sebagai chef Nool/Strala.
Hasil brainstorming tersebut menghasilkan 3 menu menarik yang dikemas dengan judul "Smells Like A Grilled Spirit, Under The Fridge".
Firstly, ada Fall Out Burg yaitu smoked beef belly dan garlic aioli yang diapit charcoal croissant bun. Secondly, ada Rage Against The Grain yaitu kombinasi spicy sambal mayo dan colby jack chees. And lastly, Possessed to Jam yang menghadirkan 120gr Lawless Signature Beef Patty  dipadukan dengan blueberry jam dan gorgonzilla cheese! Otherwise, bakal tersedia The Quackening (Duck Fat Fried Shoestring Potato) dan "Lawless" Croissant (Black & Yellow Bicolor Croissant with Thai Tea Cream) sebagai pelengkap. Untuk menu kolaborasi ini semuanya akan dijual dengan harga 150 ribu rupiah!
---
So, bagi yang penasaran dengan sajian kolaborasi ini, sung aja meluncur ke Nool/Strala The Cafe di Ruko South Goldfinch SGD 19 – Gading Serpong karena berlangsung cuma seminggu mulai 26 Agustus sampai 3 September 2023.